Dallas Cowboys Schedule 2015: Date, Time, TV Channel, Location For Every Game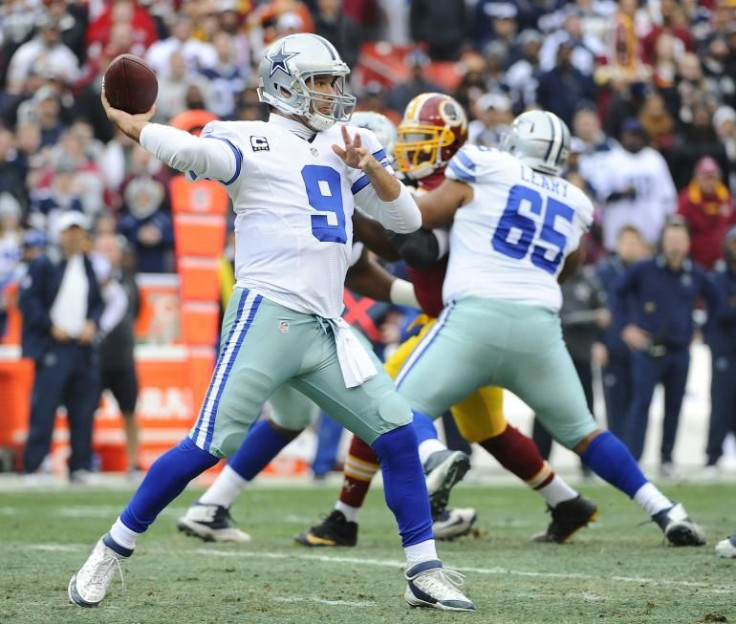 The Dallas Cowboys are coming off their best season in seven years. With one of the easiest projected schedules for the 2015 NFL season, "America's Team" has a chance to make the playoffs for a second straight year.
With Tuesday's release of the entire 2015 regular season schedule, Dallas learned that they will start the season with the "Sunday Night Football" opener. The Cowboys will host the New York Giants, as they are set to play their division rival in two of their first six games. Dallas has beaten New York in four consecutive games.
The Cowboys won't have to wait long to face their star running back from last year. Dallas visits DeMarco Murray and the Philadelphia Eagles in Week 2. Murray makes his return to Dallas in Week 9.
Even though the Cowboys have the ninth-easiest schedule, based on last year's winning percentages, they'll still have to play both teams that made the Super Bowl. Dallas hosts the New England Patriots in Week 5, and the Seattle Seahawks will visit AT&T Stadium in Week 9.
The flexible schedule means certain kickoff times can change, but Dallas is currently set to play five games in primetime. After playing three Sunday night games in the first nine weeks, the Cowboys will play on Monday night in Week 13 and Saturday night in Week 15.
Dallas will host the Carolina Panthers in their yearly Thanksgiving Day matchup. The Cowboys lost to the Eagles by 23 points on the holiday last year.
Below is a look at the complete 2015 regular season schedule for the Dallas Cowboys.
Week Date Opponent Location Time TV Channel
1 Sun, 9/13 New York Giants Home 8:30 p.m. ET NBC
2 Sun, 9/20 Philadelphia Eagles Away 4:25 p.m. ET FOX
3 Sun, 9/27 Atlanta Falcons Home 1 p.m. ET FOX
4 Sun, 10/4 New Orleans Saints Away 8:30 p.m. ET NBC
5 Sun, 10/11 New England Patriots Home 4:25 p.m. ET CBS
6 BYE
7 Sun, 10/25 New York Giants Away 4:25 p.m. ET FOX
8 Sun, 11/1 Seattle Seahawks Home 4:25 p.m. ET FOX
9 Sun, 11/8 Philadelphia Eagles Home 8:30 p.m. ET NBC
10 Sun, 11/15 Tampa Bay Buccaneers Away 1 p.m. ET FOX
11 Sun, 11/22 Miami Dolphins Away 1 p.m. ET FOX
12 Thurs, 11/26 Carolina Panthers Home 4:30 p.m. ET CBS
13 Mon, 12/7 Washington Redskins Away 8:30 p.m. ET ESPN
14 Sun, 12/13 Green Bay Packers Away 4:25 p.m. ET FOX
15 Sat, 12/19 New York Jets Home 8:25 p.m. ET NFL Network
16 Sun, 12/27 Buffalo Bills Away 1 p.m. ET FOX
17 Sun, 1/3 Washington Redskins Home 1 p.m. ET FOX
© Copyright IBTimes 2023. All rights reserved.