'Dance Moms' Spoilers: Abby Lee Miller Battles With Holly Frazier, The Candy Apples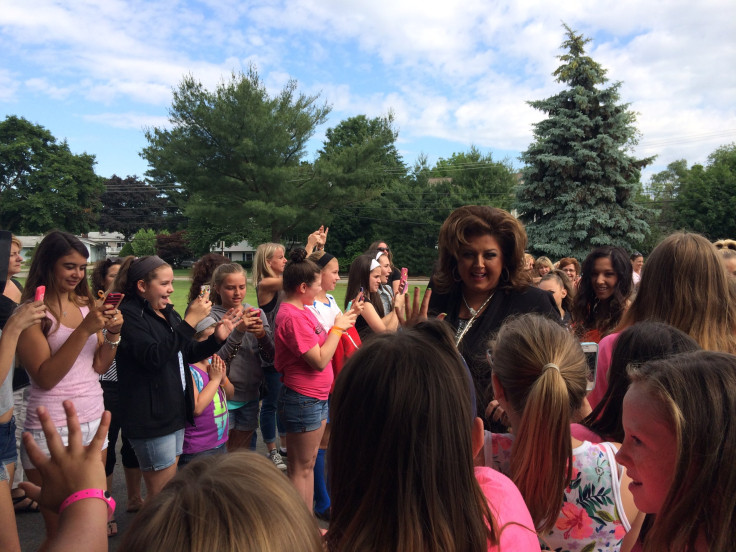 Let's hope Abby Lee Miller is ready for a fight because the ALDC coach appears to be battling it out with not one, but two of her "Dance Moms" co-stars on next Tuesday's episode. Not only will Miller's team be going head-to-head with Cathy Nesbitt-Stein's Candy Apples Dance Center, a promo for the episode suggests she will also have a verbal spat with dance mom Holly Frazier.
"This week we are traveling to Wayne, New Jersey," Miller announces in a promo for episode 27 "The Understudies." "Cathy will be there. Please do not let me down," Miller tells her elite girls. Unfortunately for dancer Nia Frazier, Miller's obsession with beating Nesbitt-Stein's appears to get the best of her. "This kid is pigeon-toed!" Miller can be heard yelling at the 13-year-old dancer during rehearsals, a comment which later erupts into a battle with her mom, Holly Frazier.
"Go worry about those big, flat feet somewhere else. I could care less!" Miller says to Frazier backstage in a preview clip for the episode. A normally demure Frazier shockingly responds, calling Miller a "nasty woman" and lableing her insults towards her daughter as "ugly" before storming out.
Not only is Frazier at odds with Miller in next week's episode, the other dance moms also take it up with Abby after assigning dancers Chloe Lukasiak, 13, and Kendall Vertes, 11, as her go-to student Maddie Ziegler's understudies. "Lets chart every time our kids are compared to Maddie or have done something wrong and she's done it right," Kendall's mom Jill Vertes says in the episode's promo. "Are we drinking every time she puts somebody down?" dance mom Christi Lukasiak jokingly asks, adding, "Because we will be drunk."
[Spoiler Alert]
In a shocking turn of events, the ALDC elite team's group number was not officially scored at the Sheer Talent competition in New Jersey June 14. Some reports claim Miller pulled the contemporary group number "Playing With Matches" in fear of losing to the Candy Apples, while others suggest the dance was disqualified due to the use of real fire in the routine. While viewers will have to wait until Tuesday night to find out the true reason for the dance's adjudication, ALDC supporters can rest easy knowing Candy Apples only walked away with a fourth-place win for their lyrical group number "Love Letter."
The Candy Apple's solo numbers also lost out to the ALDC. Maddie Ziegler, 11, walked away with a first-place overall win for her pre-teen, contemporary solo "Fool Me Once." The Candy Apple's pre-teen dancer, Mackenzie Morales, placed third overall with her solo "Seeing You Everywhere." Candy Apples dancer Gino Cosculluela (formerly of the ALDC) took home a fifth-place overall win in the teen division for his contemporary routine "Warrior."
"Dance Moms" airs Tuesdays at 9 p.m. EDT on Lifetime.
© Copyright IBTimes 2023. All rights reserved.