Deere & Company 1Q Earnings Top Estimates on Strong Farm Income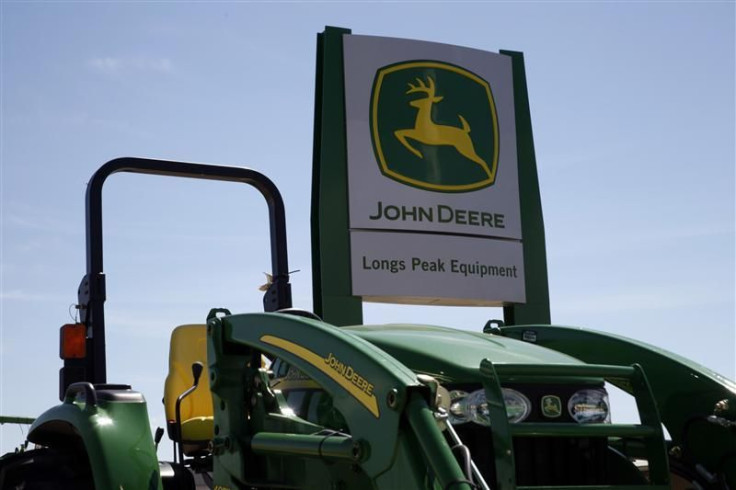 Deere & Co., the world's largest maker of farm tractors and combines, reported a 3.7 percent fiscal first-quarter earnings increase that topped analysts' estimates, as U.S. farmers flush with cash update aging fleets.
Deere (NYSE:DE) said net income in the quarter ended Jan. 31 was $532.9 million, or $1.30 a share, up from $513.7 million, or $1.20 a share, a year earlier. That blew past the average $1.23-a-share profit estimate of analysts surveyed by Thomson Reuters. Revenue climbed 11 percent to $6.77 billion.
Deere's equipment operations reported operating profit of $698 million for the quarter, compared with $646 million a year ago.
Equipment sales grew 11 percent to $6.12 billion with a boost from higher prices. Sales were up five percent in the U.S. and Canada, and increased 21 percent elsewhere.
For fiscal 2012, Deere slightly raised its projection for overall profit to $3.28 billion, up from $3.2 billion forecast in November. This will be the first time for the Moline., Ill., company to break the $3 billion mark.
Deere also affirmed its equipment-sales growth view. The company said it expects to record five percent to 10 percent agricultural equipment growth in North America in fiscal 2012.
The overall farm business is still robust and growing, said Lawrence DeMaria, an analyst with William Blair. Deere is a primary global player and is benefiting the most.
Robust Farm Business
Deere holds a nearly 50 percent share of the North American farm equipment market, a market that has been incredibly strong the past few years as farmers have used high commodity prices and income to replace their fleets.
Farmers have significant capital to invest in machinery to replace their fleets, which is what they continue to do on a more accelerated basis than they have in the past, especially in North America, DeMaria said. Some professional farmers have actually become accustomed to replacing every one to three years, from three to five.
According to Deere, U.S. farming is approaching a peak level and commodities prices are expected to hold at elevated levels creating less volatility in demand.
U.S. cash receipts, a predictor of machinery demand, are at an all-time high. And farmer balance sheets and debt levels are also in excellent shape and credit quality is stellar.
Crop prices, some of which reached the highest averages ever in 2011, sent net farm income up 28 percent to $100.9 billion, the U.S. Department of Agriculture estimates. That's the highest value recorded since 1974.
Crop receipts are expected to rise more than 16 percent in 2011, led by sales of corn, soybeans and wheat. Livestock receipts are expected to increase by 17 percent, with the receipt forecasts for cattle, dairy and hogs reaching nominal highs.
Although we expect crop prices to be somewhat below the record levels of the past year, we still think they will remain high enough to drive major levels of farm cash receipts and ongoing strong demand for farm equipment, Standard & Poor's equity analyst Michael Jaffe wrote in a Jan. 28 note.
Brazil Plants
Deere's dealer locations in Brazil roughly doubled since 2007 and the company picked up four percentage points of tractor market share in fiscal 2011.
They picked up a lot of shares in South America recently from market leader AGCO, said Adam Fleck, a Morningstar Inc. analyst.
Brazilian dealers are viewed as No. 2 in strength, just behind the U.S. dealers.
Deere's success in Brazil in terms of gaining market share is its broadened product line, which includes 21 products versus four historically. Deere can gain share without sacrificing margins, Credit Suisse analyst Jamie Cook, wrote in a Jan. 24 research note.
They are doing very, very well in Brazil and their production capacity is fully up and running for a broader array of products, DeMaria said. For the first time, they are actually attacking the whole market instead of certain niches within the market.
Deere will also open up two factories in Brazil in 2013 to manufacture construction equipment.
Stock Performance
Deere's stock -- like shares of Deere rivals CNH Global NV (NYSE:CNH) and AGCO Corp. (NYSE:AGCO) -- has enjoyed a double-digit increase in 2012.
Year to date, shares of CNH Global NV (NYSE:CNH) have traded 20 percent higher, while shares of AGCO Corp. (NYSE:AGCO) have gained 22 percent.
Shares of Deere & Company (NYSE:DE) closed down 5.36 percent, or $4.77, to $84.28 in Wednesday's trading. Deere's other competitors include Caterpillar Inc. (NYSE:CAT), Astec Industries Inc. (NYSE:ASTE), Arts-Way Manufacturing Co. Inc. (NASDAQ:ARTW) and Lindsay Corp. (NYSE:LNN).
© Copyright IBTimes 2023. All rights reserved.