'Destiny 2' Weapons: Best Brigand's Law Perk Rolls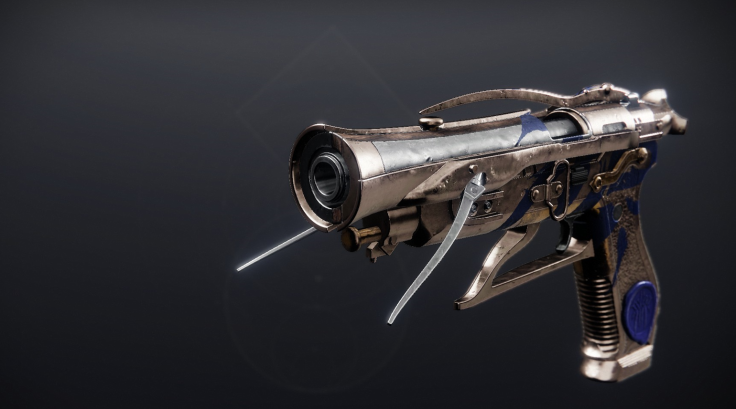 KEY POINTS
Brigand's Law is one of the few weapons with the Voltshot perk
The weapon drops from the Ketchcrash and Expedition activities
Brigand's Law can be crafted
The new weapons introduced in "Destiny 2: Season of Plunder" are all unique in more ways than one. They not only have some of the best-looking designs in the game, but they also come with unique perks that no other weapon has had before.
The Brigand's Law may just be one of the best legendary PvE sidearms in "Destiny 2" so far. It fires in full auto at a rate of 450 rounds per minute (rpm), putting it on par with Punching Out from the Vanguard playlist. Its solid damage profile in short ranges makes it a force to be reckoned with, but its real strength lies in the many possible perks that it can come with.
Here are three god rolls for the Brigand's Law that every aspiring space pirate should look out for.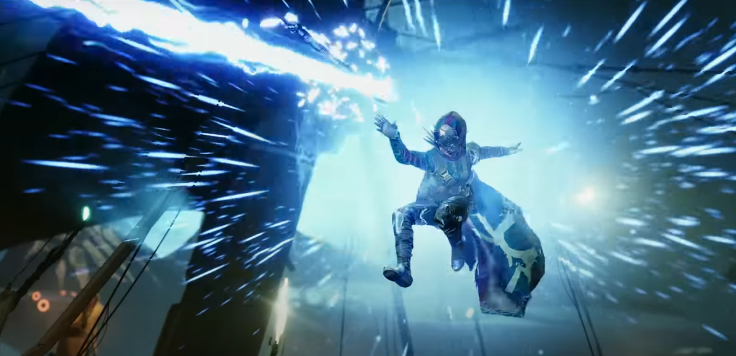 Feeding Frenzy and Voltshot
Voltshot is a new perk that's designed for the Arc 3.0 subclass update. Reloading after a killing blow, the next weapon hit within a short period of time Jolts its target, causing them to spew lightning towards other nearby enemies.
This pairs extremely well with Feeding Frenzy, which essentially boosts the weapon's reload speed after a kill. Since Voltshot will almost always kill multiple trash mobs, players will get to enjoy maximum reload speeds more often.
Pugilist and Swashbuckler
Swashbuckler grants a stacking weapon damage buff that increases after every kill or after scoring a melee kill. Meanwhile, Pugilist generates melee energy after landing kills.
This combo is great for close-ranged combat with Titans or Warlocks. The extra DPS plus the melee energy regeneration leads to faster clear times overall.
Admittedly, Pugilist isn't as useful on Hunters as they can keep regenerating their melee abilities just by using Gambler's Dodge, but the perk's Handling boost upon dealing melee damage can still be useful.
Killing Wind and Rangefinder
This roll caters more to passive/defensive PvP players who are looking for a reliable close-ranged backup weapon. Rangefinder grants a noticeable bump to the abysmal range of rapid-fire Sidearms, and scoring a kill with one buffs that up even more.
Still, due to the low base range of this weapon archetype, expect the Brigand's Law to only be effective up to 18 meters even with every possible range buff it can get.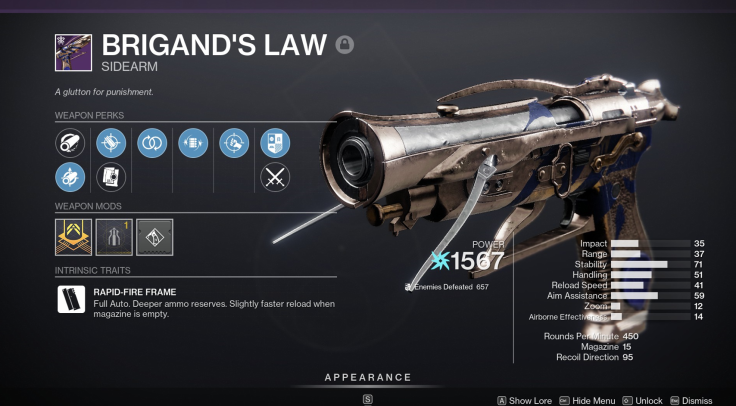 © Copyright IBTimes 2022. All rights reserved.
FOLLOW MORE IBT NEWS ON THE BELOW CHANNELS