Did Carmelo Anthony Deserve To Be Suspended Over 'Honey Nut Cheerios' Spat With Kevin Garnett?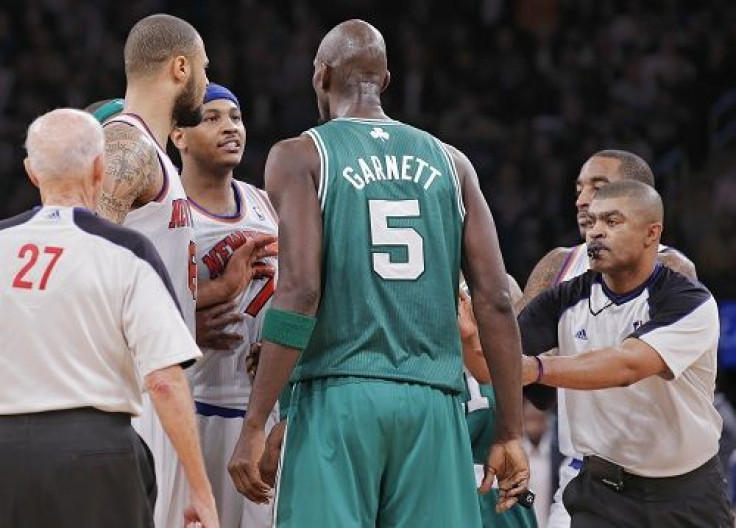 Carmelo Anthony of the New York Knicks reportedly has been suspended for one game following his spat with Kevin Garnett that reportedly started after KG told Melo his wife LaLa "tastes like Honey Nut Cheerios" during the heated, physical contest. Did he deserve to be disciplined for the altercation?
Anthony has been suspended for one game without pay by the NBA, ESPN and TMZ report, after an investigation into the war of words apparently concluded that he had broken league rules.
"There are no circumstances in which it is acceptable for a player to confront an opponent after a game," Stu Jackson, the NBA's executive vice president for basketball operations, said in a statement reported by ESPN. "Carmelo Anthony attempted to engage with Kevin Garnett multiple times after Monday's game and therefore a suspension was warranted."
But Anthony previously told reporters that he didn't believe he did anything serious enough for him to be disciplined, suggesting that the suspension is something of a surprise to the Knick, and that he will not be happy about it.
Anthony, the superstar New York Knicks forward, waited for Garnett after Monday night's showdown between the Knicks and Garnett's Boston Celtics in order to confront him in the tunnels of Madison Square Garden in New York.
The players went at each other on court throughout the game, and at one point Garnett said something that should not be said to "another man," according to Melo, who said that Garnett "crossed the line" in remarks during the game.
At one point, Garnett said something during that was so infuriating to Anthony that he became visibly flustered - which may be one of the key reasons New York lost that night's game 102-96 - and Melo apparently couldn't stand for it.
The world may never know what was said on the court that fated night, as neither player is speaking out about the details of the conversation, but rumor has it that Garnett said Carmelo's wife LaLa "tastes like Honey Nut Cheerios."
The suspension will have Anthony sitting on the bench during Thursday's widely anticipated match-up against the Indiana Pacers, who are coming off a big win Tuesday night against the defending champion Miami Heat.
That likely won't sit well with Carmelo, as ESPN reports that he said before the announcement of his suspension that he didn't think he would get disciplined for the situation with KG:
"If you just go off the actual facts of what happened, I don't think anything will happen," Anthony said.
TMZ's article is accompanied by a video of the post-game verbal altercation at the Garden, in which Melo can be seen angrily confronting Garnett. Reports also show that Anthony followed Garnett to the Celtics bus, where they continued to hash out their disagreements, but the situation was stopped by MSG security, police and Knicks Head Coach Mike Woodson before it went any further than words, according to ESPN.
Carmelo Anthony married LaLa Vazquez in July 2010, according to Us Weekly.
© Copyright IBTimes 2023. All rights reserved.