Dodgers Trade: Chase Utley Arrives In Crowded LA Infield As Phillies Get Prospects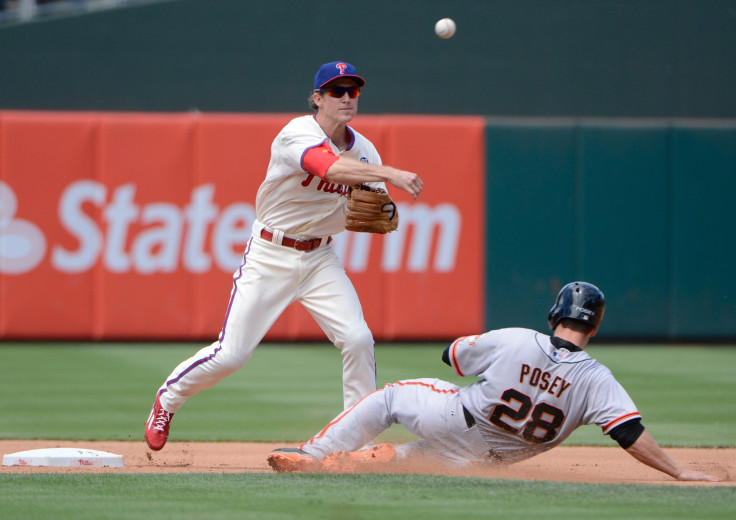 Before the trade deadline, the Los Angeles Dodgers added to the pitching staff by dealing for starters Mat Latos and Alex Wood, along with relievers Jim Johnson and Luis Avilan. But it turns out the the team wasn't done. On Wednesday, Dodgers president of baseball operations Andrew Friedman decided to pull the trigger on another trade for veteran second baseman Chase Utley.
Utley, who grew up in the Los Angeles area and attended UCLA, might be viewed as a curious acquisition. The Dodgers appear rather stacked at second base, with regular starter Howie Kendrick expected to return from a hamstring injury in September, while Justin Turner, Enrique Hernandez and promising rookie Jose Peraza are all capable of playing the position. Alex Guerrero, who has shown power in limited appearances, is also serviceable at second base.
This season, Utley has seen a major dip in production. The 36-year-old has an on-base plus-slugging (OPS) percentage of .617 and is coming off a 2014 season when he saw a dip in most statistical categories. He also has just three stolen bases in 73 games this season and just a .976 fielding percentage.
However, Utley has seen his numbers surge since returning from an ankle injury on Aug. 7 with 15 hits in 31 at-bats. He has also hit five doubles, which is a hitting category that Utley apparently still excels at after more than 12 seasons. Utley also bats from the left side, while Kendrick bats from the right side, which should provide manager Don Mattingly with more flexibility in the lineup. The Dodgers have said that Utley can also play at third base, though he never played there with the Phillies.
When asked what the impact of the deal might be on ESPN's "Baseball Tonight," Alex Cora, a former Dodger middle infielder, provided a blunt assessment.
"I have no idea," said Cora. "Just a veteran hitter that is swinging the bat well because everyone thinks he's healthy. He can help, but I don't think it's an impact trade. They have a kid there, Enrique Hernandez, playing second base that is swinging the bat well and he can play good defense. I know you can move [Hernandez] around, but if I was a manager or GM I would be pretty sure Enrique Hernandez could do the job at second."
In a conference call, Dodgers general manager Farhan Zaidi pointed out the intangibles that Utley brings to the Dodgers.
"Beyond the numbers, he's always been a very good defensive second baseman," Zaidi said. "He's shown that range (since he came back from the disabled list). His quality of at-bats has been near the top of the league. We made it a point to stack our lineup with players who have quality at-bats. He's always hit well at Dodger Stadium."
The trade comes at a cost for Los Angeles, who gave up utility player Darnell Sweeney and right-hander John Richy. Sweeney has posted solid numbers in the minors and entered the season as the No. 14-ranked prospect, and climbed to No. 12. The 24-year-old leads the Pacific Coast League in stolen bases (32), a category where the Dodgers are last in the majors. Sweeney has already been promoted to Philadelphia, with the Phillies thin at second base. Richy was the Dodgers' third-round draft pick and the No. 98 selection overall in 2014. The 23-year-old has played for Class A Rancho Cucamonga in 2015, and has thrown over 124 innings, which is more than any other pitcher on the team.
"It's reflective of timing a little bit," Zaidi said in response to dealing the prospects. "There were other teams involved. The Phillies were looking at young talent. We needed to be competitive with where the market was going if we wanted to get this player."
Zaidi added that the Utley deal doesn't prevent the Dodgers from bolstering the bullpen, which is a growing concern. Closer Kenley Jansen remains reliable, but the same cannot be said for the rest of the unit in recent games. And the deadline deals have not produced positive results, as Latos, Wood, Johnson and Avilan have pitched a total of 49 innings and allowed 42 earned runs.
© Copyright IBTimes 2023. All rights reserved.