Donald Trump Dr. Oz Video: Watch Episode Where GOP Candidate Talks Health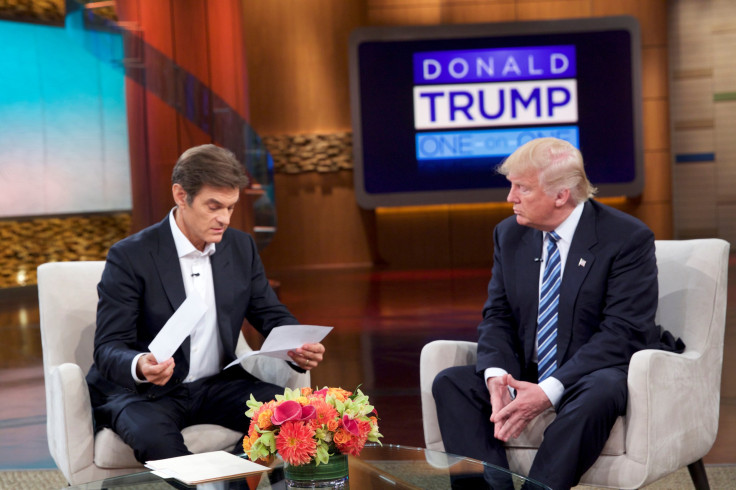 The much-talked-about episode of "The Dr. Oz Show" featuring Republican presidential candidate Donald Trump began to leak online Thursday morning. Taped Wednesday, the nominee's full appearance on the health-focused talk show was not yet posted on the show's official website, but clips surfaced on CNN and YouTube.
Watch the footage CNN obtained from the episode here and other clips from the program below.
In one clip, Dr. Mehmet Oz asked Trump how he stays healthy on the campaign trail, and the candidate suggested that the motions he uses while on stage at rallies — "so hot they're like saunas" — is a form of exercise. Later, Oz ran down a checklist and Trump denied having issues with neurology, cancer, blood sugar, his heart, stomach, hormones and lungs. He acknowledged having occasional allergies and taking a statin, which lowers cholesterol.
In another segment, Oz confirmed Trump is 236 pounds and asks about whether his doctors criticize his weight. "I've always been this way," Trump responded. "The one thing I would to do be able to do is drop 15, 20 pounds."
Trump gave Oz the results of his latest physical on the show and then released a letter about them Thursday. The letter comes from Dr. Harold Bornstein, the New York City doctor who previously said he could "state unequivocally" that Trump would be "the healthiest individual ever elected to the presidency."
The candidates' health took on new scrutiny this past week when Democratic nominee Hillary Clinton had to suddenly leave a Sunday event at the 9/11 memorial in New York City. Her campaign later revealed that she had been diagnosed with pneumonia.
In a statement released Wednesday, campaign manager Robby Mook criticized Trump's appearance on "The Dr. Oz Show." "His Doctor Oz charade is as completely unserious as his original joke of a letter written in five minutes," Mook said.
© Copyright IBTimes 2023. All rights reserved.