Donald Trump's Sexually Suggestive Statements About Ivanka Revisited: POTUS Allegedly Confessed Attraction To Daughter
KEY POINTS
Donald Trump made several sexually suggestive statements about his daughter Ivanka
Donald Trump said if Ivanka were not his daughter, he would date her
Online users speculate that Donald Trump loves his daughter Ivanka more than his wife Melania Trump
Donald Trump made several sexually suggestive statements about his daughter Ivanka Trump.
The president and the first daughter are very close. However, some questioned the father and daughter relationship because many felt that it was too much.
According to Political Flare, Trump was "sexually attracted" to the first daughter when she was just 13 years old. The POTUS confessed this in a past interview. but it was not published.
Richard Cohen, a Washington Post columnist, wrote that the POTUS once asked, "Is it wrong to be more sexually attracted to your own daughter than your wife?" However, the quote was removed when the column was published, BuzzFeed News first reported.
Trump was allegedly referring to his teenage daughter Ivanka who was only 13 years old at the time. Washington Post's editorial page editor Fred Hiatt addressed the removal of the quote and explained that they edit every column to make it as good as it can be.
"We don't think it would be fair to our writers to discuss the editing process, and don't see what is to be gained by talking about things that are not published—there are countless drafts that never see the light of day," Hiatt explained.
It wasn't the only sexually suggestive statement Trump made about his daughter. When the father and daughter appeared on "Wendy," the host asked what's the favorite thing they have in common.
Ivanka responded, "Either real estate or golf." However, the POTUS said, "I was going to say sex, but I can't relate that to her" while pointing at his daughter who just laughed at his remark.
Trump and Ivanka also made another joint appearance when the POTUS was asked what he would do if Playboy would put his daughter Ivanka on its magazine cover. Trump said that it would be disappointing but added, "not really, it depends on what we see inside the magazine."
He then said that he didn't think Ivanka would do it but complimented her saying that she has a "very nice figure" and added that if Ivanka were not his daughter, he would be dating her.
Meanwhile, there is an outrageous conspiracy claiming that Trump loves his daughter Ivanka more than his wife, Melania Trump. Online users made such speculations after Trump called Ivanka following his victory speech. The father and daughter hugged and kissed, then the POTUS called Melania after Ivanka left him on stage.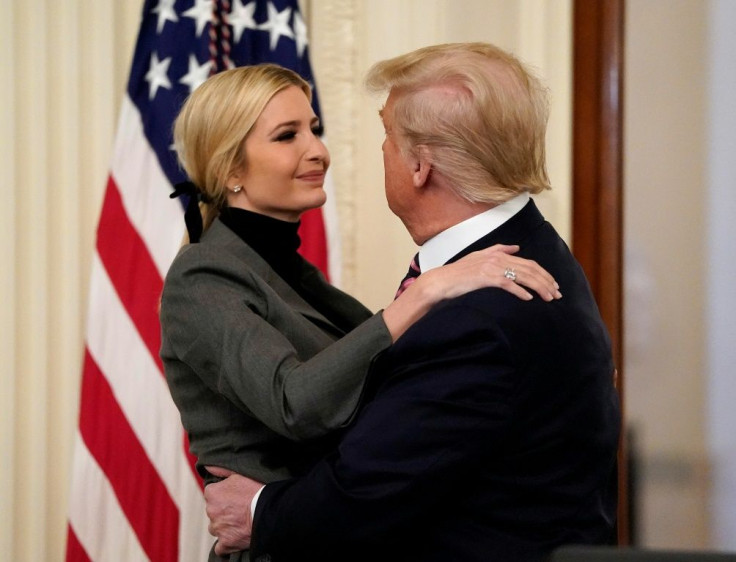 © Copyright IBTimes 2023. All rights reserved.