Duggar Divorce Rumblings: Josh Duggar's Issues Reportedly Spark Trouble For Jim Bob And Michelle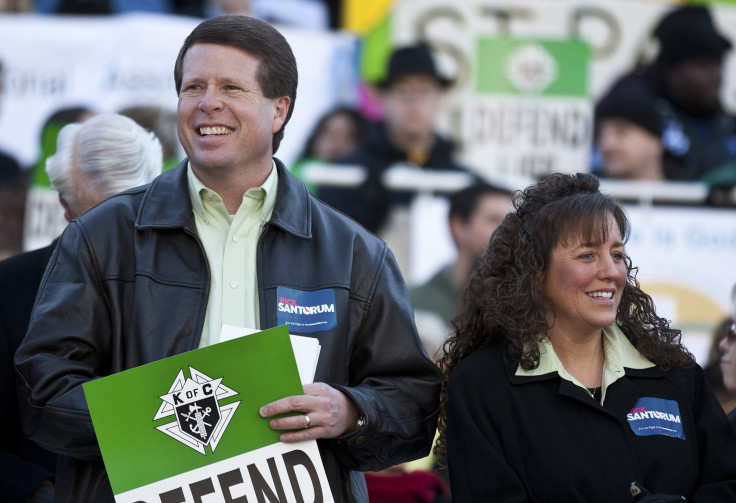 Josh Duggar's mistakes are said to be continuing to make trouble for his family. After admitting to being unfaithful to his wife Anna and attending Christian rehab, one report suggests the ex reality TV star's issues are causing problems in his parents Jim Bob and Michelle Duggar's marriage.
Despite keeping up appearances for their fans, Life & Style reports in their July 18 print issue that things are "far less rosy" behind-the-scenes for "19 Kids and Counting" alums Jim Bob and Michelle. Since the reveal last summer that Josh, their eldest son, had been utilizing the affair facilitating website Ashley Madison, insiders say the couple has been "destroyed" by their son's actions.
In order to secure a second season of the family's TLC series "Jill & Jessa: Counting On," sources say the religious Arkansas family has tried to remain picture perfect but have been "torn" apart by his cheating.
Jim Bob and Michelle's marital issues reportedly stem from years ago when Josh, now 28, admitted to "looking at porn." As previously reported, Josh also admitted to inappropriately touching several of his female siblings as a teenager. Michelle was said to be upset when Jim Bob and church leaders' wanted to give Josh a strict punishment that would "appease God." And while things went Jim Bob's way then — Josh was sent to do physical labor following his admission — sources says Michelle is no longer doing what her husband asks of her since Josh's return from rehab in March.
"She has actually raised her voice to Jim Bob," a family friend told the magazine. "The Jim Bob Michelle fell in love with 32 years ago is very different from the man she knows now. Her bears little resemblance to the young man who was filled with hope and happiness."
Despite their rumored issues, sources say divorce is not in the cards for the Duggars. "That would be against everything she lives for," said an insider. "But they are not the happy couple they once were."
While Jim Bob and Michelle's marriage is speculated to be hitting a bump, one Duggar romance is just heating up. The family revealed last month that Jinger Duggar, Jim Bob and Michelle's sixth oldest, is officially courting former professional soccer player Jeremy Vuolo. The couple's relationship will be featured in Season 2 of "Counting On," which is due to premiere on TLC this summer.
© Copyright IBTimes 2023. All rights reserved.