E-Cigarette Crackdown: FDA Sends Warning Letters To 180 Retailers Over Illegal Sales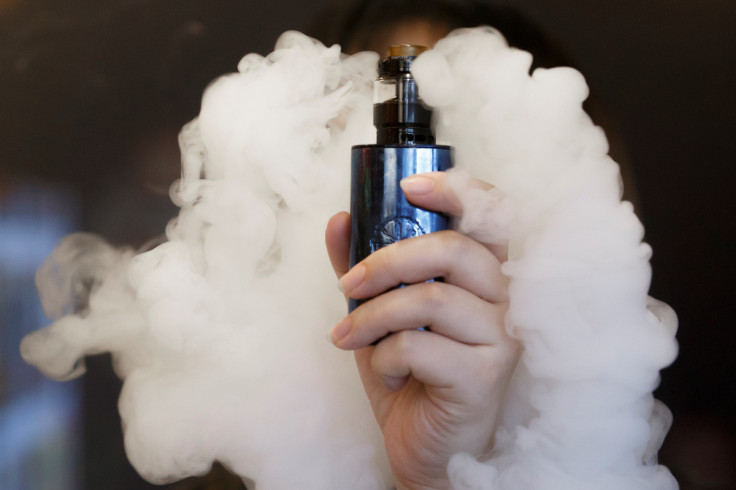 KEY POINTS
The FDA sent the warning letters after a "nationwide retailer inspection blitz"
There was a 46.6% increase in e-cigarette monthly unit sales from 2020 to 2022
There was also an increase in e-cigarette-related reports to poison centers
The U.S. Food and Drug Administration (FDA) is on an e-cigarette crackdown, and it has issued warning letters to more than 180 retailers over illegal sales. This comes amid reports of a surge in e-cigarette sales from 2020 to 2022.
The agency issued the warning letters to retailers following a "nationwide retailer inspection blitz " set on cracking down on the sales of unauthorized e-cigarettes, the FDA said in a statement on Thursday. Of particular concern are Elf Bar and Esco Bars products, the agency said. These are disposable e-cigarettes that, just like other e-cigarettes, can come in flavors like bubblegum and cotton candy which are appealing to young people.
Both Elf Bar and Esco Bars do not have marketing authorization from the FDA, the agency said. In the report released by the U.S. Centers for Disease Control and Prevention (CDC) on the same day, data showed that Elf Bar was the top-selling disposable brand in the country. It was also among the top-selling e-cigarette brands together with Vuse, JUUL, NJOY and Breeze Smoke.
"Elf Bar (now marketed as EBDESIGN) was the top disposable brand reported among a sample of youth (aged 16–19) in the United States in August 2022, and was responsible for driving recent, sharp increases in e-cigarette use among youth (aged 16-19) in England," the CDC noted.
"The FDA is prepared to use all of its authorities to ensure these, and other illegal and youth-appealing products, stay out of the hands of kids," FDA Commissioner Robert M. Califf said in the agency's statement.
Looking at the type and brands patronized by its users, especially young ones, may prove helpful to the crackdown on e-cigarette products. In the same report, the CDC found a surge in e-cigarette monthly unit sales from 15.5 million units in January 2020 to 22.7 million units in December 2022 — that's a 46.6% increase for the time period, during which the number of brands also increased by 46.2%.
And apart from the concerns about e-cigarettes' impact on users, e-cigarettes also carry another type of risk that some users and sellers may not be aware of: poisoning.
In another report released by the CDC Thursday, the agency found an increase in e-cigarette-related reports to U.S. poison centers, logging a 25% increase in e-cigarette exposures from 2017 to 2018.
Worryingly, 63.3% of the incidents in 2018 occurred in children younger than 5 years old. The period from April 1, 2022, to March 31, 2023, also saw a 32% increase in cases of e-cigarette exposure, with 87.7% of exposures happening in young children. Inhalation or ingestion was said to be the most common exposure route.
Among the small number of cases with brand information, Elf Bar was said to be the most commonly reported.
"Health care providers; the public health community; e-cigarette manufacturers, distributors, sellers and marketers; and the public should be aware that e-cigarettes have the potential to cause poisoning exposure and are a continuing public health concern," the report noted.
The FDA's actions this week are only the latest in its crackdown on e-cigarettes that are appealing to young people. So far, only 23 tobacco-flavored e-cigarette products are authorized by the FDA and thus may be sold in the country legally.
"Any form" of tobacco use in youths "is unsafe," according to the CDC. This includes e-cigarettes, which are considered to be tobacco products since most contain nicotine. They may even contain other potentially harmful ingredients like heavy metals.
As of December 2022, seven states and 378 jurisdictions were said to have certain restrictions on flavored e-cigarettes.
"All players in the supply chain — including retailers — have a role in keeping illegal e-cigarettes off the shelves," Brian King, the director of the FDA's Center for Tobacco Products (CTP), said in the FDA statement. "This latest blitz should be a wake-up call for retailers of Elf Bar and Esco Bars products nationwide. If they're waiting for a personal invitation to comply with the law, they might just get it in the form of a warning letter or other action from the FDA."
© Copyright IBTimes 2023. All rights reserved.