Eddie Long of New Birth Missionary Baptist Church Declared 'King' by Rabbi [VIDEO]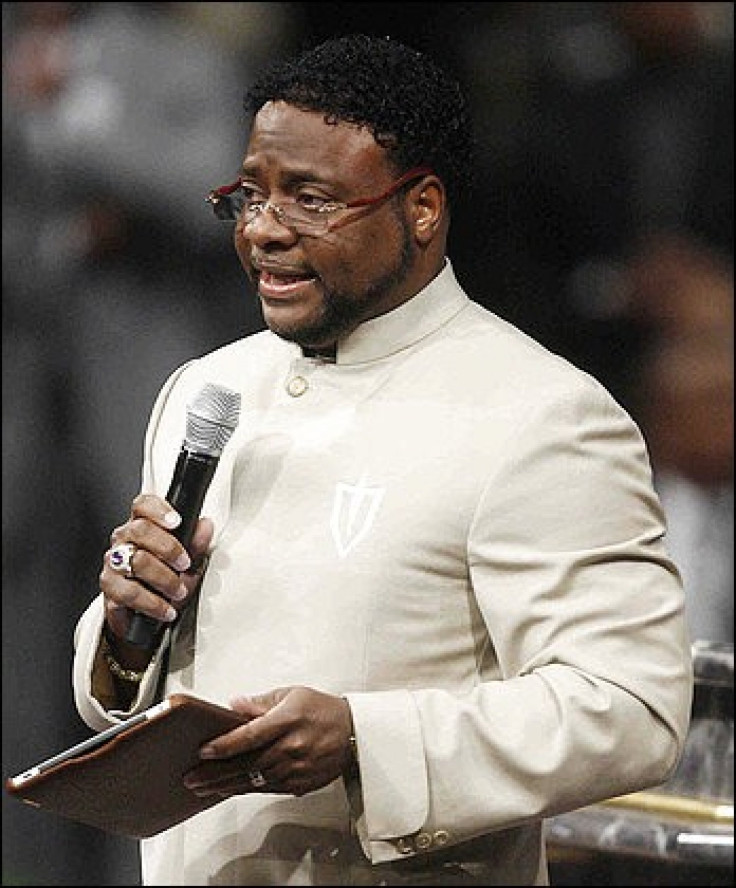 Eddie Long, the controversial Atlanta preacher of the mega-church New Birth Missionary Baptist Church, is making headlines again after he was proclaimed king.
On Sunday Jan. 29, 2012, New Birth Missionary Baptist Church hosted Rabbi Ralph Messer for Sunday morning services in order educate the followers on the Torah.
Messer, who identifies himself with the Hebrew Roots Movement, gave a lengthy sermon about the Old Testament. He then brought out a copy of the Torah allegedly found at Auschwitz and Brikenau, two of the deadliest concentration camps from World War II.
Messer then gave Long the Torah and said that he is the first person to view it in over 3000 years. Messer then asked Long to sit down in a chair. Four men suddenly lifted Long up in the chair as Messer declared Long to longer be a commoner, but a King.
Attendants of the ceremony were heard cheering for Long.
#EddieLong began trending on Twitter today, with many users voicing the opinion on the leaked video.
Bishop Eddie Long has officially gone off the deep end. How much was this rabbi paid to crown Long a 'king'?, wrote Twitter user LeeGrady.
Eddie Long was crowned a King? He cut a deal with Burger King or something?, wrote Twitter user Mo Rease.
Long was preivoulsy accused of sexual misconduct with members of his church. He allegedly used his pastoral influence to coerce Maurice Robisnson, Anthony Flagg and Jamal Parris into having a sexual relationship with him.
The three men filed charges against Long in 2010, charges with Long denied.
I have devoted my life to helping others and these false allegations hurt me deeply, said Long in 2010 according to The Atlanta Journal-Constitution. But my faith is strong and the truth will emerge. All I ask for is your patience as we continue to categorically deny each and every one of these ugly charges.
© Copyright IBTimes 2023. All rights reserved.