Egypt Soccer Riot: See Pictures, Video of Deadly Football Melee [VIDEO]
Egyptian activists and politicians are blaming Egyptian security for the chaotic riot at a soccer stadium in Port Said that killed 74 people and injured hundreds of others Wednesday night.
Lawmakers and soccer fans accuse police of standing by and doing nothing as the brawl turned into the most violent soccer match in 15 years and the bloodiest riots since President Hosni Mubarak was ousted from power one year ago.
The reason for this tragedy is the deliberate neglect and absence of the military and the police, said Essam el Erian, a Muslim Brotherhood official, according to The New York Times.
Incompetence aside, some have even gone so far to accuse the government for using the chaos to justify giving the military more power.
Hundreds gathered near the stadium on Thursday, declaring that the government was involved in a conspiracy against the people. Port Said people are innocent. This is a conspiracy, the Egyptians chanted, according to Reuters.
Video (below) obtained by The Wall Street Journal and The Huffington Post shows fans running across the field, reportedly after El Masry of Port Said defeated their visiting team, Al Ahly of Cairo. People are seen pushing and shoving each other as they try to make their way out of the stadium. Witnesses told Reuters that dozens were crushed to death by the stampede of people. One player told The Associated Press it was like a war.
Police also faced criticism for failing to prevent knives, clubs and other weapons from entering the stadium for the match between the long-time rivals, The New York Times reported.
The Interior Ministry blamed the disaster on a small section of the crowd and vowed to persecute those responsible for the deaths.
In addition to 74 deaths, the Interior Ministry said that 248 were injured, 14 of whom were police officers. A local health official was originally reported as saying 1,000 people were injured, but it is unclear how severely, The Associated Press reported.
Pictures of the chaos can be seen in the videos below or the slideshow above.
Video obtained by The Huffington Post: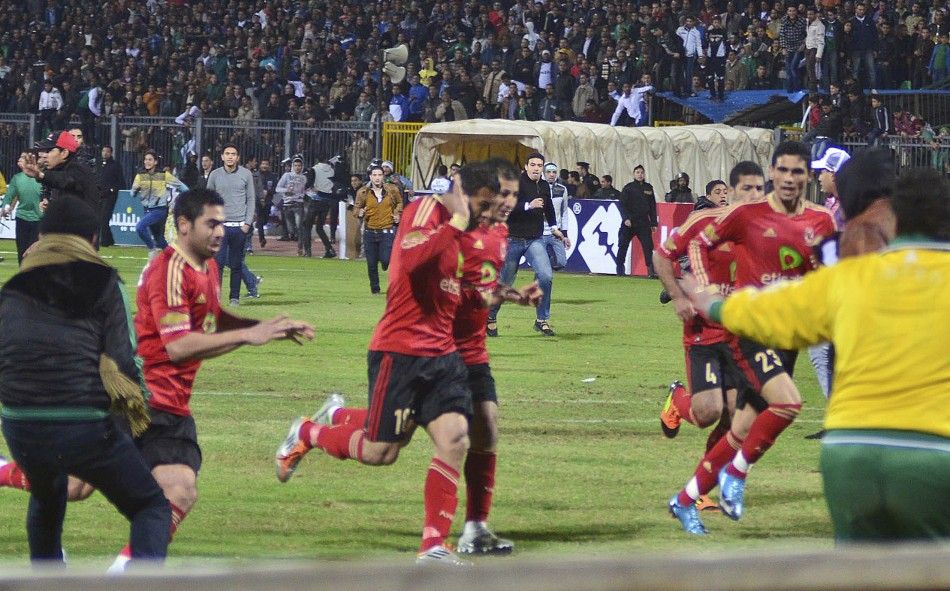 © Copyright IBTimes 2023. All rights reserved.