Elizabeth Warren Calls For Obama To Fire SEC Chairwoman Over Failure To Draft Corporate Political Spending Disclosure Rule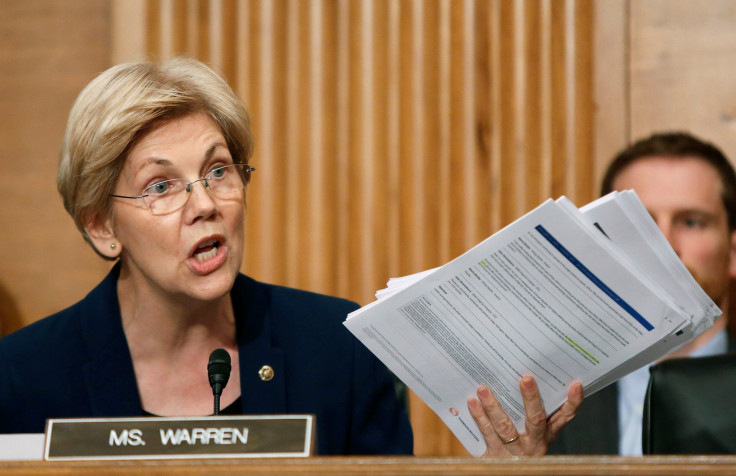 In a strongly-worded letter sent to President Barack Obama early on Friday, Sen. Elizabeth Warren hit out at the U.S. Securities and Exchange Commission (SEC) Chair Mary Jo White for her failure to develop new rules that would require corporations to disclose their political contributions. Warren, who has, in the past, cautioned Democratic Presidential candidate Hillary Clinton against staffing her cabinet with Wall Street donors, also urged Obama to unilaterally designate another SEC commissioner as chair of the agency.
"For years ... Mary Jo White has refused to develop a political spending disclosure rule despite her clear authority to do so, and despite unprecedented and overwhelming investor and public support for such a rule," Warren wrote in her letter. "This brazen conduct is merely the most recent and prominent example of Chair White undermining your Administration's priorities and ignoring the SEC's core mission of investor protection. From the beginning of her tenure, Chair White has made clear that she is concerned that companies disclose too much to investors - a presumption directly counter both to the views of investors themselves and the animating purpose of this agency for more than eighty years."
The SEC has five commissioners who are appointed by the president with the advice and consent of the Senate. Currently, excluding White, the commission has two members — Democrat Kara Stein, whose term expires in 2017, and Republican Michael Piwowar, whose term lasts until 2018.
At the heart of the disagreement between Warren and White is a debate over whether corporations should be required to disclose their political contributions. Currently, while Political Action Committees and super PACs in the U.S. have to disclose their donors and expenditures, corporations do not need to do so — something Warren says compromises the transparency of markets and obfuscates the connections between Wall Street and politicians.
Most Republican lawmakers are opposed to the creation of such rules, arguing that the disclosure of political donations isn't something that would help shareholders make investment decisions.
White, on her part, has also shied away from framing such rules, stating that mandating such disclosures would lead to an "information overload" that would "make it difficult for an investor to wade through the volume of information she receives."
"Transparency helps investors separate desirable investments from undesirable ones and evaluate business activities objectively, thus allowing them to allocate their capital more efficiently. By contrast, reducing requirements for public companies to disclose information material to investment decisions undermines efficient markets, encourages fraud, and, in extreme cases, can sow the seeds of future economic meltdowns," Warren wrote in her letter. "While demoting an existing Chair and selecting another from among the agency's current Commissioners would be an uncommon act, Chair White's extraordinary, ongoing efforts to undermine the agency's central mission make such a step necessary."
This is not the first time Warren has launched a broadside against White — an independent who has helmed the SEC since 2013. The Massachusetts senator was one of the 44 Senate Democrats who signed a letter last August urging the SEC to make it "a top priority" to draft rules requiring corporations to disclose their political spending.
© Copyright IBTimes 2023. All rights reserved.