'Empire' Season 3 Spoilers: Showrunner Teases What's Next For The Lyon Family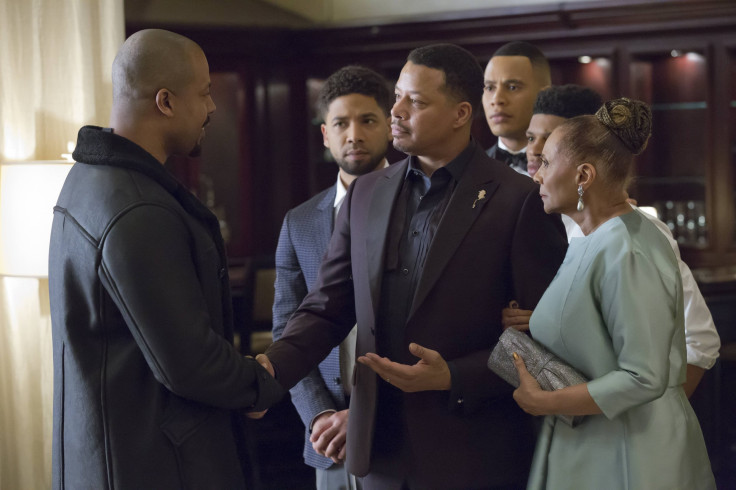 "Empire" Season 2 came to end on a major cliffhanger with several bombshells dropped throughout the finale. Fans have many questions going into Season 3, and the showrunner says viewers can expect to see more fights and drama on the Fox series.
In an interview with TVLine, executive producer Ilene Chaiken said the show is setting up "a battle of dark vs. light." A lot of this battle could take place between Lucious (Terrence Howard) and his half-brother Tariq (Morocco Omari).
"Who are the Lyons and how will they continue to define themselves going forward? Can they ever change? Is Lucious the dark lord, pulling them all in the other direction? And really, where does Tariq fit in with all of this? I would venture that if Tariq really is Lucious' half-brother, there probably isn't a good one and a bad one," Chaiken dished.
Lucious learned from his mother, Leah Walker (Leslie Uggams), that Tariq was his half-brother in the Season 2 finale. When Lucious was a child he witnessed Tariq shoot and kill his father. If this revelation comes out, things can get really ugly between the brothers who already are expected to go head-to-head in Season 3.
Chaiken also added Cookie (Taraji P. Henson) turning her back on Lucious in the Season 2 finale also could put a strain on the family in Season 3. When Lucious decided to marry Anika (Grace Gealey) to keep her from testifying against him, this appeared to be the final straw for Cookie with her former husband. Chaiken said her being done with Lucious will "color everything" in Season 3.
Another major plot point that has to be revealed in Season 3 is how that balcony fight between Anika and Rhonda (Kaitlin Doubleday) plays out. Rhonda figured out that Anika pushed her down the stairs and was responsible for her losing her baby. Andre (Tari Byers) walked onto the balcony and saw his wife fighting Anika. The camera then zoomed in on his shocked face, a scream was heard and it sounded like someone took a long fall to the street below. If one or both characters died, it will have major implications on the series going forward.
"Empire" Season 3 will air in the fall on Fox. What do you think will happen in Season 3? Soundoff in the comments section below!
© Copyright IBTimes 2022. All rights reserved.
FOLLOW MORE IBT NEWS ON THE BELOW CHANNELS