'Empire' Season 2 Spoilers: A Wedding, New Half-Brother And A Major Cliffhanger; Top 10 Moments From The Finale [RECAP]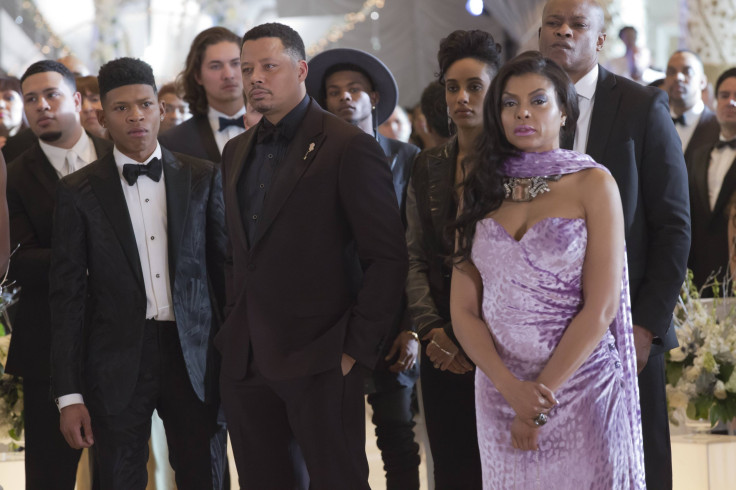 Lucious and Cookie have been running from their violent past all throughout "Empire" Season 2 on Fox. Their sons wanted to end the cycle of crime and murder in the Season 2 finale, but instead it appears more trouble and drama is ahead for the Lyon family. Here are the top 10 moments from episode 18, titled "Past is Prologue."
1. Jamal Walks Away From Music
Jamal (Jussie Smollett) gets out of the hospital three weeks after being shot. Lucious (Terrence Howard) and the family welcome him back home and Hakeem (Bryshere Y. Gray) asks him to sing at his wedding. Jamal has had enough of violence and people going to prison. He says until his family breaks the cycle he's not singing anymore.
2. Lucious' father?
After hearing what Jamal said about no longer wanting to make music, Leah (Leslie Uggams) tells the family they're all paying for the crimes of Lucious' father. Lucious quickly quiets her and has her taken out of the room. Later at Hakeem's wedding, she tells Andre (Trai Byers), Hakeem and Jamal that Lucious watched his father get shot and killed in front of him.
3. Rhonda Attacks Anika
Anika (Grace Gealey) goes to see Lucious to tell him about how she was picked up by the FBI. When she's talking to him, Rhonda (Kaitlin Doubleday) comes into the room and grabs Anika. She then punches Anika in the face and says she did it because she knows that Anika was the one that pushed her after seeing her shoes. The rest of the family doesn't believe Rhonda and thinks Anika couldn't have done it.
4. Cookie Learns Lucious' Dark Past
Lucious tells Cookie (Taraji P. Henson) he had to take out some people while she was in prison. To protect himself against the FBI, who are looking for a way to take him down, Cookie goes to find Shyne Johnson (Xzibit) to bring him into Lucious' inner circle. Lucious and Shyne did a job together in the past so she goes to bring him in so he doesn't snitch to the FBI. He agrees to help her, but it comes at the cost of an invite to Hakeem's wedding.
5. Lucious Helps Someone
Lucious visits Freda Gatz (Bre-Z) in prison and denies he was involved with the murder of her father Frank Gathers (Chris Rock). He tells her he's there for Jamal and wants to help his son get back to making music. He gets her to lay down a verse and he gives it to Jamal. When Jamal hears it he starts singing again and he writes a song for Hakeem's wedding.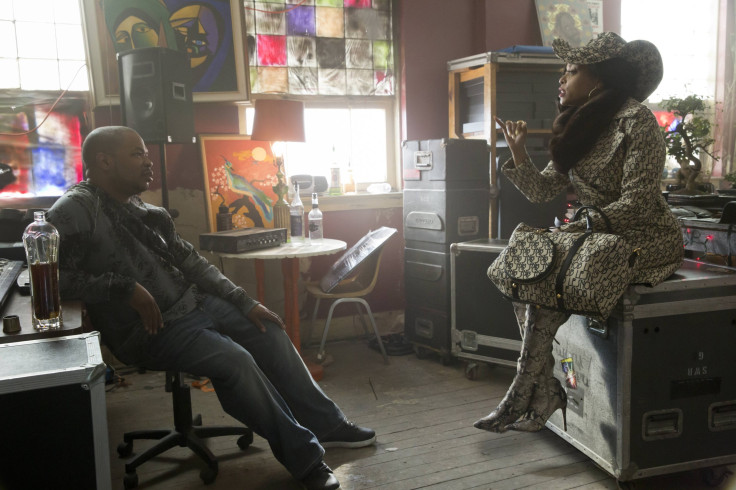 6. Cookie Saves Anika
It's no secret that Cookie can't stand Anika. However, when Anika threatened to kill herself by throwing herself off a roof, the relationship between the two of them changed. Cookie reminded her that she was carrying a baby and if she jumped, the baby would die too. Cookie also tells her that she's a Lyon now, which she always wanted. Anika then comes down off the roof.
7. Laura Calls Off The Wedding
An undercover agent disguised as a caterer serves Anika a subpoena to appear in court to testify about Lucious. They try to stop the woman from getting away and a fight breaks that Shine is involved with. Guards start to take Shyne away, just as Laura (Jamila Velazquez), her mother and father begin to make their way to the ceremony. Laura looks on in horror and tells Hakeem that his life is not one she wants to be a part of. She walks away and the wedding between the two is canceled.
8. Lucious Gets Married To…Anika?!
Just when it seemed like a Cookie and Lucious reunion was going to happen, Lucious comes up with a plan to marry Anika so she can't testify in court against him. Cookie is crushed by this and she turns her back on Lucious. Anika and Lucious then take Hakeem's place in the wedding and after the ceremony, Lucious lets Anika know that he's aware she pushed Rhonda.
9. Tariq is Lucious' Half-Brother
Tariq (Morocco Omari), the FBI agent after Lucious, is actually his half-brother. Leah makes this revelation after his wedding to Anika and a flashback scene shows that a younger Tariq was the one who shot and killed their father.
10. Two Lyons Fall
Anika is outside on a balcony getting air when she's confronted again by Rhonda. As the two fight, Anika admits that she was the one that pushed Rhonda because she wanted her baby to be the only heir to the throne. Andre comes outside and sees his wife and Anika fighting. When he goes to break it up, the two fight by the ledge and the camera pans back to Andre as two screams are heard. Andre yells after them and episode 18 ends on a cliffhanger.
FOR FREE to continue reading
✔️ Unlock the full content of International Business Times UK for free
offer available for a limited time only
✔️ Easily manage your Newsletters subscriptions and save your favourite articles
✔️ No payment method required
Already have an account?
Log in
© Copyright IBTimes 2023. All rights reserved.