Fantasy Football 2015: 6 Sleeper Quarterbacks For The Upcoming NFL Season
Perhaps the toughest position to snag a sleeper in all of fantasy football is quarterback. For instance, the top six quarterbacks in ESPN leagues were all household names that are typically snatched up no later than the third round in most drafts: Aaron Rodgers, Andrew Luck, Russell Wilson, Peyton Manning, Ben Roethlisberger, and Drew Brees.
With the exception of Luck all have one Super Bowl title, and all have the ability to carry your fantasy lineup from week-to-week for the entire season because their respective offenses rely so heavily on their playmaking.
But of course the chances of grabbing any one of those quarterbacks early without jeopardizing the overall balance of your fantasy lineup are quite slim. Which is why many fantasy owners wait until the middle rounds to snag their quarterback. It's a tried and true strategy that typically works for a fantasy championship contender.
Thus, we'll breakdown some quarterbacks who could not only serve as your QB1 for the entire upcoming 2015 fantasy season, but should be available low enough to allow you some time to work out the best running backs and wide receivers to take in the first three or four rounds.
Based off FantasyPros.com's tabulations, here's a list of six quarterbacks who are projected go lower in the average fantasy draft then maybe they really should.
Eli Manning, New York Giants (ADP No. 12 QB off the board)
If we look at the previously linked ESPN list, Manning was the 10th highest scoring QB in fantasy last season with 4,410 yards and 30 touchdown passes to 14 interceptions. Yet he's averaged as the 12th QB off the board in drafts this year.
There's plenty of reason to believe Manning could exceed those numbers in 2015. That 4,000-yard season was his first since 2011 and he posted the best completion percentage of his career at 63.1 percent. Manning didn't even have rookie sensation receiver Odell Beckham Jr. for a full 16-game slate, and the budding star was also hurt during training camp. They'll have a full camp and season together to put up some insane numbers in 2015. Pro Bowl receiver Victor Cruz is also expected to return by Week 1 from a torn patella tendon. Drafting offensive lineman Ereck Flowers will definitely help, as Manning has proven to be an excellent passer when given time.
Manning will also get pass-catching running back Shane Vereen in the mix. The former Patriot has 107 receptions for 1,023 yards and seven touchdowns over the last three years, which eclipses his 907 career rushing yards. The Giants are also tied for the 20th hardest schedule this season, making the road potentially much easier for Manning.
Ryan Tannehill, Miami Dolphins (ADP No. 14)
When any player signs a huge extension owners will shy away, but according to CBS Sports' breakdown of Tannehill's new deal you'll understand he has millions of reasons to not only live up to but exceed all expectations. In his third year, Tannehill set career-highs in every major passing category last season with 4,045 yards, 27 TDs, a 66.4 completion percentage, and 6.9 yards per attempt despite being sacked 46 times.
He won't have receiver Mike Wallace around, but the two never developed the proper chemistry anyway and it also means more targets for second-year receiver Jarvis Landry. He caught 84 out of 111 targets for 758 yards and five scores last season. And Miami also picked stud Louisville receiver DeVante Parker with the No. 14 overall pick in the draft, and he's expected to surge like most of last year's rookie batch of receivers did. The Dolphins also traded for promising third-year receiver Kenny Stills and added tight end Jordan Cameron.
Tannehill has the added benefit of quickness out of the pocket. He was fifth among all QBs with 311 rushing yards last season.
Sam Bradford, Philadelphia Eagles (ADP No. 18)
Injuries plagued Bradford his last two years in St. Louis, but before he went down in 2013 with a torn up knee, he was on pace to shatter his career-highs. He launched 14 touchdowns to only four interceptions and had a 60.7 completion percentage despite the Rams depleted offensive line and no legitimate running back or receivers to help him out.
In Philadelphia, Bradford will have two star running backs and a plethora of targets in head coach Chip Kelly's high-octane offense. The Eagles scored 29.6 points a game last season, and could be even more potent if Bradford can mirror his accuracy from 2013, especially with freshly signed running backs DeMarco Murray and Ryan Mathews behind him.
Other than keeping defenses honest with their rushing abilities, Murray and Mathews have combined for 316 receptions for 2,306 yards and two touchdowns in their short careers. Second-year receiver Jordan Matthews should improve, and rookie receiver Nelson Agholor can provide some dynamic plays to stretch Bradford's yardage and touchdown numbers.
As the 18th QB off the draft board, a healthy Bradford could be one of the bigger sleepers/steals in this year's draft.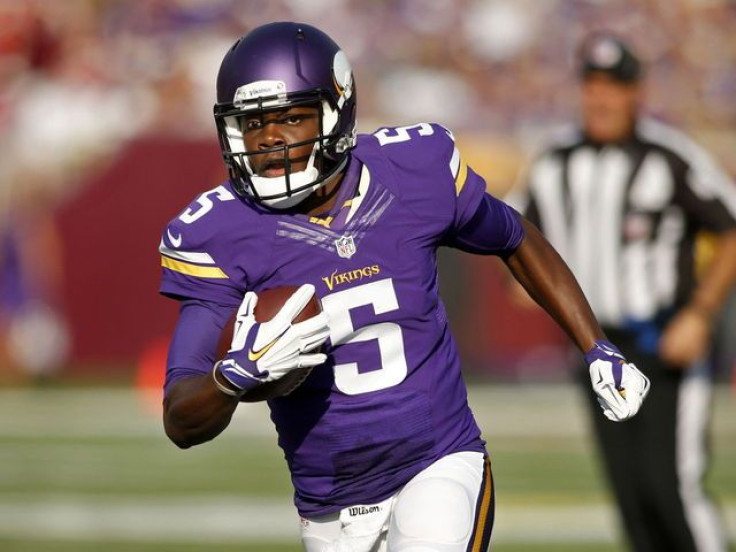 Teddy Bridgewater, Minnesota Vikings (ADP No. 19)
Bridgewater put up an excellent 64.4 completion percentage (No. 11 in the league) for 2,919 yards and 14 touchdowns to 12 picks in his rookie year, with a blend of young receivers in Jarius Wright, Cordarrelle Patterson and Charles Johnson.
A sophomore slump could be possible, which is why he's the 19th QB off the board. But just remember running back Adrian Peterson is expected to return, which should open up tons of room for Bridgewater to pick apart the opposition. It is probably wise not to underestimate Bridgewater in 2015.
Derek Carr, Oakland Raiders (ADP No. 22)
Another member of the 2014 draft class who shined as a rookie, Carr totaled 3,270 yards and 21 touchdowns to 12 interceptions without a true No. 1 receiver or running back. Carr already has an excellent offensive that allowed him to be sacked only 24 times last season, and the Raiders reinforced the line with center Rodney Hudson.
Unfortunately for Carr, Oakland's situation at running back is a bit murky with Latavius Murray and Trent Richardson in the back field, but the Raiders got Carr his deep threat in rookie receiver Amari Cooper. Michael Crabtree should help, too. With a year under his belt, Carr may be ready for a big season.
No. 22 off the board makes sense given the issues at running back, but with the Raiders line Carr could flourish with his wide receivers. A fantasy backup for a bye week for now, but a late-round pick might be worth it for Carr.
Blake Bortles, Jacksonville Jaguars (ADP No. 28)
Bortles took an absolute beating in his rookie year with a league-worst 55 sacks, but Jacksonville padded the offensive line with right tackle Jermey Parnell from the Cowboys' top line last season. The Jags also went out and signed tight end Julius Thomas, one of the most dangerous red zone players in the league and out to prove that he doesn't need Peyton Manning to succeed.
And it's not like Bortles was lacking for targets. One of last year's sleepers, Allen Hurns, averaged 13.3 yards per catch for 677 yards and six scores, and Allen Robinson and Marqise Lee should be healthy by the start of the season. At running back, the Jags also have an excellent mix of speed, talent, and experience in Toby Gerhart, Denard Robinson, and rookie T.J. Yeldon.
Bortles is a QB2 for now, but the Jags have the eighth easiest schedule in the league next season, so keep tabs on Bortles if he falls in the draft or blossoms later in the year.
Correction: A previous version of this story stated tight end Charles Clay was still with the Miami Dolphins. He signed with Buffalo in the offseason.
© Copyright IBTimes 2023. All rights reserved.