FDA Warns About Listeria Threat In Mexicali Cheese Corp. Products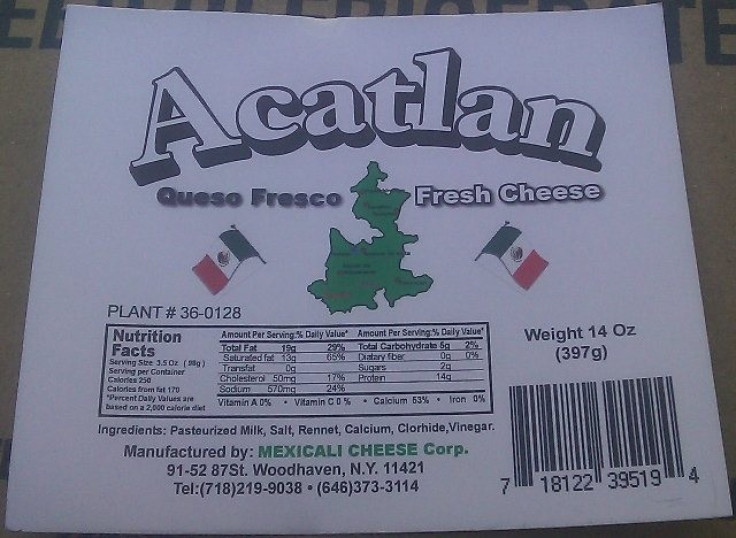 Because the bacterium Listeria monocytogenes was found in the Mexicali Cheese Corp.'s finished product, the U.S. Food and Drug Administration is warning people to neither consume nor purchase any of the company's products.
Mexicali Cheese is based in Woodhaven, N.Y., and its affected products were distributed in New York, as well as Connecticut, New Jersey, and Pennsylvania, according to the FDA. It warned that consumers may have moved the products beyond these four states.
Meanwhile, the FDA has requested that retailers remove any Mexicali Cheese products from their shelves.
The New York State Department of Agriculture and Markets issued warnings about the Mexicali Cheese products on June 29 and July 2. The state agency reported each product is packaged in a rigid 14-ounce plastic tub that displays the plant number 36-0128 and a code of 071512. And it said the following product names are on the package containers:
-- Acatlan Queso Fresco, Fresh Cheese;
-- Mexicali Queso Fresco Mexicano, Mexican Style Fresh Cheese;
-- Mi Quesito Mexicano, Mexican Cheese; and
-- Quesillo Ecuatoriano, Ecuadorian Style Cheese.
On May 1, U.S. District Judge John Gleeson in the Eastern District of New York (Brooklyn) signed a consent decree of permanent injunction involving Mexicali Cheese, the FDA noted that day.
The consent decree prohibits Mexicali Cheese from receiving, preparing, processing, packing, holding, or distributing any articles of food until it has completed FDA-approved measures to correct deficiencies, decontaminate their facility, and comply with the law. The company must also hire an outside sanitation expert to ensure that the company's food processing procedures are safe. The firm may not resume operations until it receives FDA's permission, the FDA pointed out.
However, Mexicali Cheese did not comply with these requirements, the FDA said Friday.
Listeria contamination can cause listeriosis, an infection that primarily affects older adults, pregnant women, newborns, and adults with weakened immune systems, according to the U.S. Centers for Disease Control and Prevention. In rare cases, however, people without these risk factors also can be affected, the CDC reported. Although listeriosis in healthy people may lead to only short-term symptoms, such as abdominal pain and diarrhea, high fever, nausea, severe headache, and stiffness, the infection can cause miscarriages and stillbirths in pregnant women, the CDC said.
A consumer who has eaten any of the above-referenced products and experienced any of the symptoms of listeriosis should contact his or her health-care professional. And a consumer can report problems with FDA-regulated products to one of the agency's consumer complaint coordinators.
As of July 2, the New York State Department of Agriculture and Markets reported it was unaware of any illnesses associated with the above-referenced products.
© Copyright IBTimes 2023. All rights reserved.
FOLLOW MORE IBT NEWS ON THE BELOW CHANNELS