Ferguson Shooting, Riots And Race: Whites, Blacks React Differently To Mike Brown's Death
A Black & White View Of Ferguson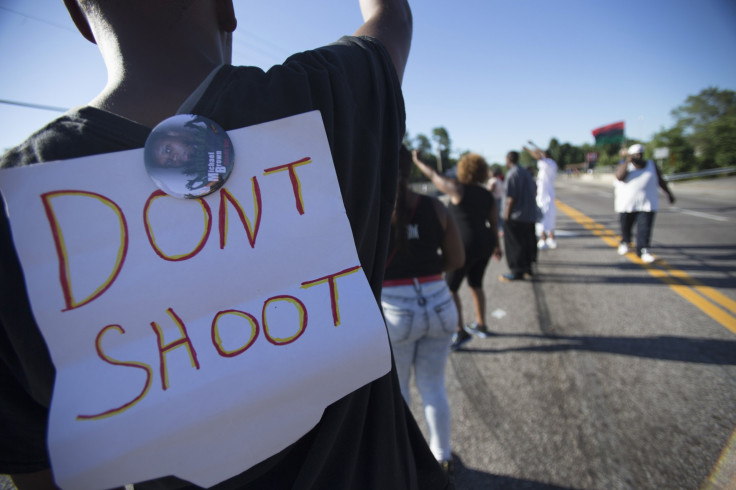 The continuing turmoil in Ferguson, Missouri, has opened up a much-needed dialogue about race in America, but apparently not all Americans think so.
In a national survey released Monday by the Pew Research Center, blacks are more than twice as likely as whites to believe that the fatal shooting of Mike Brown and the civil unrest that followed "raises important issues about race that need to be discussed." The survey of 1,000 adults, conducted last Thursday through Sunday, shows reactions to the story are sharply divided along racial lines, with some 80 percent of blacks saying the shooting of an unarmed black teenager raises racial issues that merit discussion, while 47 percent of whites say race is getting more attention than it deserves.
Reactions to the shooting aftermath are similarly divided. Some 65 percent of blacks say police have gone too far in their response to the protests and violence that followed Brown's shooting, while only 33 percent of whites feel that way. Perhaps not surprisingly, Republicans are more likely than Democrats to believe that the police have responded appropriately to the situation.
White-black divisions are nothing new among reactions to news stories with racial undertones. A 1995 CNN/Time magazine poll showed blacks and whites disagreed starkly on the verdict and impact of the O.J. Simpson trial. The poll revealed that 62 percent of whites at the time believed that Simpson was guilty, compared to just 14 percent of blacks. More recently, Pew Research showed a substantial racial divide over the George Zimmerman verdict, with 86 percent of blacks saying they were dissatisfied with the "not guilty" verdict in the 2012 shooting death of Trayvon Martin. By contrast, only 30 percent of whites said they were dissatisfied.
The latest Pew study was conducted during a busy news week in which five major stories dominated the headlines. According to the survey, 27 percent of respondents said they were following the Ferguson protests closely, the same percentage who said they were following the death of Robin Williams. Those two stories edged out the Ebola outbreak in Africa (25 percent), the U.S. airstrikes in Iraq (23 percent) and the conflict between Russia and Ukraine (22 percent).
Read the full Pew Research survey here.
© Copyright IBTimes 2022. All rights reserved.
FOLLOW MORE IBT NEWS ON THE BELOW CHANNELS