Flexible Galaxy Skin From Samsung: Future of Smartphone? [VIDEO, PHOTOS]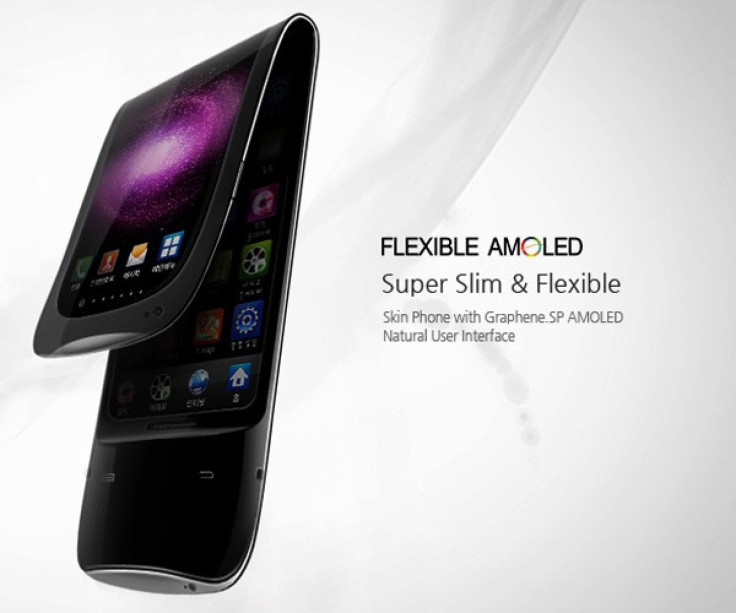 In its latest entry to dethrone Apple, Samsung is bringing out the Galaxy Skin, a flexible smartphone.
The new smartphone, which was unveiled at Hongik University in South Korea on June 10 and later at the CES 2011 in Las Vegas, was designed and developed by Professor. Haeseong J. Jee and Hye Yeon You. Hye said the design was still in the conceptual stage.
The ground-breaking feature of the futuristic device is that it is flexible and can take various shapes. The displays are rollable, bendable and can even survive blows from a hammer. It is the first of its kind and is set to mold a new definition for smartphones. Samsung previously confirmed the production of flexible AMOLED displays that may debut in the second quarter of 2012.
The AMOLED flexible display of the device is said to have used a plastic polyimide substrate instead of glass. Previous tests have also shown that plastic polyimide will allow the flexible displays to bend around a cylinder with a 1-inch diameter. The electrical signals that are sent to the flexible display cause physical deformation which is actually the electrically active polymer core technology.
A biggest bonus for this type of displays is that they use the AMOLED technology that will arrive with low energy consumption and good screen brightness. Samsung has teamed up with a Japanese company, Ube Kosan, that probably will be contributing hugely in production of the AMOLED flexible displays.
The Galaxy Skin specifications, as known currently, show that the device has a 4-inch WVGA SUPER AMOLED (800X480) Flexible type display. The device is also said to feature an 8 MP rear and a VGA Telephony Camera that will sport auto focus, self shot, action shot, Panorama shot, stop motion and Add me features.
There is still doubt about the device's operating system. While some say that it will run the next-generation Jelly Bean (Google's next project after Ice Cream Sandwich), others are of the opinion that the device will feature a new kind of OS called Android Flexy.
Other features include 1.2 GHz processor with a 1 GB RAM. The device is expected to arrive in both 32 and 16 GB. The device size, most probably, is 221x67x8 mm with a 1500 mAh battery along with value added features like integrated messaging Social Hub, augmented realty with Layar Realty Browser, Android Market, Video messaging, Exchange ActiveSync, SMS, MMS, Email. Connectivity will be provided by Bluetooth version 3.0, USB version 2.0 (high speed), Wi-Fi 802.11 b/g/n.
The new core technology, developed for the device, utilizes mouse-featured applications and will allow the device to be used as a full-time mouse. The device, apart from being a smartphone, can be turned into a table clock on or can be worn as a wrist-watch. It can also act as a smart projector when placed on table.
Meanwhile, Apple's iPhone 5 is rumored to be powered by the A5 dual-core processor, used in its iPad 2. A previous report also stated that Taiwan SemiConductor Manufacturing Company (TSMC) had already started a trial production of the Apple A6 line of processors that will incorporate the 3D IC technology.
Other rumored features include an 8MP camera with dual-LED flash and an edge-to-edge display. Apple, reportedly, has ordered 90 percent of its 8MP camera sensors from OmniVision. Chances of a 4G LTE-compatible iPhone 5, however, are less.
© Copyright IBTimes 2023. All rights reserved.