Football Player Kills Himself And Girlfriend; New Details Emerge As NFL Mourns Jovan Belcher Tragedy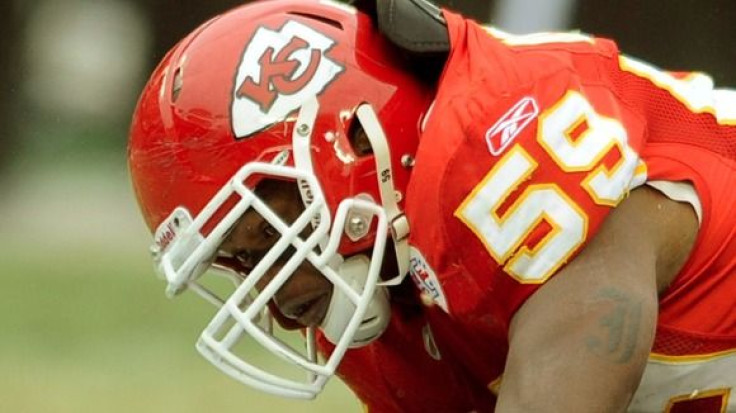 The Kansas City Chiefs won an emotional game on Sunday afternoon, defeating the Carolina Panthers for their second victory of the season. The win came just one day after Chiefs linebacker Jovan Belcher killed his girlfriend, and then himself at Kansas City's practice facility.
Belcher shot his girlfriend Kasandra Perkins multiple times at their home on Saturday. Soon after, he drove to practice facility, where head coach Romeo Crennel and general manager Scott Pioli saw Belcher commit suicide in the parking lot. Belcher thanked Crennel and Pioli for everything they had done for him, before he turned the gun on himself. Sports Illustrated's Peter King reported that the linebacker spoke to Pioli for several minutes before taking his own life.
"I came here to tell you thank you," Belcher reportedly told Pioli. "Thank you for my chance. I love you, bro."
Clearly shaken, Belcher asked to speak to Crennel and defensive coordinator Gary Gibbs. The two tried to talk the player down, but were unsuccessful in their attempt.
"I wasn't able to reach the young man," Crennel said to King.
The 25-year-old was in his fourth NFL season with the Chiefs. He was signed by the club as an undrafted free agent out of Maine in 2009, and became a full-time starter for the team. He wasn't highly-touted in college, and was recruited as a star wrestler, not a football player.
With police investigating the murder, details have emerged about the relationship between Belcher and Perkins. The couple reportedly began having problems when their three-month-old daughter, Zoey Michelle, was born. One friend of Perkins claims the two lived apart from each other for a brief time, but had gotten back together by Thanksgiving.
Police reports stated that Belcher and Perkins began arguing approximately an hour before the shooting. Perkins' mother was in the home at the time her daughter was killed.
© Copyright IBTimes 2023. All rights reserved.