Ford, Toyota Team-up: Companies, Leaders Have Old Ties, Admiration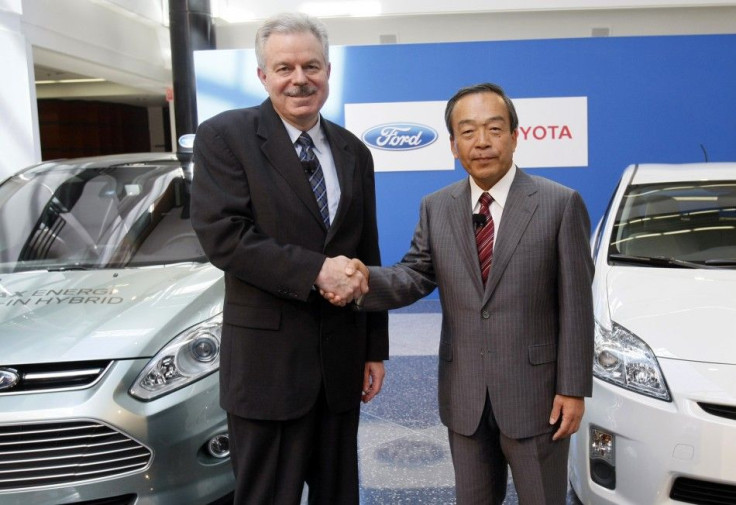 News that Ford Motor Co. and Toyota will work together jointly to develop a gas-electric hybrid fuel system for pickup trucks and sport utility vehicles isn't a big surprise, if one considers the source of how the arrangement came about.
Ford CEO Alan Mulally and Toyota CEO Akio Toyoda crossed paths at an airport. The two company leaders talked, sharing mutual admiration for one another's companies. Talk turned to hybrid vehicles, and plans for the future. Ford is the truck leader, and Toyota has more hybrid patents than any other company -- making a nice fit.
But the natural connection goes beyond just that. Mulally, for instance, has been a longtime student and admirer of Toyota and The Toyota Way -- the company's core principles. As an engineer and company executive at Boeing before taking the job as Ford's CEO, Mulally was an avid student and admirer of Toyota.
Mulally has read multiple books about Toyota. He's been to its company facilities in Japan. He's modeled, and even emulated both leadership and processes after the best of lessons from Toyota over the years arguably as much as any U.S. executive has.
In 2000, for example, Boeing began working with Toyota studying the company's lean production model for application in production of the company's patented jetliners, including 737s, 747s and 777s.
In fact, Mulally has been a self-professed fan of Toyota to the point that he's admitted borrowing liberally from Toyota's playbook. Mulally even hired James Farley, a top Toyota executive, after taking the job as Ford CEO.
The finest production system in the world, Mulally once said at a dinner with journalists, addressing his admiration of Toyota.
Similarly, Toyota has a long history and respect of Ford. Members of the Toyoda family, of which current CEO Akio Toyoda is a direct descendant, studied Ford Motor Company's lean production system in the 1920s and 1930s and also in later years.
After establishing Toyota's automotive operations in 1936, for instance, Kiichiro Toyoda visited Detroit to study the U.S. automotive industry.
Ford Motor Co. cooperated with Toyoda on his fact-finding mission, and Toyoda got and read a copy of Henry Ford's book Today and Tomorrow, which planted the early seeds or Toyota's lean production system that evolved to become The Toyota Way.
Now, the companies have come full circle, formally agreeing to work together on the hybrid fuel system for pickup trucks and sport utility vehicles while remaining global competitors.
Clearly Ford and Toyota will remain competitors, said Derrick Kuzak, Ford's group vice president for research and development, in a statement. By working together, we will be able to offer our customers more affordable technology sooner.
Also, Ford and Toyota say they will work together collaboratively on new technology for information and entertainment systems in vehicles.
By working together, we will be able to serve our customers with the very best affordable, advanced powertrains, delivering even better fuel economy, Mulally said in a statement. The is the kind of collaborative effort that is required to address the big global challenges of energy independence and environmental stability.
The two companies also agreed to work together on enablers to complement each company's existing telematics platform standards, helping bring more Internet-based services and useful information to consumers globally.
Under the MOU agreement, the two companies will bring the best of their independently developed hybrid powertrain technology and knowledge, the companies said, to a new co-developed hybrid system, which will be used in rear-wheel-drive light trucks arriving later this decade.
Specifically, Ford and Toyota will jointly develop as equal partners a new rear-wheel drive hybrid system and component technology for light trucks and SUVs, and Independently integrate the new hybrid system in their future vehicles separately.
© Copyright IBTimes 2023. All rights reserved.