Gaborik Hat-Trick Spurs Rangers To First Win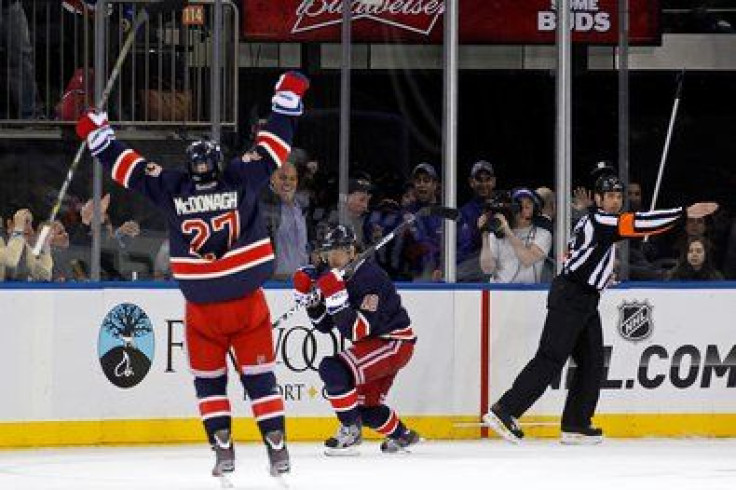 Marian Gaborik completed his hat-trick with an overtime game-winner as the New York Rangers recorded their first victory of the season with a 4-3 triumph over the Boston Bruins on Wednesday.
Gaborik tipped in his own shot just 27 seconds into the extra session as the Rangers celebrated in front of their home fans and avoided losing their first three games of a campaign in 14 seasons.
"We were concerned with the 0-2 start," New York's Marc Staal told reporters. "We didn't like the way we were playing. I think we were a lot better tonight, so if we had lost we would've felt better about our effort."
Prior to his winning contribution, Czech winger Gaborik had helped New York forge a 2-0 lead with a pair of goals in the first period.
After the Bruins (2-0-1) had rallied to tie the game in the second, Taylor Pyatt restored New York's lead before Nathan Horton forced overtime with his snapshot at 15:37 in the third.
The goal was Horton's first in more than a year after he missed half of last season due to a concussion.
"It was good to see us battle back after the start that we had," said Boston's Milan Lucic, who scored along with team mate Brad Marchand in the second.
"They were able to get that two-goal lead, and that's what ended up costing us in the end."
New York (1-2-0) gained a degree of revenge with the win after suffering a season-opening defeat to Boston on Saturday.
Reining Vezina Trophy winner Henrik Lundqvist also bounced back from a poor start to the season with 26 saves following a game where he was pulled in a loss to Pittsburgh.
Tuukka Rask made 29 saves for the Bruins.
(Reuters)
© Copyright IBTimes 2023. All rights reserved.