'Game Of Thrones' Season 7 Photos Hint At Valonqar Theory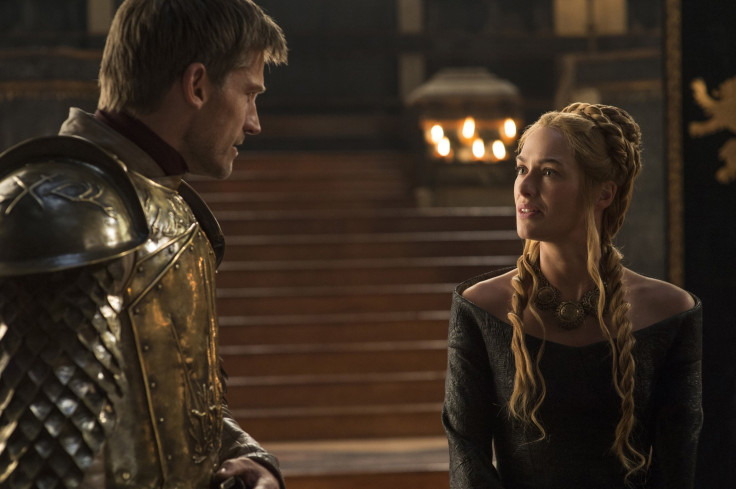 A great war is coming to the Seven Kingdoms in Season 7 of "Game of Thrones," but there's a battle brewing within House Lannister that thronies are far more interested in. A theory has been brewing among fans of the HBO original series that suggests Cersei Lannister will finally get what's coming to her.
Newly released photos show Cersei (Lena Headey) and her brother/lover Jaime Lannister (Nikolaj Coster-Waldau) having what appears to be a tense conversation. The reigning queen of the Seven Kingdoms is gripping a wine glass and looking away, as Jaime stands just behind her. The look on his face suggests whatever they're talking about isn't pleasant for either of them.
Read: 'Game Of Thrones' Season 7 Scenes We Can't Wait To See
View the full photoset here.
Some "Game of Thrones" fans believe the photo is further evidence that Jaime will turn on, and eventually kill, Cersei in Season 7. The theory stems from a prophecy made by Maggy the Frog (Jodhi May)in Season 5, as well as in one of George R.R. Martin's books. Her prediction, which included Cersei marrying Robert Baratheon (Mark Addy) and how many children they'd collectively have, also included a theory about her death.
Maggy suggested that Cersei would be killed by a Valonqar, which means little brother in High Valyrian. The theory began re-circulating ahead of Season 7 after appearing on Reddit. "Game of Thrones" fans have been trying to figure out who the little brother in question may be, with many — including the user who shared it — theorizing about who will be the one to end the Mad Queen's reign.
Coster-Waldau's been confronted about theories he'll turn on Cersei in Season 7 of "Game of Thrones," but the actor's been careful not to give anything away. During an interview with the Daily Beast, he was asked about killing his sister/love interest, calling it "a great theory."
Jaime's not the only Valonqar possibility. Some "Game of Thrones" fans seem to think it'll be Jon who finally kills her. Reddit user Dremling recalled Maggy the Frog's theory, making a case for Jon as her killer.
"To quote the end of Cersei's prophecy: 'When your tears have drowned you, the Valonqar shall wrap his hands around your pale white throat and choke the life from you,'" the Redditor shared. "...Jon Snow is a Targaryen. He is the little brother of Rhaenys and Aegon. He wants to kill Cersei. I think it is very likely that he does."
Another possibility is that Arya Stark (Maisie Williams), who was focusing on her kill list when last we saw her in Season 6 of "Game of Thrones," will carry out the murder. While she's not a little brother, The Independent notes that the term Valonqar could be gender neutral. It's also worth noting that in early seasons of "Game of Thrones," Arya posed as a boy in the hopes of joining the Night's Watch.
Read: The Absolute Best 'Game Of Thrones' Season 7 Theories
While Cersei dying is a popular theory among fans of the HBO series, others believe Maggy the Frog's theory is not meant to be taken literally. One ideology stemming from the prediction is that there will be a battle between the Clegane brothers. Reddit user BertMacGyver theorizes that The Mountain (Hafþór Júlíus Björnsson) and The Hound (Rory McCann) will face off in a battle to the death, leaving one of them dead on the Queen's behalf.
"I'm convinced that there will be a trial by combat to determine if Cersei will be put to death and it will be a fight between the Cleganes and the Hound will win," the post read. "Meaning that the prophecy that Cersei will be killed by the 'little brother' will come true."
Tune in to "Game of Thrones" when it returns to HBO July 16 to find out for certain. Read more about the Valonqar theory here.
© Copyright IBTimes 2023. All rights reserved.