German Soccer Stadium Evacuated During International Friendly Match In Hannover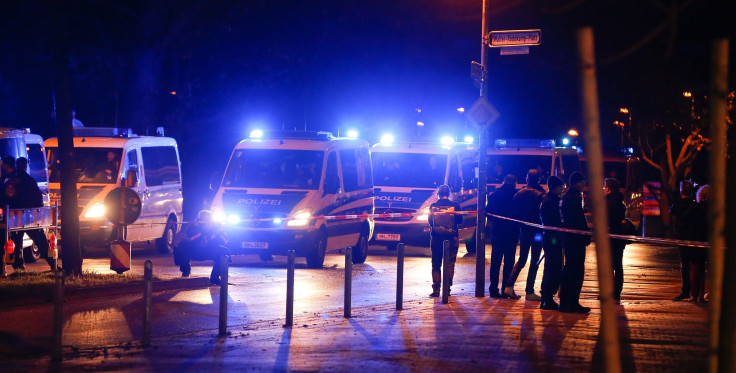 Update: 3:51 p.m. EST -- A German official indicated that previous reports were wrong and that explosives had not been found in Hannover. German officials earlier indicated that there was a "serious threat of explosives," which led to a hurried evacuation of the soccer stadium where Germany was scheduled to play an international friendly game with the Netherlands.
Update: 3:17 p.m. EST -- A section of Hannover's central train station was closed down after another suspicious object was discovered, according to police. A truck bomb disguised as an ambulance was found outside of the city's soccer stadium earlier in the evening, and another explosive device was found inside the stadium.
Update: 2:52 p.m. EST -- The Hannover chief of police told reporters that there was a "device intended to be detonated" found in the stadium where Germany was expected to play the Netherlands Tuesday.
Original Story:
A soccer stadium in Germany scheduled to host a friendly international match between the Netherlands and Germany was evacuated early Tuesday evening, and city police said there were "concrete plans to cause an explosion," with a truck bomb posing as an ambulance outside, according to DW Sports. Police announced that the soccer game was canceled when a suspicious package was found about an hour and a half before kickoff was scheduled, according to the Guardian. The game was scheduled to be held in the HDI Arena in Hannover. Elsewhere in the city, the TUI Arena, which was scheduled to host a pop band that evening, was also evacuated, though later tweets indicated the concert would be held as scheduled.
A tweet in German indicated that a man was held at gunpoint in the city, and all trains heading out of the city were stopped from leaving.
When the soccer stadium was evacuated, there were some spectators inside already, but most were still waiting in line outside to get in. The fans were told to leave as quickly as possible on foot. DW Sports reported that journalists were staying near the stadium and that there was no panic during the evacuation.
Reports indicated that the German national team hadn't yet arrived at the stadium and were rerouted to an undisclosed location.
The evacuation comes just days after the terror attacks in Paris, which included three suicide bombers who blew themselves up just outside the Stade de France, where France was playing an international game of its own. The attacks in Paris killed at least 129 people, injured hundreds more and left 99 people in critical condition. The city was attacked in several coordinated attacks that evening. Cafes were shot at by gunmen who approached quickly and left in vehicles. A metal concert was held under siege, and terrorists opened fire on the packed concert hall.
The Islamic State group claimed responsibility for the attacks in Paris and threatened to hit more cities.
German football stadium evacuated over security alert and Germany-Netherlands match cancelled https://t.co/SycERcZ7UA
© Copyright IBTimes 2023. All rights reserved.