Girl found suffocated was locked in box as punishment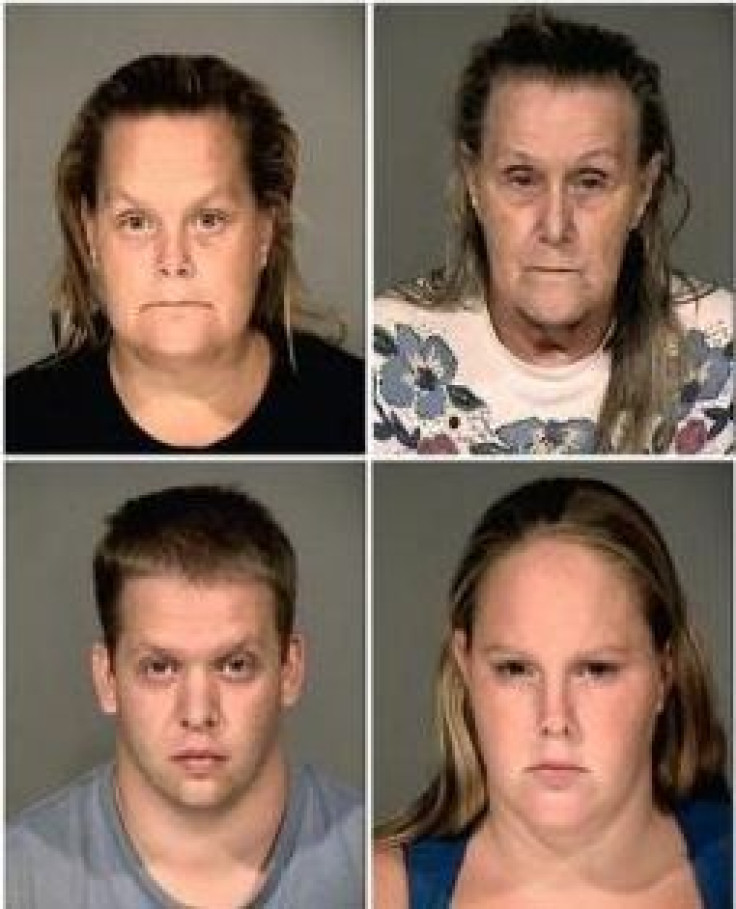 Four adult relatives of an Arizona girl found suffocated in a storage bin have been arrested after investigators determined she was locked in the container as punishment for taking a popsicle without permission.
The victim, 10-year-old Ame Deal, was found dead on July 12 in the Phoenix home where she lived with an aunt, grandmother and two cousins following what police said at the time may have been the tragic ending to a game of hide-and-seek.
On Wednesday night, authorities arrested the girl's elder cousin and her husband, Samantha and John Allen, both 23, on suspicion of first-degree murder after they confessed to locking the child in the storage container, police said.
The girl's aunt and legal guardian, Cynthia Stoltzmann, who is Samantha Allen's mother, was arrested on suspicion of child abuse and kidnapping, along with the girl's grandmother, Judith Deal, 62, Stoltzmann's mother.
Police said Stoltzmann, 44, had left the girl in the care of her daughter and son-in-law while she was out of the home. But both the aunt and grandmother were accused of having abused the child in the past by confining her to the same hinged, plastic storage bin.
"This child died at the hands of those who were supposed to love and care for her," said Sergeant Trent Crump, a spokesman for the Phoenix police. "This case has turned the stomachs of some of most seasoned detectives."
The Allens were ordered held in lieu of $1 million cash bond each, while bond was set at $500,000 each for Stoltzmann and her mother during an initial court appearance on Thursday. A status hearing in the case was set for August 4, with a preliminary hearing August 8.
The incident in which the girl died was discipline for her having taken a popsicle without asking permission, Crump said.
He said that when Ame was first caught, the Allens forced her to perform exercises, such as jumping jacks, running in circles and back bends, for over an hour. They then ordered her to climb in the storage chest before locking it with a padlock. She was found dead the next morning, apparently having suffocated.
Police said the child was 4 feet, 2 inches tall and weighed just 59 pounds. The box she was locked in was less than 3 feet long, 14 inches wide and about a foot deep.
The girl was very dirty and wearing soiled clothes when found, with marks on her right knee apparently from "forceful contact with the interior lid," investigators reported.
Crump said she routinely slept in the shower with no pillow or cover after having wet her bed.
Crump said detectives were still investigating how the child ended up in the custody of her aunt but said she was one of over a dozen children who were living in that home and another with various family members.
© Copyright Thomson Reuters 2023. All rights reserved.