GOP Debate Watch Party NYC: New York City's Best Bars To Watch 2016 Republicans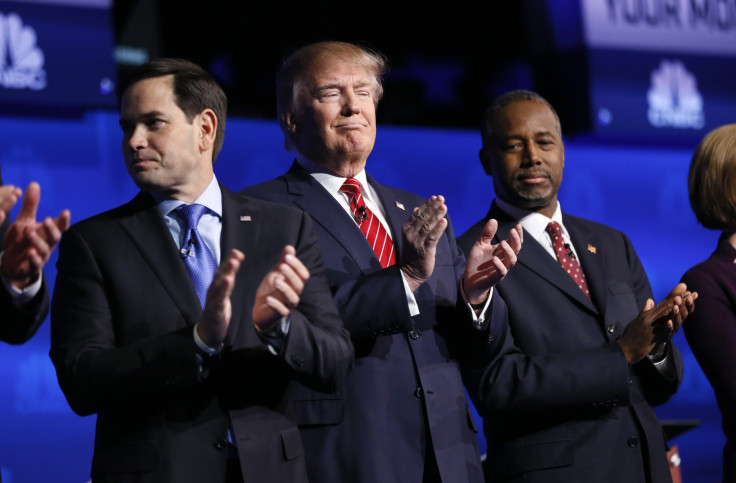 A lot has happened since the last Republican presidential debate took place over a month ago. The terror attacks in Paris last month and the mass shooting in San Bernardino, California earlier this month have added a level of seriousness to the race that before seemed like merely a chaotic circus.
Donald Trump remains -- as ever -- the Republican front-runner, and his increasingly controversial comments don't seem to have hurt him. Just last week he called for a temporary ban on Muslims entering the United States, as politicians and voters have expressed significant fear about would-be terrorists sneaking into the country along with Syrian refugees.
Tuesday's debate marks the last GOP showdown of 2015, and it's sure to be an important one. CNN is hosting and the debate will take place in Las Vegas, Nevada. But for all of you watching from New York City, you'll want a drink in hand as you watch what the GOP candidates say this time.
Here are some of the best places to head for GOP debate watch parties in New York City:
Banter: This Brooklyn bar will be hosting a party where you can view the debate on its big screens.
When: 9 p.m. EST
Where: Banter, at 132 Havemeyer St. in Williamsburg, Brooklyn
Why: $6 snifters of Calvados
How much: Free
New York Young Republican Club and Women's National Republican Club: NYYRC is hosting a debate watch party with the Women's National Republican Club, and business casual attire is recommended.
When: 8 p.m. EST
Where: Women's National Republican Club at 3 W. 51st St.
Why: They'll be serving hors d'oeuvres, cheeses and crudités along with reduced prices on wine and beer at a cash bar.
How much: Free for NYYRC members, $15 for non-members
Q.E.D.: The performance space and café in Astoria, Queens, is holding a party at which comedians and political commentators add in their two cents over a microphone throughout the debate.
When: 8:30 p.m. EST
Where: Q.E.D. in Astoria, Queens, at 27-16 23rd Ave.
Why: There will be pre-show comedy by Frank Conniff, Christian Finnegan and Myka Fox
How much: $8
City Limits: The non-profit news site is going to host a watch party with the Bronx Republican organization.
When: 8 p.m. EST
Where: Bronx Beer Hall inside the Arthur Avenue Retail Market at 2344 Arthur Ave. in Belmont
Why: In addition to the debate, there will be trivia and attempts to match each of the GOP front-runners to a beer cocktail.
How much: Free
© Copyright IBTimes 2023. All rights reserved.
FOLLOW MORE IBT NEWS ON THE BELOW CHANNELS