Houston Texans 2014 Draft: Manziel, Clowney, Bridgewater, Bortles Possible No. 1 Overall Picks?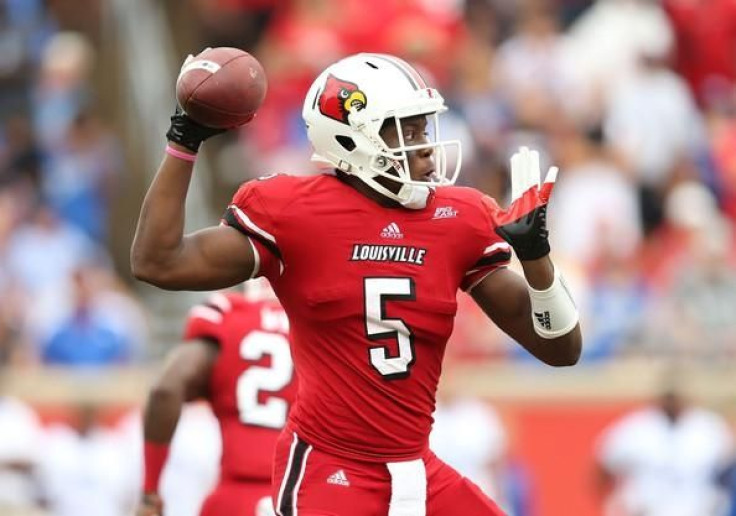 Questions about his motor, desire to play at the next level and to many whether he should go No. 1 overall at next month's NFL draft were seemingly answered by South Carolina defensive end Jadeveon Clowney following his pro day on Wednesday.
Or were they?
Perhaps two parts smoke and mirror show, and two parts tongue-in-cheek, it's been especially difficult to peg just who the Houston Texans intend to select with the third No. 1 pick in the franchise's history.
Media reports have said Clowney proved all doubters wrong during his public workout, but like Texas A&M quarterback Johnny Manziel last week, the 6-foot-6, 266-pound star pass rusher essentially shadowboxed his way back into the hearts of general managers and NFL analysts around the country.
There was no quarterback to tackle, or offensive line to split for Clowney, and yet his bandwagon has travelled all the way back to 2012 when he nearly decapitated Michigan's Vincent Smith and became the newest "surefire" player of his generation.
During his pro day, Clowney showed his ability to change direction and his quick feet and overall size for a young man of his immense stature. He also picked up tennis balls, to say nothing of how he terrorized the SEC for three years, all of which was magically caught on tape by ESPN.
And yet even with all the new, pertinent information, the Texans are being coy or simply can't make up their minds on how to spend their top selection.
They appear torn between Clowney and one of the three top quarterback prospects in Manziel, Louisville's Teddy Bridgewater and Central Florida's Blake Bortles. Or they could trade the pick, which owner Bob McNair hinted at back in January, and veteran receiver Andre Johnson suggested last month.
Either way the Texans have several holes to fill, and only so many chances to quickly turnaround a team that went from 12-4 AFC South champs in 2012 to 2-14 laughingstocks in 2013. Defensive end isn't really a major concern for Houston but quarterback is. With J.J. Watt on the roster the defense appears to be in good hands, but the Texans need help improving its 23 rd ranked rushing defense.
Houston already traded Matt Schaub to Oakland, and reportedly signed Ryan Fitzpatrick to compete with one or two quarterbacks they may select in the draft, according to SI.com.
Let's examine what all four of the speculated No. 1 picks could bring the Texans, and how they might fare in their first years.
Johnny Manziel, QB, Texas A&M
Sporting camouflage shorts, a helmet typically discarded during most pro days, and his typical swagger, Manziel also wowed scouts last week. He took every snap from under center, looking to discourage any doubters that he could struggle outside of the shotgun formation, and only missed a handful of throws.
Size questions still abound, especially as to how the Texans, should they take him, can protect Manziel from himself. The fear is Manziel will first need to take a hit at the NFL level to learn he can't take off from the pocket as much as did at College Station.
Another big question is whether Manziel can fit under new head coach Bill O'Brien's offensive system.
Manziel's been listed as high as No. 1 on many mock drafts, and it's difficult to see him falling out of the top five with so many teams in need of a franchise quarterback. For now he's still in the mix for No. 1.
Teddy Bridgewater, QB, Louisville
Being the frontrunner since before the 2013 started has certain disadvantages. Scouts tend to pick apart the top ranked player more, and Bridgewater was also the only prospect of this group with an unimpressive pro day. Typically every play is perfectly scripted to showcase the player's best attributes, and Bridgewater struggled throughout.
Another bad blow came before at the Combine when his measurements wound up smaller than expected.
The last four months have been rough on Bridgewater, but they don't take away his 72 touchdowns to 14 interceptions and 9,817 yards passing at a 68 percent clip as the Cardinals starter for three years.
Houston and O'Brien are unlikely to let one workout sway their opinion. At this point Bridgewater still looks like a better selection for Houston than Manziel, but he won't drop out of the top five.
Jadeveon Clowney, DE, South Carolina
As explained above, and also with Bridgewater and Manziel, there's very little to take away from Clowney's pro day other than he appears to be in solid shape.
He's hyper athletic not just for his size, but for most any other player at his position currently in the NFL. And pairing him alongside Watt could bring the Texans back almost immediately.
In regards to the questions about his motor or dedication during his last year at South Carolina, what seems more likely? Clowney all of a sudden lost a step and his desire to play, or he held back to avoid serious injury knowing full well how much money he could lose if he tumbled down to the second or even third round?
Blake Bortles, QB, Central Florida
He's bigger than both Manziel and Bridgewater, and slowly moved up draft boards as the season progressed allowing him to largely escape scrutiny from scouts until recently. Lack of time in the spotlight doesn't take away from his play or talent at all, but does help his draft position.
Bortles finished his final season with 3,581 yards passing at 9.4 yards per attempt and a 67.8 percent completion rate for 25 touchdowns and nine interceptions. His speed at the Combine (4.93 40-yard dash) leaves something to be desired but Bortles has the build to stand in the pocket take the hits if he does get in trouble.
In fact, Bortles was tabbed as Houston's likely choice if they go quarterback. But there is still a month left before the draft and anything could happen.
© Copyright IBTimes 2023. All rights reserved.