How Sugarland Concert Stage Came Crashing Down Minutes After Evacuation Warning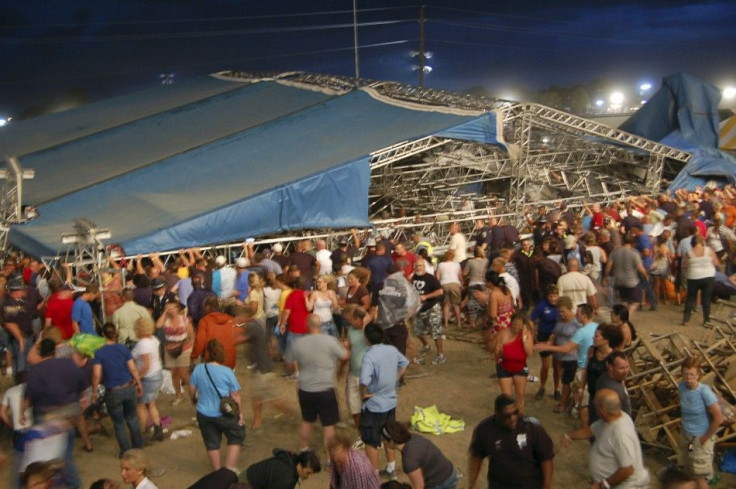 Four people died and at least 40 were injured when the stage at the Indiana State Fair concert crashed on to the crowds waiting for the award-winning country duo Sugarland to get on to the stage and perform.
Indiana State police officials said they had warned the crowd about severe weather conditions minutes before the stage was blown onto the front row by massive winds. The fatal tragedy took place at around 8:45 p.m. police said.
"There was a splash of rain, and a horrible noise, and people came running down the ramp… then we saw a truss fall and then the whole thing went down and blacked the ramp out," an eyewitness told the Hollywood Reporter.
The incident took place after Sara Bareilles had finished her performance. At 10:30, she posted on Twitter: "I'm speechless and feel so helpless. Please send love and prayers to Indianapolis tonight. My heart aches for the lives lost."
Eyewitnesses said the Sugarland crew tried to help out the people trapped under the collapsed stage by trying to lift the scaffoldings. "They jumped into the pit and moved rubble and equipment to try and help those fans up front ... The Sugarland crew and EMTs on site were heroes," the witness said.
"It was like it was in slow motion," another concert-goer recollected. "You couldn't believe it was actually happening," Amy Weathers told the Indianapolis Star.
"The entire stage rigging collapsed, this is bad, this is very bad," Indianapolis Star reporter David Lindquist reported.
While scores were trapped under the debris, some made miraculous escape. "When the stage collapsed, it missed my foot by about a foot and a half," a concert-goer said.
Even as music-lovers were waiting for the Sugarland to perform, the organizers were making announcements about the bad weather. Minutes before the crash, the organizers had announced that if weather worsened, evacuations would be necessary. They even made instructions on how to make evacuate the scene in case of a weather incident, according to the Daily Mail.
Minutes later, the stage came crashing down in high storm. "We heard things popping and we took off running. People were pushing. We turned around and saw the stage collapsing ... Then we ran back, hopped over rafters and went to help as many people as we possibly can," a witness said.
The report says some concert-goers retreated to the safer shelters nearby after the announcement.
The band said in a Twitter message they regretted the loss of lives. "We are all right. We are praying for our fans, and the people of Indianapolis. We hope you'll join us. They need your strength," they said.
© Copyright IBTimes 2023. All rights reserved.