Hugo Chavez's Venezuela Ships Diesel Fuel to Civil War-Torn Syria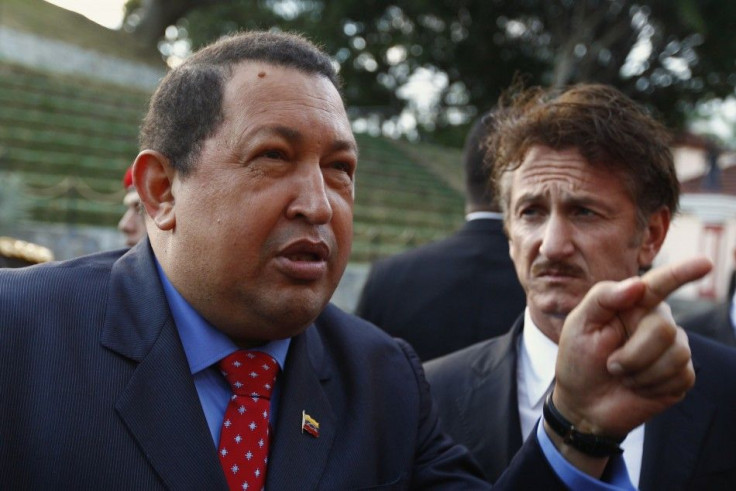 The government of Venezuela's Hugo Chavez is emerging as a rare supplier of diesel to Syria, potentially helping the government of the Middle Eastern country's Bashar al-Assad fuel its military in the midst of a bloody crackdown on civilian protests and undermining Western sanctions.
A cargo of diesel, capable of being used either to fuel army tanks or to heat homes and offices, was expected to arrive at Syria's Mediterranean port of Banias this week, according to two traders and shipping data. The cargo could be worth as much as $50 million.
Chavez is a vociferous advocate of both Syrian President Assad and Iranian President Mahmoud Ahmadinejad, who face pressure from Western sanctions. Few leaders on the world stage have polarized opinion as sharply as the Venezuelan president.
Chavez, who still defends the late Libyan leader Moammar Gadhafi, has repeatedly backed Arab leaders who have faced a yearlong wave of popular protests, which have already toppled four governments.
Asked on Thursday about the shipments to Syria and whether they could be used for military purposes, Chavez said Venezuela did not question the United States about what it did with the fuel that Venezuela sold it, and that no one could dictate to Caracas.
We are free. We are a free country, Chavez said, standing with his friend Sean Penn, the U.S. actor, who is visiting Venezuela.
Venezuelan state oil firm PDVSA shipped the cargo aboard the Negra Hipolita vessel, according to AIS tracking data on the Reuters Freight Fundamentals Database and trade sources. The same tanker carried the first such shipment in November, the sources said.
PDVSA could not immediately be reached for comment.
The aggressions against Syria are continuing, Chavez said in a speech last month. It's the same formula they [the West] used against Libya: inject violence, inject terrorism from abroad, and later invoke the United Nations to intervene.
The South American nation, a member of the Organization of the Petroleum Exporting Countries, has also tried to aid Iran with fuel supplies amid sanctions over Tehran's nuclear program.
Rights groups say close to 6,000 people have been killed in attacks by Syrian security forces against civilian demonstrators and an increasingly powerful rebel insurgency.
The United States and Europe are pressuring Assad to leave power. Russia and China this month vetoed a United Nations Security Council resolution calling on Assad to step aside.
Satellite Tracking
The Venezuelan tanker was last seen off the coast of Cyprus with a destination of Banias and the estimated arrival date of Wednesday, AIS ship tracking on Reuters showed. The satellite tracking has been switched off since Wednesday.
The shipment comes at a critical time for Syria: The country has faced worsening energy shortages this winter after Western sanctions all but halted imports, which are needed to meet about one-half of the country's diesel demand.
Diplomats blame the power and fuel shortages on higher demand from the military, while the government says attacks on power stations and refinery pipelines are lowering supply.
The PDVSA shipments appeared to be carried out under a 2010 agreement between the governments of the two nations in which Venezuela provides diesel in exchange for food and commodities such as olive oil.
Syria's oil minister spoke about the possibility of Venezuelan imports in January, and traders said the Negra Hipolita diesel shipment to Syria was the second delivery in the past three months.
The vessel can carry 47,000 tonnes, which, when fully loaded, would be worth about $50 million. It was not clear how much diesel the ship was carrying.
While there is no blanket embargo on supplying fuel to Syria, its state-owned oil firm Sytrol, responsible for organizing fuel imports and exports, was placed on a U.S. blacklist last summer, and the European Union followed suit in December. It was not clear whether the recent reported fuel transactions were done via Sytrol.
The EU has stopped short of banning product deliveries for humanitarian reasons, but oil traders said most deliveries have stopped anyway as traditional suppliers are increasingly reluctant to do business with Syria.
Normally an exporter of crude oil even in peacetime, Syria has relied on imports for more than one-half of its annual consumption of 5 million tonnes of diesel fuel because of a shortage of domestic refining capacity. International sanctions have stopped Syrian oil exports since September last year, drastically stretching government budget revenues.
A growing number of military attacks involving armored vehicles and tanks may be spurring diesel consumption, while a severe winter is driving heating fuel demand.
Given the risk that [refining] capacity could be cut due to sabotage, fuel shortages are likely to force the government to rely on costly imports supplied by a shrinking pool of political allies, risk group Business Monitor International wrote in a recent report.
Due to the sanctions, the Negra Hipolita will not be able to dock at ports in the United States or in Europe, one of the sources said. In the past, the vessel has been primarily used to transport crude between production facilities and refineries within Venezuela.
The United States previously imposed sanctions on PDVSA over sales of gasoline-blending components to Iran in violation of a U.S. ban.
(Additional reporting by Himanshu Ojha in New York, Jonathan Saul in London, and Daniel Wallis in Caracas; Writing by Brian Ellsworth; Editing by Dmitry Zhdannikov, James Jukwey and Dale Hudson)
© Copyright Thomson Reuters 2023. All rights reserved.