Hurricane Irene in Canada: Residents Brace for Impact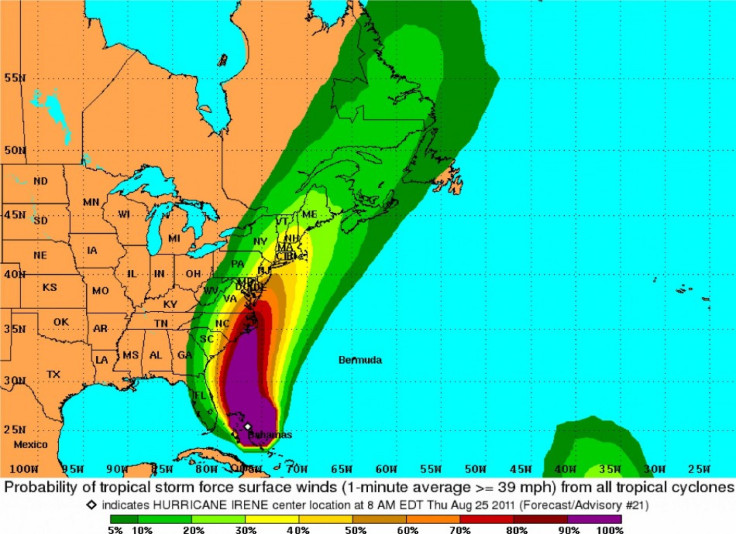 As Hurricane Irene creeps up on the East Coast, parts of Canada are also preparing for her weekend arrival.
Irene, now a Category 3 storm, is likely to hit Eastern Canada this weekend, after going through its American counterparts.
Irene is forecast to track very near or just off the North Carolina coast. Thereafter Irene is expected to track North-Northeastward either through New England or the Maritime provinces late this weekend and into Monday, the Canadian Hurricane Centre stated on Wednesday.
Government officials in the provinces of Nova Scotia and New Brunswick told residents Thursday to prepare for the worst and stock up on food and water.
Water levels near New Brunswick have also been unusually high.
So these values are higher than what we experienced in 2010, however, these are well below the flood stage, Claude Côté from Environment Canada told CBC News.
While the impact of Irene in Canada will probably be smaller compared to what North Carolina, New York and other East Coast cities will undergo, Canada is not taking any chances.
It's still five days away. But I think what is quite likely is some sort of impact because of the track (the storm) is taking. It's going to have to brush some portion of Canadian territory, Chris Forgarty of the Canadian Hurricane Centre told the Montreal Gazette.
Canada's most recent serious hurricane was in 2003, when Hurricane Juan left more than 300,000 Canadians without power for weeks. 8 people were killed by the storm, which had a peak wind gust of 144 mph.
However, Juan was no match for Hurricane Hazel, which hit Eastern Canada in 1954. Hazel killed nearly 100 people, destroyed twenty bridges and left the country with $630 million in damages.
In September 2010, Hurricane Igor struck parts of Newfoundland, as thousands of residents were forced to evacuate their homes. The Category 1 hurricane was the worst to hit the eastern province in more than a century.
Hurricane Irene is expected to make landfall in North Carolina and parts of Virginia on Saturday evening.
© Copyright IBTimes 2023. All rights reserved.
FOLLOW MORE IBT NEWS ON THE BELOW CHANNELS