Hurricane Irene Path: New York, Four Other States Declare Emergency Ahead Potential Deadly Drive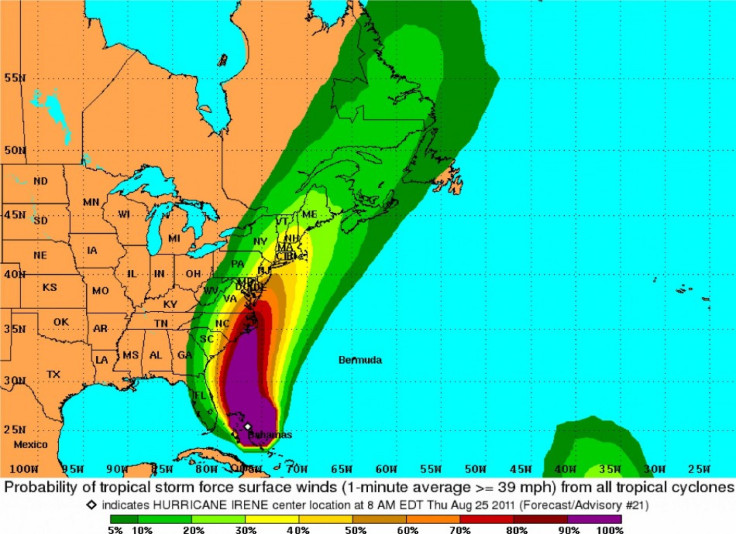 In a bid to get ahead of Hurricane Irene that threatens to thrash the U.S. East Coast, New York declares a state of emergency, becoming the fifth state to do so.
Gov. Andrew M. Cuomo declared emergency on Thursday, following Virginia Gov. Bob McDonnell, New Jersey Gov. Chris Christie, Maryland Gov. Martin O'Malley and North Carolina Gov. Beverly Perdue.
The emergency declarations help expand the states' capabilities to release funds and speed resources and emergency personnel to emergency areas, Los Angeles Times reported.
Irene is threatening to become the first major hurricane to hit the East Coast since Wilma struck Florida in 2005. Hurricane Ike was the last storm to make U.S. landfall, in 2008. On the other hand, Hurricane Bill was the last hurricane to strike the tri-state New York area in 2009, causing minor damage.
According to forecasters, Hurricane Irene is now a major Category 3 storm with winds at nearly 130 mph that could potentially grow in force and intensity to a Category 4 storm before making landfall this weekend.
Forecasters said that the storm could cause chaos along the East Coast, with heavy rains, high winds, downed trees, flooding and power outages in major metropolitan areas including Philadelphia, New York, and Boston by late Sunday.
The National Hurricane Center said that the storm will likely decrease in strength once it climbs higher up the East Coast through colder water. Still, few storms reach the New York area at hurricane strength.
Meanwhile, New York City Mayor Michael Bloomberg said on Thursday that residents who live in low-lying areas should voluntarily start moving out on Friday, before Hurricane Irene is expected to hit.
Bloomberg also said that residents in coastal areas like Battery Park City on Manhattan's southern tip, Coney Island and the Rockaways, should not delay leaving awaiting his evacuation order because doing so could endanger emergency workers.
UPDATE: Hurricane Irene Path: NYC Prepares for 'Extremely Dangerous, Costly' Storm, Evacuations in Progress
© Copyright IBTimes 2023. All rights reserved.