'I Want To Marry You In Minneapolis': Mayor Tours Middle America Courting Gay Couples (And Their Money)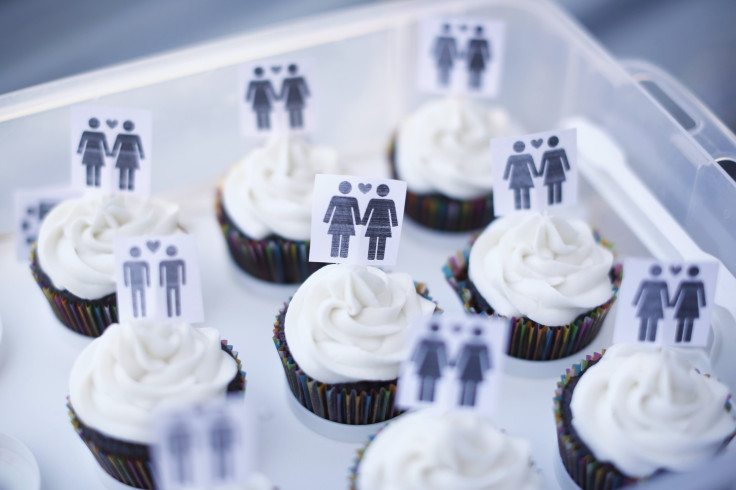 Minneapolis Mayor R.T. Rybak is a man on a mission to make the City of Lakes the gay marriage destination of Middle America. He personally performed 46 same-sex weddings in the Rotunda of Minneapolis City Hall on Aug. 1, the day Minnesota opened up to marriage equality. Now, he has his eyes set on the rest of the region, and he's sneaking across borders with a message of love and the promise of an economic windfall for all Minnesotans.
Under the slogan "I Want to Marry You in Minneapolis," Rybak launched a three-state tour this week that will take him from Illinois up into Wisconsin and all the way over to Colorado. First up Thursday was Lakeview, Chicago's most high-profile gay neighborhood.
"Folks from Minneapolis and Chicago know each other well: we visit each other often to take in theater, restaurants, museums, shopping, sports, you name it. Now Chicagoans have another great reason to come to Minneapolis: to get married," Rybak said. "Gay and lesbian couples from Chicago don't have to wait one more day to get married in Minneapolis. We're a supportive and welcoming city where folks are ready to help them put together the wedding of their dreams."
The mayor, a long-standing advocate of marriage equality, wasted little time mustering up a campaign in partnership with Meet Minneapolis Convention & Visitors Association, and with the pro bono help of marketing and branding firm Zeus Jones. The campaign will run in publications in Chicago, Milwaukee, Madison and Denver -- all cities in states where gay marriage remains illegal.
Most states that enact marriage equality recognize previous marriages from other states, meaning that if Illinois, Wisconsin or Colorado were to legalize gay marriage in the near future, weddings in Minnesota would likely receive the same instant recognition. Moreover, Rybak has been quick to note that marrying out of state also entitles same-sex couples to more than 1,100 federal rights, since the Supreme Court struck down part of the Defense of Marriage Act in June.
The mayor called his new campaign a win-win for everyone involved. "I hope the day comes very soon that all Illinoisans can marry the person that they love, and I strongly encourage the Legislature and Governor Quinn to pass marriage equality as soon as possible. But until that day comes, I'm here to steal your business," he quipped.
Chicago Mayor Rahm Emanuel didn't take his counterpart's threat lightly. "Failing to extend marriage to gay and lesbian couples is bad for Chicago, bad for Illinois and bad for our local economy and the jobs it creates," he said in a statement Thursday. "Our robust tourism and hospitality industries will thrive most fully when our state hangs out the 'welcome' sign for everybody."
Other than neighboring Iowa, Minnesota is the only state in Middle America where same-sex marriage is legal. As such, it hopes to corner the market on destination weddings as a budget alternative to costlier trips to either coast. That means potentially millions of dollars spread across a broad array of occupations from florists to photographers, caterers, and, most importantly, those involved in Minnesota's tourism industry.
A recent study from the Williams Institute at UCLA estimated that Minnesota's wedding and tourism business would see spending rise by $42 million over the next three years, including $28 million in additional wedding spending and $14 million in tourism expenditures made by out-of-town guests. This boost in travel spending is expected to generate approximately 283 jobs in the state, and boost state and local tax revenue by $3 million.
In a separate study, the Williams Institute found that 60 percent of same-sex couples travel out of their home state to get married, at least in the three states where such statistics are measured. Already, more than 1,640 same-sex couples have applied for marriage licenses in the Minnesota, and not all of those were state residents.
© Copyright IBTimes 2023. All rights reserved.