India's Smartphone Boom: Why China's Low-Cost Brands Will Swamp Apple, Google Like A Monsoon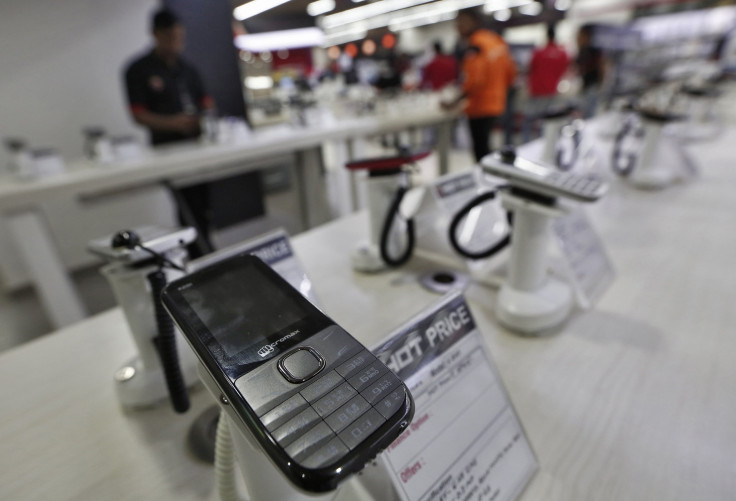 Harish bought his first smartphone a year ago. He paid about $100 for the Samsung Galaxy S Duos handset, and it does everything he needs, including keeping him connected to his WhatsApp circles. "I use one for my personal purposes, to keep track of my friends circle, one for colleagues at work and the third to get in touch with the women's self-help groups that we work with," said the 28-year-old nonprofit worker in India's Bangalore tech hub.
Harish, like most consumers in India's booming smartphone market, sees $100 as the most he wants to pay for a phone. Many more are looking for devices in the range of $20 to $30. It's a dynamic that could make it tough for U.S. companies like Apple and Google, with pricy offerings like the iPhone 6 and Nexus 6, to get traction in what's estimated to be the world's fastest-growing phone market. But it could be a boon for Chinese upstarts like Xiaomi, Huawei and OnePlus, which have plenty of experience developing low-cost, fully functional smartphones for their domestic market.
The stake are high: Smartphone shipments in India hit 22 million units in the fourth quarter, and the country is now the third-largest smartphone market in the world, according to Counterpoint research.
The bulk of smartphones sold in India are in the same price range of the 6,700 rupees (about $110) that Harish, who, as is not uncommon in India, goes only by his given name, paid for his Samsung. With a prepaid plan from Idea Cellular, India's second-biggest wireless carrier, he keeps his bills to within 250 rupees to 300 rupees (about $5) a month.
For every smartphone buyer in India like Harish, there are at least three more potential smartphone buyers in India who can only pay about $25. Take 17 year-old Mounesh, who hires himself out as an unskilled helper at Bangalore construction sites. His Karbonn Mobiles K9 is no smartphone, but at 1,500 rupees (about $24) Mounesh could just barely afford it. The handset is reminiscent of the old candybar Nokia handsets, with physical keyboards. It can also support two SIM cards, a microSD card and Bluetooth.
"We know people use branded China sets in Bangalore ... they have nice screens and good volume," said Mounesh's brother-in-law, Nagaraj. "But even at 5,000 rupees we just can't afford them."
In the three months ended Dec. 31, one in three phones sold in India was a smartphone. On a cumulative basis only about 150 million smartphones were sold in the country in the last five years, but more than half of those were sold in 2014. That compares with a total mobile phone subscriber base of about 944 million connections at the end of December.
A combination of more young people entering the urban workforce -- a million a month, by some estimates -- the rise of online shops like Flipkart and Snapdeal plus falling smartphone prices has brought India to the point where China's Xiaomi and Lenovo Group are fiercely competing with local vendors such as Micromax Informatics and global leaders Samsung, Apple and Google.
While Xiaomi only sells smartphones, Samsung and its Indian competitors, Micromax, Lava and Karbonn Mobile, all continue to sell feature phones as well. It's a strategy that takes into account India's unique demographics and economic situation.
No Subsidies, No Apple
Even for entry-level smartphones, in the range of $100, sales in India are dependent on its 250 million or so middle-class consumers. A much smaller section of that demographic is aware of and aspires to Apple's iPhone 6 or the Samsung Galaxy Note, but India is a market where carriers don't subsidize handsets. Partly because of that, Apple sold only a little more than a million units in India in its last fiscal year. Apple and Google both failed to crack the top five in India's handset market in the fourth quarter, according to Counterpoint research. By contrast, the iPhone 6 and 6 Plus are flying off shelves in China, where affluent consumers in cities like Beijing and Guangzhou see it as a status symbol.
Having to pay the price of a smartphone upfront means most Indian buyers select entry-level models. For instance, of the 800,000 or so smartphones sold by Xiaomi in India in the fourth quarter of 2014, 92 percent was accounted for by the company's entry-level Redmi phones, Rushabh Doshi, an analyst at research firm Canalys, said.
Then there are any number of gray-market phones: Nagaraj had a small touch-screen phone labeled Rokea that seemed to run a version of Android. He paid 2,500 rupees, about the most he could afford. Most of the phones on Rokea's site appear to be knockoffs of Samsung and Nokia Lumia models. The phone in Nagaraj's hands was one of many obscure brands that find their way from China, mostly, to local Indian markets like Mumbai and Delhi.
For India's smartphone market to continue growing at double digits, the price of the entry-level smartphone will have to dip to the $25 level, because nearly three quarters of the billion-strong potential subscriber base is comprised mostly of people like Mounesh. The average wage in India is only $295 per month.
"I just use the phone to call my family, let them know where I'm at or ask if my son is back from school," said Farooq, an autorickshaw driver from Bangalore in his early 40s, whose cellphone is even more basic than Mounesh's and cost about $15. Farooq's 12-year-old son has seen smartphones and "knows all about them," he said. "I wish I could afford one ... maybe someday."
© Copyright IBTimes 2023. All rights reserved.