India's War on Valentine's Day
ANALYSIS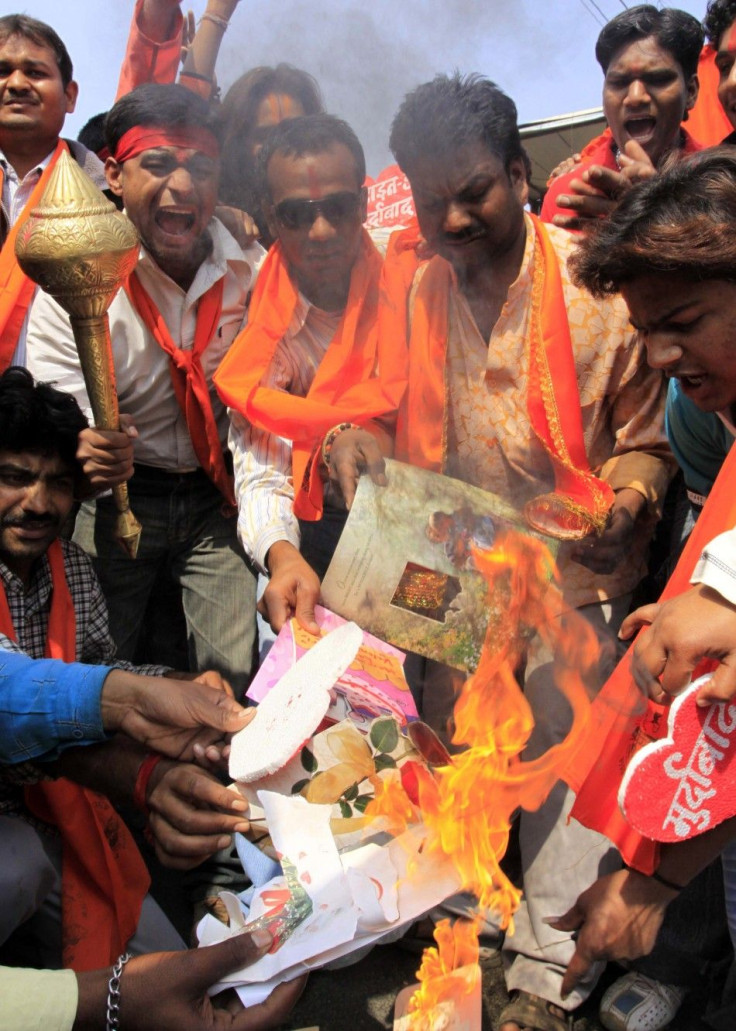 The celebration of Valentine's Day is increasingly popular in many non-western countries, particularly in India, where a surging middle class and the breakdown of traditional cultural mores is allowing more and more young people to observe such western holidays.
As in New York and London, young lovers in Calcutta, Mumbai and Delhi exchange flowers, gifts and cards on February 14.
Valentine's Day is especially popular among young well-educated urbanites -- the same people who have also become enamored with TV reality programs, nightclubs, wine and champagne.
But not everyone in India is happy about this new practice.
While most people would regard Valentine's Day as a harmless, light-hearted diversion, to extreme right-wing Hindus and ultra-nationalists, the holiday represents a dire threat to traditional Indian values and represent part of what they believe is a conspiracy by the West to destroy Indian culture.
They also associate it with rampant globalization and exploitation by western nations.
Indeed, every year at this time of year, members of India's opposition party, the nationalist Bharatiya Janata Party (BJP), stage rallies protesting the observation of Valentine's Day. More strident groups, like the extremist pro-Hindu Shiv Sena and others, have attacked and burned down shops selling Valentine's Day cards as well as destroyed florists who sent flowers on the holiday.
This shameless festival has been celebrated by our young people, wrote Shiv Sena leader Bal Thackeray in the Saamna newspaper.
But it is totally contrary to Indian culture. We should focus on good work, good thoughts, love and harmony in our society, and not let such Western culture spoil us."
Another activist Vinayak Raut told Reuters: [Valentine's Day is] different from our Hindu culture and is corrupting the minds of young teenagers."
Beyond what they see as a form of "cultural pollution" by westerners, some Indians are appalled by the fact that Valentine's Day seems to celebrate pre-marital sex and open expressions of physical attraction (which are taboo in an India that remains extremely conservative).
Gangadhar Kulkarni, another nationalist, told the media: If people celebrate the day despite our warning, then we will definitely attack them."
Another activist Pramod Muthalik warned: "Valentine's Day is definitely not Indian culture. We will not allow celebration of that day in any form."
Some oppose Valentine's Day simply because it is associated with Christian theology.
Even some Indian intellectuals and leftists (who share nothing in common with groups like Shiv Sena) also condemn Valentine's Day as a form of western imperialism.
It is not just Valentine's Day of course, that sparks the ire of Hindu nationalists. They have also targeted and attacked such things as singles bars, beach and harden parties and rock-and-roll concerts (all of which they view as corrupting Western influences). They very sight of a man and woman holdings hands or kissing in public makes many Indians very uncomfortable.
Indeed, the aforementioned Muthalik, who has participated in attacking women who attend bars, has said: Westerners are trying to break up the Indian family system. Giving flowers on the streets, showing affection in public, showering kisses in full public view is wrong. What is the difference between us and animals?
Ironically, ancient Indian culture (which groups like Shiv Sena claim to be protecting) is filled with erotic and sexual images. Indeed, the Hindu god of love was Kamadeva, who made couples fall in love with each other by shooting arrows made of flowers from a bow composed of sugarcane.
The famous Khajuraho Group of Monuments in Madhya Pradesh consist of ancient sculptures that explicitly depict sexual foreplay and intercourse. Perhaps most famous is the Kama Sutra text, which celebrates lovemaking in graphic detail.
Some young people in India are confounded by the controversy.
A student named Salman Noor from Delhi told Indian media: If my parents don't disapprove of [Valentine's Day], why do political parties have a problem? What culture are they talking about? We lost our Indian culture way back. In ancient times our culture was the Kama Sutra -- why didn't anyone stop it back then?
Interestingly, last year, groups like Shiv Sena did not make a big offensive against Valentine's Day, perhaps in a bid to entice more young voters to its ideology.
FOR FREE to continue reading
✔️ Unlock the full content of International Business Times UK for free
offer available for a limited time only
✔️ Easily manage your Newsletters subscriptions and save your favourite articles
✔️ No payment method required
Already have an account?
Log in
© Copyright IBTimes 2023. All rights reserved.