Intel's Next CEO? Filling Shoes Of Chip Giants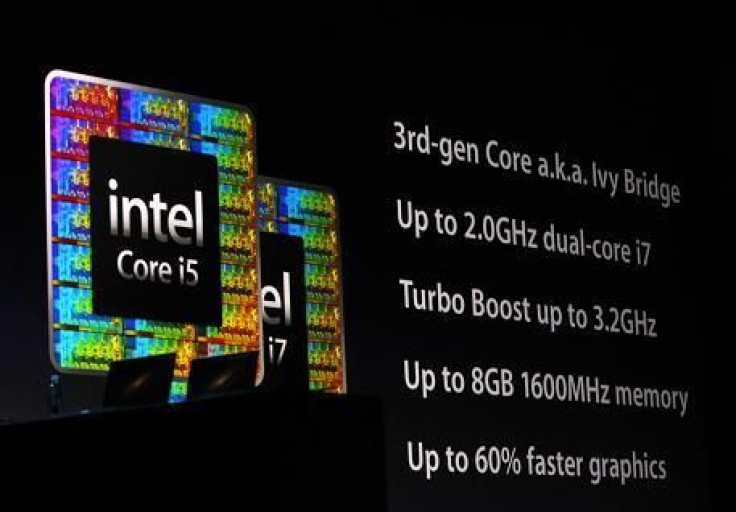 Intel Corp. (Nasdaq: INTC) has acknowledged it needs new blood to master the transition from the PC to the mobile era. That's why CEO Paul Otellini plans to retire next May, three years ahead of time.
Otellini, who turned 62 on Oct. 12, could have planned to be boss of the Santa Clara, Calif.-based company, the world's biggest semiconductor designer and manufacturer, until at least age 65.
Whoever's picked to follow him will have to fill shoes left by four giants of the semiconductor industry – the late Robert Noyce, one of the electrical engineers credited with designing the integrated circuit; Gordon Moore, another legendary engineer known for "Moore's Law" that stipulates chip power doubles every 18 months; Andrew S. Grove, a chemical engineer who wrote a best-seller called "Only the Paranoid Survive; and Craig Barrett, a materials scientist who led Intel until Otellini followed him eight years ago.
Otellini, holder of degrees in economics and as well as a master's degree in business administration, was cut from different cloth, with background in marketing and sales. He reports to former Intel CFO Andy Bryant, now Intel chairman, another financial expert.
In its 44-year history, Intel has never appointed an outsider as CEO. That means that five of the current six executive VPs, including three ones, ought to be considered.
The sixth, Sean Maloney, a vice chairman who oversees China manufacturing, previously said he'd step down on Dec. 31 after suffering a stroke earlier this year.
The remaining five are:
David (Dadi) Perlmutter, an Israeli electrical engineer who's been head of the product group and is chief product officer. He was part of the team that designed the best-selling Pentium Pro and Centrino processor and many other products.
Arvind Sodhani, who runs Intel Capital, the in-house venture capital arm that's invested nearly $13 billion in promising companies since 1991. He's only the second head of that unit. He has a finance background, though, and was formerly Intel treasurer.
Brian Krzanich, Intel manufacturing head and new COO, is a chemist with well-respected experience in getting Intel's massive chip foundries operating well. He's often made presentations to the financial community, describing how Intel has invested in new factories in New Mexico, Arizona and Oregon, as well as internationally and made them tops in their class.
Stacy Smith, the CFO and director of corporate strategy, holds a master's degree in business administration but was well-regarded when he was chief information officer. Wall Street knows him well.
Renee James, another MBA, runs Intel's software and services group, which includes McAfee security software as well as all the software that makes its chips function wherever they are installed. She'd be Intel's first female CEO.
Analyst Steve Eliscu of UBS believes Perlmutter and Krzanich would have the lead as internal candidates with design and manufacturing credibility. Given the uncertainty at the company, Eliscu lowered his rating on Intel from "buy" to "neutral," with a price target of $21.50.
But companies turn to outsiders, too, like Yahoo (Nasdaq: YHOO), recruiting Marissa Mayer from Google (Nasdaq: GOOG) in July, or Hewlett-Packard (NYSE: HPQ) hiring Margaret Whitman, the former CEO of eBay (Nasdaq: EBAY), last year.
There are several well-regarded outsiders including:
Sanjay Jha, an electrical engineer who was CEO of Motorola Mobility until it was acquired by Google in May. Previously, he'd been COO of Qualcomm (Nasdaq: QCOM), the top designer of mobile chips whose market value now exceeds that of Intel by about $5 billion.
Pat Gelsinger, a former senior VP of Intel, is now CEO of Vmware (NYSE: VMW), the software virtualization specialist controlled by storage giant EMC Corp. (NYSE: EMC), where he was president. Gelsinger was Intel Chief Technology Officer and ran the desktop products group.
Rodney Adkins, a physicist and electrical engineer who's now IBM senior VP for systems and technology, including IBM Microelectronics, one of the world's biggest semiconductor makers. At one point, IBM owned a minority stake in Intel. Adkins may want to be a CEO after his colleague, Virginia Rometty, was elected IBM CEO starting last Jan. 1. He'd be Intel's first African-American CEO.
James Plummer, dean of the Stanford University School of Electrical Engineering. A specialist in nanoengineering, Plummer won the Andrew Grove award from the Institute of Electrical and Electronics Engineers and might jump at an offer to make his mark in the business world.
Shares of Intel fell 72 cents to $19.53 in Tuesday midday trading.
© Copyright IBTimes 2023. All rights reserved.