Investors Lift Global Gold Demand 6% in 3Q - WGC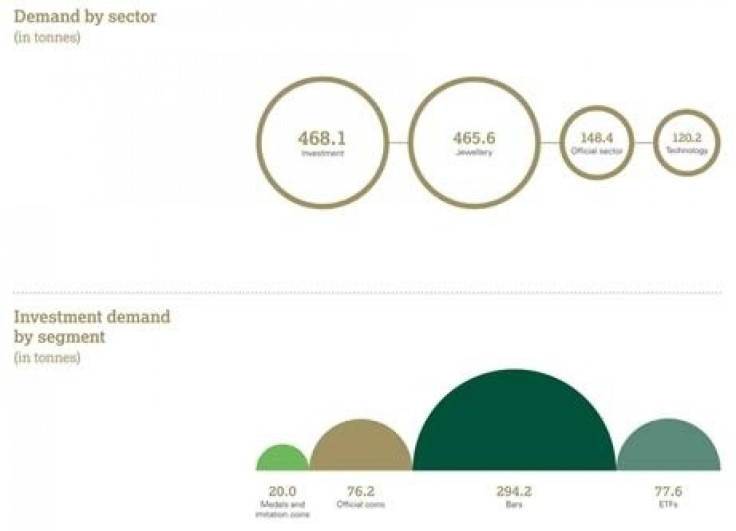 Gold demand climbed six percent this summer to an all-time high in dollar value as rising investment demand offset falling jewelry sales, the World Gold Council said Thursday.
The WGC said worldwide gold demand rose in the July-to-August quarter to 1,053.9 metric tons, or $57.7 billion, compared with 999.1 metric tons, or $45.7 billion, in the 2010 third quarter.
Compared to the year-earlier level, total investment demand in the third quarter increased by 33 percent to 468.1 metric tons, worth a record $25.6 billion.
Worldwide gold jewelry demand last quarter fell 10 percent to 465.6 metric tons, but the value of those 465.6 metric tons was $25.5 billion, up from the year-earlier quarter's $20.5 billion.
Unsurprisingly, investment demand for gold was a key driver during the third quarter, Marcus Grubb, WGC managing director-investment, said in a statement.
Increasing levels of inflation, the U.S. credit rating downgrade, a worsening Eurozone sovereign debt crisis and the lackluster performance of many assets drove investors to increase holdings in gold in order to protect their wealth.
Other components of gold demand increased. Gold bar and coin purchases rose 29 percent to 390.5 metric tons, or $21.4 billion, compared with 303 metric tons, or $12 billion, in last year's comparable period.
The demand for gold exchange-traded funds and related products soared 58 percent to 77.6 metric tons.
© Copyright IBTimes 2023. All rights reserved.