ITZY's Lia To Go On Hiatus Over Mental Health Concerns; Will Undergo Counseling And Treatment
KEY POINTS
ITZY's label announced Lia's health status on its SNS account and JYP fan community
Lia also posted a heartfelt, handwritten letter for fans on ITZY's Instagram account
ITZY recently took part in Maybelline New York's "BRAVE Talk" as its global muse
JYP Entertainment announced Monday that Lia from ITZY will go on a hiatus from the girl group's activities because of her current mental health status.
According to JYP Entertainment's statement, the 23-year-old South Korean singer has been experiencing extreme tension and anxiety regarding her schedule of activities. Because of this, Lia underwent counseling and examination and was advised to rest and undergo treatment.
Putting its artist's health as the priority, JYP Entertainment, after careful consideration with the members of ITZY, decided that Lia will go on a hiatus for the time being and will not participate in any schedules starting today. She will direct her efforts to focus on her treatment and recovery instead, per the English translation by a fan account.
"We sincerely apologize to fans for causing concern. We will announce Lia's resumption of activities as soon as she decides to return to promotions," JYP concluded the announcement.
Following JYP's announcement, Lia took to ITZY's official group Instagram account to leave a message for her group's fans, MIDZY.
"MIDZY worries more than anyone else even if I get a little sick, so I was worried that you would be heartbroken and upset when you heard this news. But at the same time, I could work up my courage because I know that you know me better than anyone else, will understand and wait for me," Lia stated in her letter, according to an English translation by Allkpop.
Though she had plenty of precious memories with ITZY in the past six years, she realized she was not taking care of herself because she was so focused on moving forward, she added.
Lia then proceeded to thank MIDZY once again. "MIDZY are the ones who I am always grateful for, more than anyone else, so I only want to give you love and happiness. But I thought I had to take some time off and love and take care of myself first to do so," she said.
"I will return healthier than ever so that I can return all your love and heartfelt concerns," Lia promised her fans as she concluded her letter.
Meanwhile, MIDZY tweeted encouraging messages for Lia with the hashtag #GetWellSoonLia on X, formerly Twitter.
In other news, ITZY was recently featured in Maybelline New York's "BRAVE Talk" for the brand's "BRAVE Together" global initiative, which champions being brave together amid facing anxiety and depression.
"When a friend is struggling, learn the 'BRAVE Talk' and be the friend they need," ITZY said in its campaign video before enumerating the meaning of the acronym "BRAVE."
Be present.
Find the Right setting to really talk.
Ask questions.
Validate their feelings.
Encourage action.
Watch Maybelline New York's "BRAVE Together" campaign video here: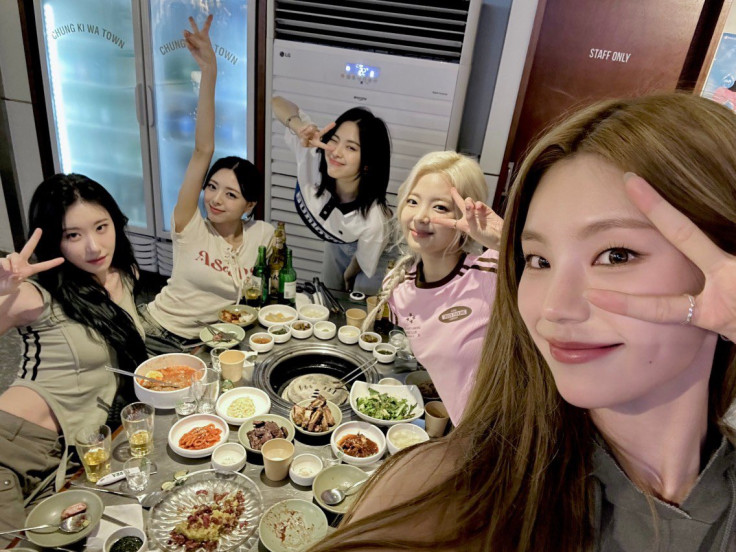 © Copyright IBTimes 2023. All rights reserved.