Jacqueline Kennedy Onassis' Death Anniversary: 5 Facts About The Former First Lady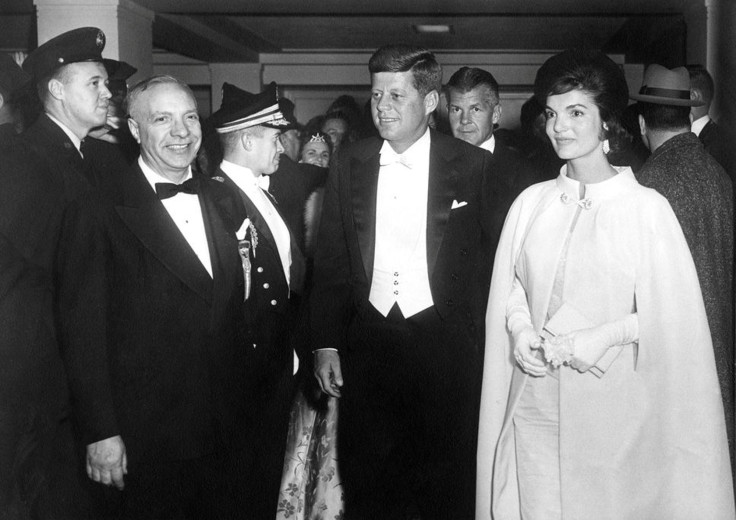 Jacqueline Kennedy Onassis, who was the first lady from 1961 to 1963 when John F. Kennedy was the president of the United States, was known for her flawless fashion sense and cosmopolitan lifestyle. She was widowed in 1963 when Kennedy was assassinated, but married Greek shipping magnate Aristotle Onassis in 1968, which lasted till 1975.
Jacqueline was born as Jacqueline Lee Bouvier on July 28, 1929, in Southampton, New York to a wealthy stockbroker on Wall Street whose family had come from France in the early 1800s. Onassis' mother, Janet, had ancestors from Ireland and England. As a student, she was bright as well as mischievous. According to Jacqueline's biography, one of her elementary school teachers described her as "a darling child, the prettiest little girl, very clever, very artistic, and full of the devil."
Another teacher had complained about Jacqueline's playful behavior. The teacher said: "her disturbing conduct in geography class made it necessary to exclude her from the room."
Read: 10 Memorable Quotes Of Jackie Kennedy Onassis
After graduating from college in 1951, Jacqueline started her first job as the "Inquiring Camera Girl" for the Washington Times-Herald newspaper. Her work included photographing and interviewing various Washington residents, and then putting together those pictures and responses in her column. Her most notable stories were an interview with to-be President Richard Nixon, coverage of the then President Dwight D. Eisenhower's inauguration and a report on the coronation of Queen Elizabeth II, according to the website of John F. Kennedy Presidential Library and Museum.
Here are five facts about the former first lady.
1. Jacqueline was briefly engaged to Yale grad, World War II vet and Wall Street banker named John Husted, before Kennedy. However, the fashion icon reportedly started having doubts about the match and abruptly called off the wedding in 1952. In September 1953, she married Kennedy after few months of dating.
2. Jacqueline was one of the fashion trend setters of the 1960s. Her fondness for expensive French couture was criticized during the 1960 presidential campaign and after she became the first lady, her father-in-law, Joseph Kennedy, helped pair Jacqueline with American-based designer Oleg Cassini. Cassini designed more than 300 outfits for her and later dubbed himself the First Lady's "Secretary of Style."
3. Soon after Jacqueline moved into the White House, she transformed the White House's decor. According to the New York Times, Hugh Sidey, who was a White House correspondent for Time magazine at the time when Jacqueline was the first lady, said: "She really was the one who made over the White House into a living stage — not a museum — but a stage where American history and art were displayed," Sidey said she told him: "I want to restore the White House to its original glory."
4. Jacqueline refused to change her blood stained dress on the day of her husband's assassination. When she was asked by somebody whether she wanted a fresh outfit, she replied: "Oh no, I want them to see what they've done to Jack." That dress is now kept in the National Archives.
5. Jacqueline and Aristotle began dating after Kennedy's assassination. He was 23 years her senior and married her on his private island of Skorpios on October 20, 1968, Vogue reported.
© Copyright IBTimes 2023. All rights reserved.