Je Suis Charlie Backlash: France Hate Speech Arrests Highlight Double Standard, Critics Say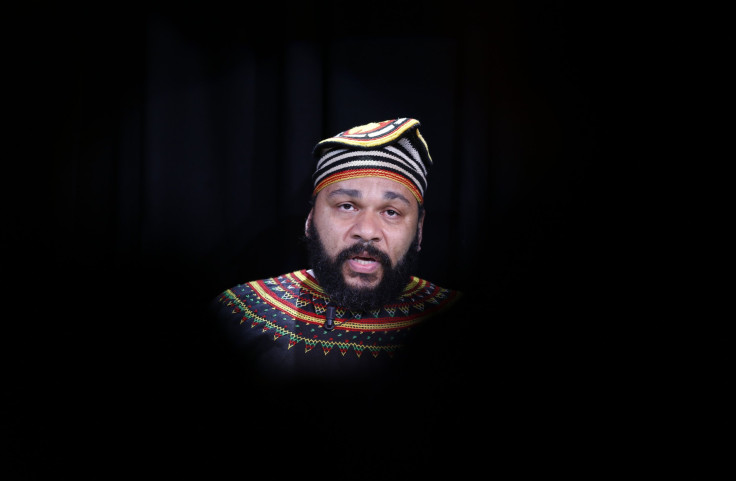 The world is still reeling from the terrorist attacks that claimed 17 lives in Paris last week, and millions -- including world leaders locked arm in arm -- took to the streets of the French capital Sunday in a supposed show of solidarity. But uncritical support for #JeSuisCharlie, the meme that has circulated in social media and throughout the world in support of the Charlie Hebdo staffers murdered by French, al Qaeda-backed gunmen, is getting some serious pushback in the media and among academics.
Cries of hypocrisy and accusations of double standards are greeting both the examination of those world leaders' records with respect to their treatment of journalists as well as news on Wednesday that France detained comedian Dieudonné M'Bala M'Bala for a Facebook comment he made in apparent solidarity with the Paris gunman Amedy Coulibaly. The post was deleted, but not before being seen by authorities. "[A]s far as I'm concerned, I'm feeling like Charlie Coulibaly," Dieudonné wrote.
Dieudonné is not alone. Fifty-four cases involving threats to carry out terrorist acts or statements in support of terrorism have been reopened by French police, the BBC reported on Thursday, and Justice Minister Christiane Taubira said hate speech has to be fought with the "utmost vigor," urging prosecutors to act quickly against those who condone terrorism or carry out racist or anti-Semitic acts. Prime Minister Manuel Valls added that freedom of speech should not be confused with anti-Semitism, racism and Holocaust denial.
Writing on Facebook to French Interior Minister Bernard Cazeneuve, Dieudonné wrote later, "Whenever I speak, you do not try to understand what I'm trying to say, you do not want to listen to me. You are looking for a pretext to forbid me. You consider me like Amedy Coulibaly when I am not any different from Charlie." Agence France-Press reported that Dieudonné was released on Wednesday but would face trial at a later date.
Some free-speech advocates say the comic's arrest signifies a troubling trend of intolerance. In a piece entitled "Why I Am Not Charlie," civil rights advocate Scott Long wrote on his blog Paper Bird, "This week's celebration of France and the gaggle of tyrannical leaders who joined it had little to do with free speech and much to do with suppressing ideas they dislike while venerating ideas they prefer."
Criticizing Dieudonné's arrest, Long wrote, "[T]he arrest of this French comedian so soon after the epic Paris free speech march [shows] why those who want to criminalize the ideas they most dislike are at least as dangerous and tyrannical as the ideas they target: at least."
A series of tweets from @DanielWickham93, culled by Storify, called out the less-than-sterling records of world leaders who attended the free-speech rally, breaking down each leader's violation of a journalist's right to free speech. It was turned into a handy cartoon on the blog Guido Fawkes. And Glenn Greenwald of the Intercept called the West's free-speech celebration a "sham" in the wake of Dieudonné's arrest.
"The right to freedom of expression are differently conceived in Europe and America," Saba Mahmood, associate professor of Anthropology at U.C. Berkeley and author of the book "Is Critique Secular? Blasphemy, Injury, and Free Speech," told International Business Times. "Free speech is differently regulated under the First Amendment in the U.S., than Europe where the right to free speech has two clauses. One says that everyone is free to express whatever they wish, and a second that allows the state to restrict speech if it poses a threat to public and political order."
"The issue is being framed as a standoff between religious taboos and freedom of expression," Mahmood added. "And of course we want to err on the side of freedom of expression. But neither is the issue."
Mahmood cited a Washington Post article posted Tuesday featuring interviews with French Muslims who feel torn by the "I Am Charlie" slogan. There are French Muslims, she said, who neither want to protest or retaliate in violence, but who are not given a space to express what they found troubling about the cartoons.
"We must remember that it's one thing to say that speech should be free," Mahmood said, "and another to say you should support the views that are expressed under the banner of free speech." For some Muslims, the cartoons in Charlie Hebdo were considered racist, and they're having a hard time unambivalently joining in on "Je Suis Charlie."
In the Post article, one 17-year-old said he was outraged by the killings at Charlie Hebdo, but that he also was disgusted by the cartoons depicting the Prophet Muhammad that the magazine published.
Mahmood said that Muslims she interviewed after the Danish cartoon furor in 2006 who neither protested nor supported violent retaliation were nevertheless wounded by the depictions. (And at least one scholar, Christiane Gruber, says there's a misconception that the Koran forbids imagery of Muhammad.)
"The issue," said Mahmood, "is how is Europe going to deal with a Muslim minority that's not just going to line up and accept all French values? There will be disagreement. It's inevitable. Is there a way to accommodate this disagreement, or is one side going to tell their side, 'Too bad, you have to adjust.' Is the aim to just rule over minorities or to create conditions that are conducive for both majority and minority?"
© Copyright IBTimes 2022. All rights reserved.
FOLLOW MORE IBT NEWS ON THE BELOW CHANNELS