Jeremy Lin: Chances of the Houston Rockets Guard Becoming an All-Star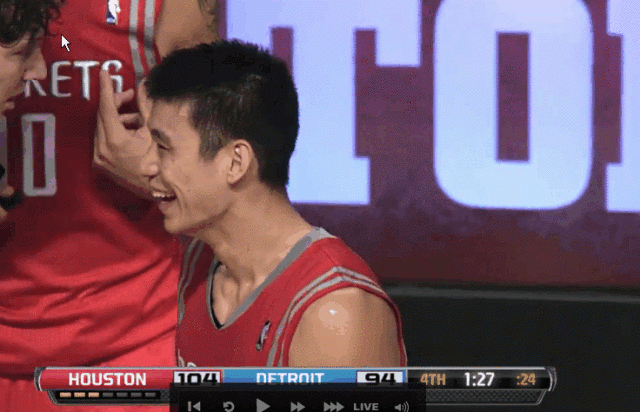 Jeremy Lin is one of the most polarizing players in the NBA.
The point guard came out of nowhere last season, finally getting playing time with the New York Knicks in February. In his first couple of weeks as the team's starter, he played just about as well as any point guard in the league.
Eventually, Lin came back down to earth, and his season was cut short by a knee injury. Many experts felt Lin's run was a fluke, and he would never play like an elite guard again. The Knicks felt that way, letting Lin go when he signed an offer sheet with the Houston Rockets.
Lin may never play as well as he did during the height of "Linsanity." Doing so would make him an MVP candidate, putting him with the likes of LeBron James, Kobe Bryant and Kevin Durant.
Even though Lin may never be the top player in basketball, he can still be an above-average point guard. He'll have to have a few things go his way, but there's a possibility that Lin could be one of the best point guards in his conference.
What are the chances of the Rockets guard becoming an All-Star?
Entering the 2012-2013 season, point guard may be the deepest position in basketball. Every game seems to feature at least one point guard that can take over the contest. In the 2012 MVP voting, six of the top 12 finalists were point guards.
With so much competition, it won't be easy for Lin to make the team. Four of those 12 finalists play in the Western Conference. Five point guards won't be named to the All-Star team.
Tony Parker, Russell Westbrook, Chris Paul and Steve Nash were all MVP candidates in the lockout-shortened season. The point guards were so good that each player was named to the All-Star team, making up one-third of the roster.
Through the early part of this year, Westbrook, Parker and Paul have shown no signs of slowing down. If all three play up to their capabilities, it will be hard for Lin to make the team over any of them.
Nash, however, might be a different story. In his first two games with the Los Angeles Lakers, the veteran looked lost in Mike Brown's Princeton offense. He dished out just four assists and scored less than 10 points in each game.
Now, Nash is injured with a small fracture in his left leg. He's expected to miss at least a week, but could be out as long as a month. With Nash scheduled to miss several games, and his poor play to start the year, the potential for him to make the All-Star team seems to be fading.
With Nash potentially out of the picture, the spot for the fourth-best point guard in the West is wide open. Players like the Nuggets Ty Lawson, the Jazz's Mo Williams and the Mavericks Darren Collison are solid floor generals, but have never had stretches of greatness like Lin displayed with New York.
Rookie Damian Lillard could prove to be Lin's toughest competition for a fourth point guard spot on the All-Star team. Taken sixth overall by the Portland Trail Blazers in June's draft, Lillard has impressed in the preseason and in his first four games. He's averaging 19.3 points and 8.0 assists per game in his young career.
Lillard has very little experience, so it's hard to make a judgment on him yet. However, it looks like he could be a very special player.
In four games this season, Lin has shown that he has a chance to excel in Houston. He came three assists short of a triple-double against the Atlanta Hawks, and has fit in well with newly acquired James Harden. He hasn't been the defensive liability that some predicted. He's second in the NBA with 3.3 steals per game.
Lin has also struggled at times. He's shot poorly from the field, hitting just 34.2 percent of his attempts.
There are still a lot of games to be played until the midway point of the season. If Lin can improve his shot selection, his improved defense, ball security and his playmaking ability could put him in the All-Star game.
Even if Lin isn't the most deserving candidate, he still might start in the All-Star game. He is one of the most popular players in the NBA. At one point last year, he had the highest selling jersey of any NBA player.
The All-Star starters are chosen by the fans, and they might select Lin. Yao Ming was an All-Star eight times, even though he didn't always perform at a top level. Being of Asian descent, Lin could get an overwhelming number of international votes.
At 13 points, 7.0 assists and 5.5 rebounds per game, Lin has certainly been productive in his short time with the Rockets. Houston has 51 more games until the All-Star break.
© Copyright IBTimes 2023. All rights reserved.