Jeremy Lin Watch: Houston Rockets Guard Claims He Faced Discrimination On Road To NBA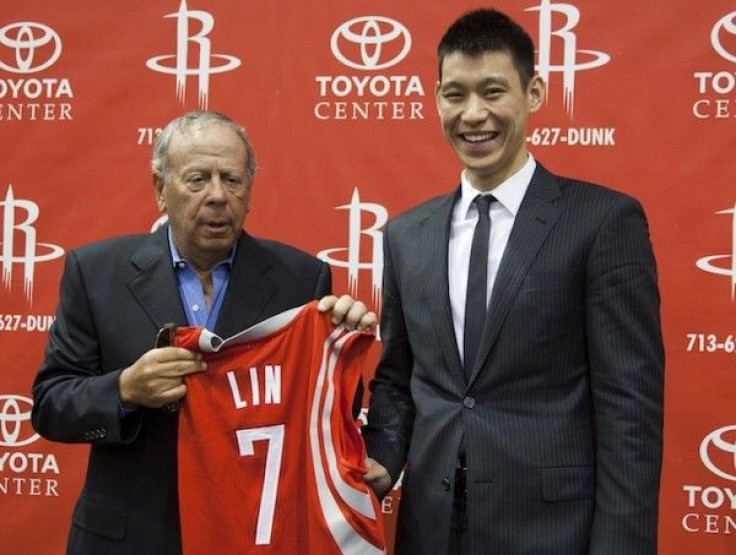 Jeremy Lin came out of nowhere in 2012 to help lead the New York Knicks to the NBA playoffs.
The point guard went from the last player on the bench to a full-time starter, as "Linsanity" took over the NBA and the entire sports world. Lin barely played for the first month of the season, but set a record by scoring 136 points in his first five starts.
After never getting much of a chance until two months into his second NBA season, many fans wondered how such a talent could be overlooked for so long. In a recent interview, Lin tried to shed some light on why he was an unknown to most people who follow basketball.
The 24-year-old told "60 Minutes" that race played a major role in his being passed over by college programs. Despite being named the best high school player in California, Lin wasn't given a scholarship offer by a Division 1 basketball school.
"Well, I think the obvious thing is in my mind is that I was Asian American which, you know, is a whole different issue but that's... I think that was a barrier," Lin told CBS in a piece that aired on Sunday night. "I mean, it's just... it's a stereotype."
With no scholarship offers, Lin went on to play basketball at Harvard. After playing for a school that had never won an NCAA Tournament game in its history, Lin went undrafted in 2010. He was signed by the Golden State Warriors, but only played 29 games before joining the Knicks.
NBA commissioner David Stern agreed that Lin's Asian heritage may have hurt him. Lin is among only a handful of Asian Americans to ever play in the league.
When he was younger, Lin said he was often the target of discrimination, being the only Asian player on the court.
"Pretty much anything you could think of from stereotypical, you know, Asian food, you know making fun of my complexion, my skin color, or, you know, the way Asians look, pretty much everything," Lin responded, when asked what kinds of things people would say to him.
Lin didn't let the comments affect his performance on the court. He was even at the center of controversy last year when a few members of the media made jokes that related to Lin's ethnicity.
"I mean there are times when people say stuff and I just laugh, you know?" Lin continued. "All I do is laugh and move on and just not say anything-- and just forget about it. It made me a stronger person."
Even with the discrimination that he's faced, Lin's play last season was too good to deny. He signed a three-year, $25 million contract with the Houston Rockets in the offseason.
Through 77 games of the 2012-2013 NBA season, Lin has yet to miss a start and is on the verge of helping Houston clinch a playoff berth.
© Copyright IBTimes 2023. All rights reserved.