Jana Duggar's Complete Dating History, 4 Men She's Been Rumored To Court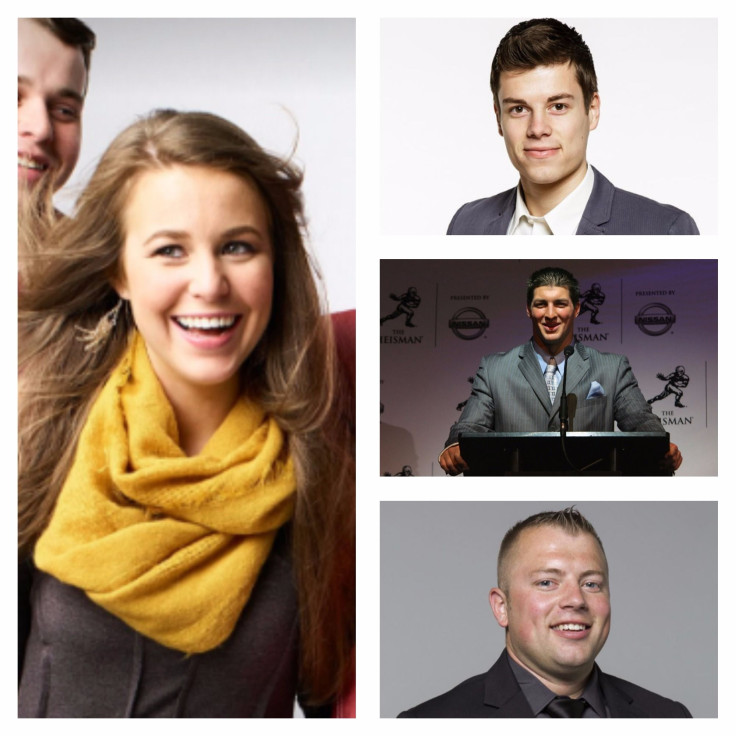 Jana Duggar, the eldest daughter of Michelle and Jim Bob Duggar's "Counting On" family, has yet to officially enter into a courtship, but that doesn't mean she hasn't been linked to a man or two. Ahead of the TLC series' finale Monday, find out who the 27-year-old has been speculated to be courting in recent years.
Tim Tebow
After reports surfaced in 2014 that Jana was too busy to date due to acting as her live-in babysitter for her parents, a rumor she was dating former NFL star Tim Tebow started swirling. A report by Star Magazine claimed that Jim Bob was looking to set up his daughter with the athlete after meeting his mother, Pam Tebow, at a charity event in their home state of Arkansas.
"Jim Bob is no dummy," a source said at the time. "Tim would be a perfect addition to the family and a feather in his cap. Can you imagine the press attention a Tim-Jana wedding would get?"
READ: Jana Duggar Makes Rare Comment About Her Dream Boyfriend
A rep for Tebow denied the claims, and while Jana never spoke out about the rumors, her cousin, Amy Duggar, did so on her behalf. After another round of rumors suggested Amy was looking to take Tebow away from her cousin, she clapped back.
"Jana and I laughed so hard about this," she wrote on social media alongside a picture of the report about their rumored feud. "We've never even met Tim Tebow."
While Jana denies courting the ex pro athlete, one of her family members has made it clear he would have welcomed into their brood with open arms. In February 2015, Jana's brother-in-law Ben Seewald said Tebow would have been a "great addition to the family."
"Having a former quarterback in the family would be a great advantage to the occasional football game between teams in the Duggar clan," he told People Magazine. "I'd definitely have him on my team. We'd win every time."
Zach Bates
A reality TV dream come true! In January 2015, it was uncovered by Radar Online that Jana was allegedly once approached about possibly courting longtime family friend Zach Bates. The site reported that Zach of "Bringing Up Bates" fame, who is now married to Whitney Perkins, went on "secret chaperoned dates" with Jana before asking her dad for permission to court her.
"Jana just wasn't interested," a source explained at the time. "She wasn't attracted to him and just didn't see it working out."
Lawson Bates
Zach isn't the only member of the Bates family Jana has been linked to. After Jana was speculated to be courting his younger brother Lawson Bates in April, the "Bringing Up Bates" family spoke out about the rumors.
"I think that probably Lawson and Jana would both be shocked by that news although we have heard that rumors," parents Gil and Kathy Jo Bates said of the speculated courtship. "They are very good friends but no courtships that either of our families are aware of."
Jonathan Hartono
One month after the latest round of Bates courtship rumors, "Counting On" fans thought Jana might be dating her friend Jonathan Hartono. Radar Online fueled the fire by claiming that Jana and Jonathan, a foreign exchange student from Indonesia, were an item after attending weddings with the Duggars and having a private sit down with Jim Bob.
Jonathan shot down the report on Instagram, writing, "Definitely did not have a 1 on 1 date with Mr. Duggar it was a 1 versus 1 tiebreaker bowling game with everybody else watching." He added in his post that he was still single and "not courting Jana."
READ: 6 Reasons Why Jana Wont Pick College Over TV Fame
While Jana is single, she isn't spending her time waiting around for a man. Last fall she purchased a former tattoo shop and more recently, she's been lending a hand helping in renovation projects, planting in her garden and helping her sister Jinger Vuolo prepare her new home for future babies.
"I know how it feels to wait for 'Prince Charming' to come along. I'm still waiting. Waiting is not always easy. Especially in those times when all the married siblings are getting together and you can't go along because you're not part of 'that' group ," she told Crown of Beauty Magazine in March.
"But waiting doesn't mean sitting and literally waiting. No, we need to be busy with where God has us and being content and joyfully serving Jesus there. My parents have always encouraged each of us to serve those around us. As Jesus said and led by example, '…the greatest among you will be the servant of all.' I've found that when I'm having a hard or discouraging day, I try to look for ways to bless or serve someone else. And in turn it usually blesses and encourages me ."
© Copyright IBTimes 2023. All rights reserved.