Jimmer Fredette Trade News: Cavaliers Interested In Former BYU Sharpshooter? Kings Want Mata Ellis? [NBA Rumors]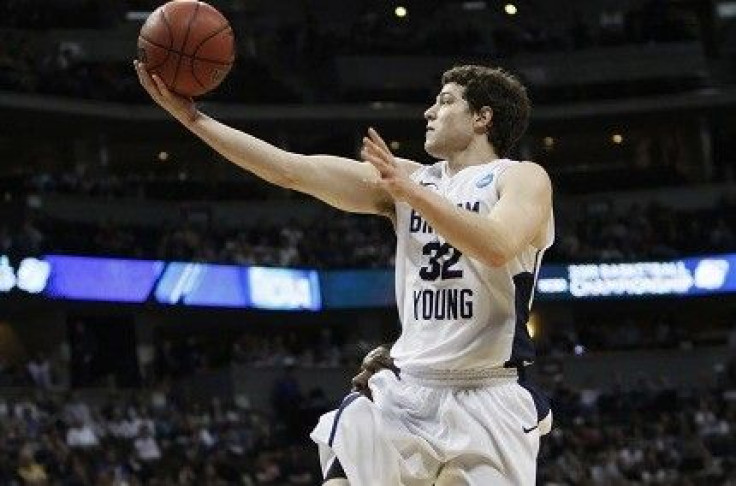 In his two years in the NBA, Jimmer Fredette has been buried on the Sacramento Kings bench. That could change very soon as the club is, reportedly, shopping the BYU graduate.
According to Marc Stein of ESPN, the Kings are looking to trade Fredette and Chuck Hayes. The Kings want to clear room under the salary cap in hopes of signing guard Monta Ellis. With players like Dwight Howard, Josh Smith and Chris Paul reaching deals with their respective teams, Ellis may be the best available free agent.
If the Kings can add Ellis, it wouldn't make much sense for them to keep Fredette on the roster. The Kings are already overloaded with guards, and Fredette would earn even less playing time with Ellis in the backcourt. After losing Tyreke Evans to the New Orleans Pelicans, Ellis would become Sacramento's No.1 scoring option. With the team adding Ben McLemore in the draft, there isn't much room for Fredette to contribute.
Since being selected 10th overall in the 2011 NBA Draft, Fredette has struggled with playing time. Despite being taken in the lottery, he has averaged just 7.4 points, 1.1 rebounds and 1.5 assists in 16.2 minutes per game. Fredette has a unique skill set, but he was often overlooked by former head coach Keith Smart.
In his sophomore campaign, Fredette's minutes per game decreased from 18.6 to 14.0. He was healthy throughout the 2013 season, but didn't play in a dozen games. The 24-year-old could be considered a valuable commodity to a team that is willing to give him more playing time.
The Cleveland Cavaliers have, reportedly, shown interest in Fredette. A trade to the Eastern Conference could do wonders for the sharpshooter, who made 42.1 percent of his attempts from three-point range. Playing behind a starting backcourt of Kyrie Irving and Dion Waiters, Fredette's ability to hit jump shots could be the perfect complement for the upstart Cavs.
Trades can't officially be executed until Wednesday. The Kings are expected to send Evans to the Pelicans in a three-team deal that will land them Grevis Vasquez. Robin Lopez and Terrel Harris will go to the Portland Trail Blazers, according to USA Today. Sacramento may then follow suit with a few more deals, in order to sign Ellis.
© Copyright IBTimes 2023. All rights reserved.