Joe Biden At The Oscars? Vice President To Introduce Lady Gaga, Promote Anti-Campus Sexual Assault Campaign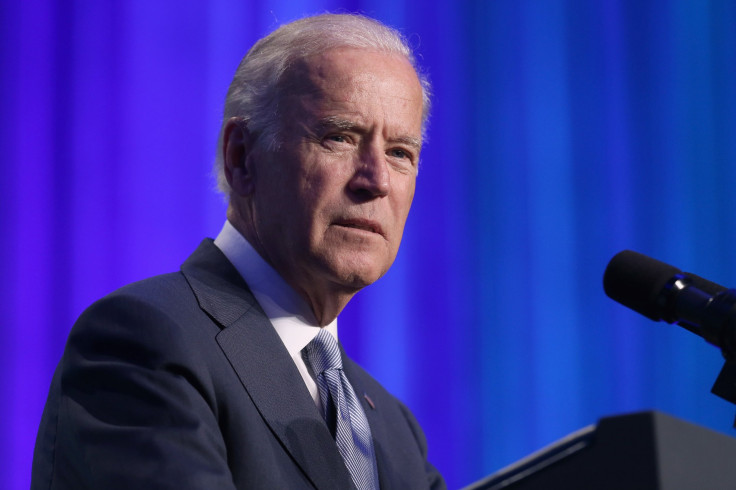 U.S. Vice President Joe Biden is scheduled to make an appearance Sunday at the Academy Awards, but he won't be there simply to hobnob. He's scheduled to make a presentation to bring more awareness to the issue of sexual assault on campuses.
The Hollywood Reporter confirmed Thursday Biden will speak briefly before giving the stage over to Lady Gaga, who's set to perform her Oscar-nominated song "Til It Happens To You," which was featured in "The Hunting Ground," a 2015 documentary centered on college rape culture.
Biden is expected to appeal to Oscars attendees and viewers — which last year included about 37 million Americans — to support his "It's On Us" campaign. The initiative asks people to take a pledge to recognize that nonconsensual sex is assault, identify and intervene in dangerous situations, and create an environment that condemns assault and supports survivors, the campaign's website says.
"An estimated one in five women has been sexually assaulted during her college years — one in five. Of those assaults, only 12 percent are reported, and of those reported assaults, only a fraction of the offenders are punished," President Barack Obama said in launching the initiative in 2014, going on to label the problem "an affront to our basic humanity."
Gaga has previously told reporters she was raped as a teenager. She co-wrote "Til It Happens To You" with Diane Warren and has said that raising awareness about campus sexual assault was the main goal of the song — not winning an Academy Award.
"The Oscars nominated this issue by nominating this song. Now the issue has the media talking about it, hopefully in a way I believe it deserves to be talked about," she told Deadline. "We can reach more people. When an organization like the academy that believes in talent says 'we care about you' — that means that message is not just sent to me and Diane, but to people that hear the song and who went through something like this."
Biden won't be the first White House representative at the Oscars. First lady Michelle Obama presented the award for best picture in 2013 via video feed.
© Copyright IBTimes 2023. All rights reserved.