Joe Biden's Inauguration Is The Most-Watched Presidential Inauguration Since 2009
KEY POINTS
Joe Biden's inauguration ceremony raked in large numbers
About 39.87 million people watched the ceremony
Barack Obama's swearing-in ceremony is still the most-watched inauguration
President Joe Biden's swearing-in ceremony has become one of the most-watched presidential inauguration events in the history of the United States.
Nearly 40 million people watched the ceremony from their homes, making it one of the most-watched presidential inauguration since Barack Obama's in 2009, Variety first reported citing early Nielsen data.
The report suggested that news channels like CNN, FOX News, and MSNBC and broadcast networks such as ABC, CBS, and NBC raked in 39.87 million viewers from 11:45 a.m. to 12:15 a.m. when Biden and Kamala Harris took their respective oaths.
The combined total for the aforementioned news channels and cable networks is 29.6 million. This means 1.52 million more people watched Biden taking oath than Donald Trump in 2017.
Meanwhile, CNN turned out to be the biggest news channel during the entire six-hour inauguration event. The channel saw 7.74 million tuning in during the event while the number went up to 9.99 million during the time when Biden was being sworn in as the 46th president of the United States.
MSNBC came second with 5.33 million viewers during the six-hour event and 6.89 million during the swearing-in ceremony and speech.
On the other hand, FOX News turned out to be the biggest loser in terms of viewership. In 2021, almost 2.17 million viewers tuned in to watch the entire event as compared to 8.77 million in 2017. At the time of the oath, 2.74 million people watched the channel for all the updates, which is much smaller than 11.77 million who tuned in to watch the program.
As far as cable networks are concerned, ABC led the pack with 5.37 million viewers while NBC came second with 4.71 million. CBS improved its numbers and drew in 4.13 million viewers during the six-hour window.
The total audience for Biden's inauguration still falls behind the 51 million viewers who watched Obama's swearing-in ceremony.
Richard Nixon, Jimmy Carter, Ronald Reagan, George H.W. Bush, Bill Clinton, George W. Bush, Barack Obama, Donald Trump, and Joe Biden have sworn-in as the commander-in-chief since 1969.
Biden raked in more people than the first-term inaugurations for Trump, Bill Clinton in 1993 (29.7 million), George W. Bush in 2001 (29 million viewers) and George H.W. Bush in 1989 (23.3 million).
Biden's inauguration ceremony was followed by the "Celebrating America" event that celebrated America's democracy. The special, hosted by Tom Hanks, featured musical performances from artists such as Demi Lovato, Katy Perry, John Legend, Bruce Springsteen and many more.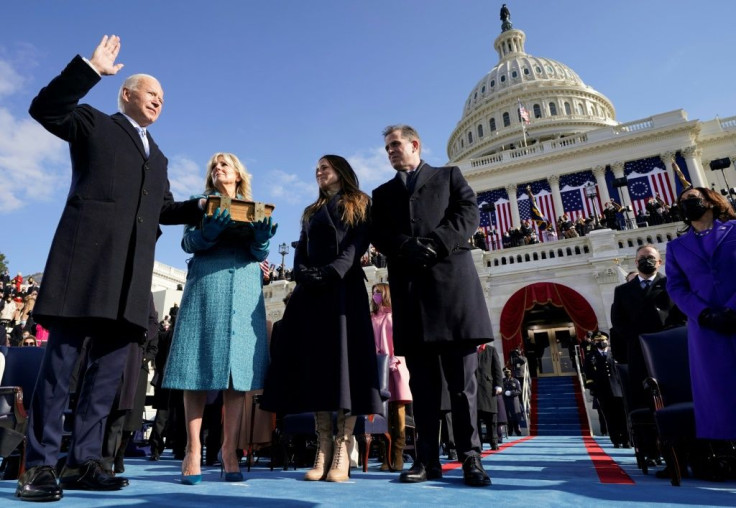 © Copyright IBTimes 2023. All rights reserved.