Clown Sightings: Police Confirm Annapolis Kids Made Up 'Creepy Clown' Story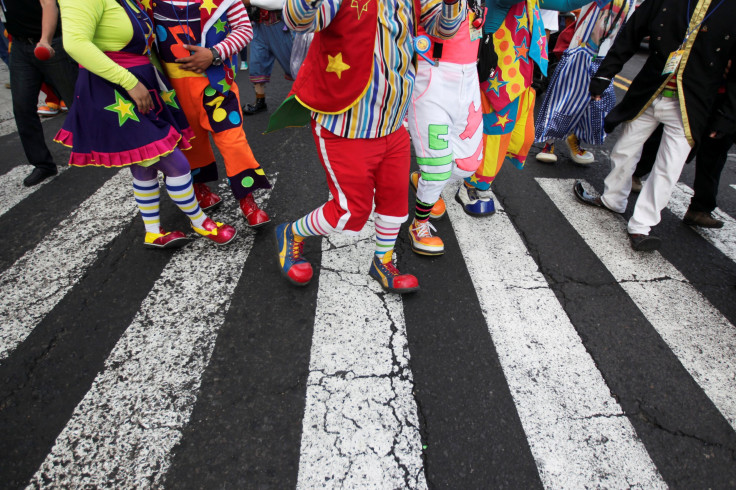 "Creepy clown" sightings have continued to dominate headlines in recent weeks, and while authorities have treated each case seriously, many are beginning to wonder just how many of the cases are real and which ones are fake.
Several children reported a series of clown sightings in different neighborhoods of Annapolis, Maryland, CBS affiliate WJZ-TV reported Monday. By Tuesday, Annapolis police confirmed that the children had fabricated the "creepy clowns" spotting.
The children reported seeing one, if not more, people dressed in clown costumes and wearing face paint. On Tuesday morning, following an interview with the children, Annapolis police posted on Twitter that the sightings were a hoax: "UPDATE – Kids admit to making up a story about clowns, more info to follow."
The four children, from ages 7 to 9 years old, told the police that they had spotted a clown, or clowns, while walking to school on Monday morning, The Capital Gazette, a local publication in Annapolis, reported. It's unclear why the children made up the story.
Clown sightings from South Carolina to Georgia have been reported over the past few months. Many reports, mostly from children, claim the clowns attempted to lure children into nearby wooded areas with promises of candy and treats. Adults in some cases have seen and heard the clowns, as well.
Last week, a school in Flomaton, Alabama, was put on a "soft lockdown" after high school students received threatening messages from a "Flomo Klown" Facebook page.
Police soon made an arrest in relation to the crime. Makayla Smith, 22, was arrested along with two juveniles who were reportedly connected to the "Flomo Klown" page.
The clown sightings have been called a guerrilla marketing campaign for the upcoming film "31," directed by Rob Zombie. The company released a statement stating: "The company and the film '31' are not associated in any way with the creepy clowns and costumed characters found roaming the South."
© Copyright IBTimes 2023. All rights reserved.