Lakers Free Agent News: Kobe Bryant Wants Dwight Howard To Stay? Houston, Dallas, Or Atlanta In The Lead?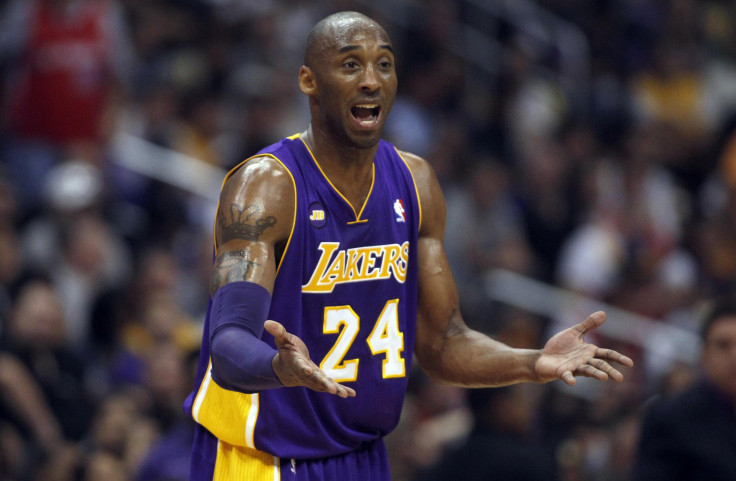 They may have had their differences throughout their one season together, but Kobe Bryant still wants Dwight Howard to stay in Los Angeles.
The injured Lakers superstar guard will reportedly join the Buss family and general manager Mitch Kupchack during the team's pitch meeting to Howard, according to Yahoo! Sports. Head coach Mike D'Antoni might be at the meeting as well.
The 27-year-old will be an unrestricted free agent at 12:01 a.m. Sunday night, and a report by ESPN has confirmed that the Lakers have requested they go last.
All teams interested in Howard will meet him in Los Angeles, and the Houston Rockets are reportedly in the early lead. The Rockets have enough cap space to sign Howard to a four-year maximum deal, and have all-star guard James Harden currently running their offense. They will meet with Howard first.
However reports from ESPN earlier this week said that while it is unlikely Howard re-signs with Los Angeles, that doesn't mean Houston is the guaranteed landing spot. Howard is reportedly unsure if Houston can create a style of offense that best suits his skills.
The same could be said for L.A. since Howard didn't think he fit well in D'Antoni's offense alongside Bryant.
There were reports of tension, a fight, and even Howard and Bryant ignoring each other during the season. The Lakers struggled to make the playoffs and were quickly bounced out in the first round.
Howard also missed six games with a shoulder injury, and was reportedly upset about a limited number of touches and shots that were going to Bryant. Howard averaged 17.1 points last season, his lowest since 2006-07, but still led the NBA in rebounding at 12.4 a game.
Bryant also suffered a torn Achilles tendon towards the end of the season, and while he's vowed to return next year, his uncertain status could leave the Lakers immediate title hopes in doubt.
Bryant's contract is also up at the end of next season, which would wipe $30 million from L.A.'s books. Beyond 2014 the Lakers have only one player, point guard Steve Nash, under contract. They could be big time players during the summer of 2014.
In lieu of the collective bargaining agreement, L.A. can offer Howard the a five-year $117 million deal, while Houston, the Dallas Mavericks and Atlanta Hawks can only sign him to a four-year $88 million contract.
© Copyright IBTimes 2023. All rights reserved.