Lakers News: Kobe Bryant, At Age 36, Still A Force For L.A In 2014-2015 NBA Season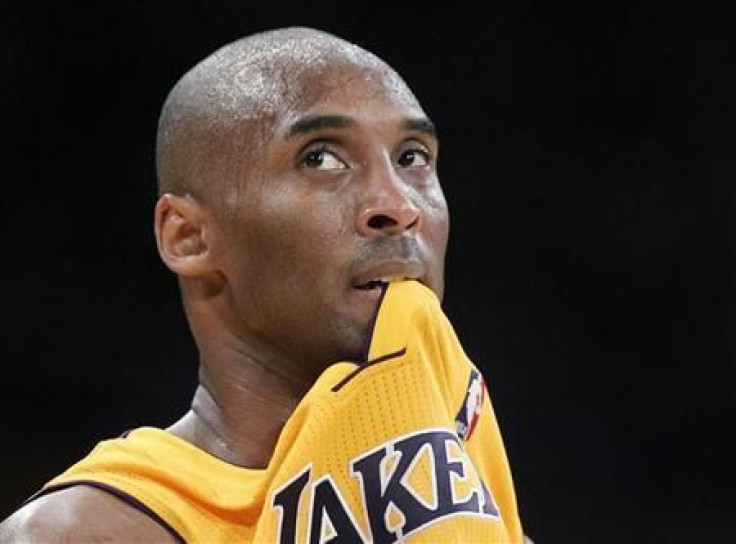 Despite a prolific career that includes five NBA titles, two NBA Finals Most Valuable Player awards, a regular-season MVP, and 16 NBA All-Star appearances, questions surround Los Angeles Lakers superstar Kobe Bryant with the 2014-2015 NBA preseason to begin in five weeks. Bryant is entering the first year of his two-year, $48.5 million deal, after playing in just six games in 2013-2014 due to a knee injury, and will be part of an evolving roster that appears nowhere near contention for an NBA title.
Bryant, who celebrated his 36th birthday on Saturday but said he feels like he is 70, will once again be asked to carry the scoring load, which might be a particularly arduous task considering the miles he has logged over his career and the lack of stars on the Lakers' current roster. After 18 seasons in the league, 169 playoff games, and averaging 36.6 minutes per game, even the fitness-conscious and fiercely confident basketball legend must be wary of how another full season will unfold after several months removed from being at full strength. He says he is 100 percent, and his trainer called his June rehab "better than expected."
How Bryant plays with a different roster should also garner plenty of interest. In 2012-2013, his last full season, Bryant averaged 27.3 points per game, and it seems safe to presume he will be able to still score over 20 points per game next season.
But will the Lakers win? L.A. will be without Pau Gasol, a big man who often seemed to be a perfect complement to Bryant and helped the Lakers win two NBA titles since arriving in 2008. Though the Lakers added a new coach in Byron Scott, there have been no major frontcourt additions to help ease the shooting burden from the perimeter. Though the Lakers brought in Carlos Boozer, Jeremy Lin and rookie Julius Randle, they are not expected to thrive in the very deep Western Conference with teams like the defending champion San Antonio Spurs, Oklahoma City Thunder, Portland Trail Blazers, Houston Rockets, among others, expected to reach or surpass 50 wins to earn home-court advantage in the first round.
The Lakers' prospects next season could weigh down on Bryant. He has spent much of his career in fierce pursuit of NBA titles, and remains one short of his boyhood idol Michael Jordan. But questioning Bryant's motivation to play at his best seems like a futile activity.
If interview excerpts from Sports Illustrated's Chris Ballard are any indication of how the future Hall of Famer feels about the twilight of his career, Bryant's fans should feel comforted that he has every interest in returning to his best level.
"I'm going to max [my last two years] out too, to do whatever I can," Bryant said, according to SI.com. "Leave no stone unturned, no water left in the sponge."
He also discussed retirement. Several years ago, Bryant stated that he would not retire and then return to basketball as Jordan did. While his contract will expire at age 38, Bryant seemed to leave some wiggle room about future.
"Yeah, if something inside of me changes and I want to play some more, and go after it some more ….yeah. But where I sit right now, I don't know if I want to do that," he said, when as asked whether there was two years left on his career.
What might be most intriguing is Bryant's acceptance of the struggles of recovering from injury. He has spent a majority of his career injury-free, but some had suggested that the time off last season might have been a blessing in disguise with more time to rest his body with the Lakers' playoff prospects looking dim.
"It's the journey," Bryant said. "These are the difficult times. I think it's important to show that. Because it's very easy for the public to look in October and November and say, 'Oh Kobe's back to the way he was.' Kids look at that and say: [claps] it was just voilà! No, it wasn't just voilà. It wasn't. It was a lot of self-doubt and self-conversations and coming up with a plan, a strategy, trying to find the best people in their fields, nutrition and training and bringing them in and coming up with a plan and working at it day by day. It's the journey. The journey excites me. I like doing the work. This is my passion. Love doing it. It's not a job to me. And that's 90 percent of it."
Meanwhile, the passion is still there. A player who had been the target of criticism for his stubborn play and his rather alienating personality, Bryant did not reveal any signs of abandoning his competitive spirit.
Said Bryant: "So watching me play, I want to compete and play as hard as I can because this is what I f***ing love doing. You know what I mean? It has to be there, but in terms of how I communicate it, I'm doing much more of communicating it to the outside world, partly because I think that the messages get mixed up for the younger players coming up now, and the time that it takes to accomplish what you want to accomplish as a basketball player, and the love that you have for the game, not for all the other bulls***. Not for followers on Twitter, or Facebook or sitting here doing interviews and s***. It's not about that. It's about the game."
© Copyright IBTimes 2023. All rights reserved.