Lakers News: Why There Is Hope For LA Beyond The 2015-2016 Season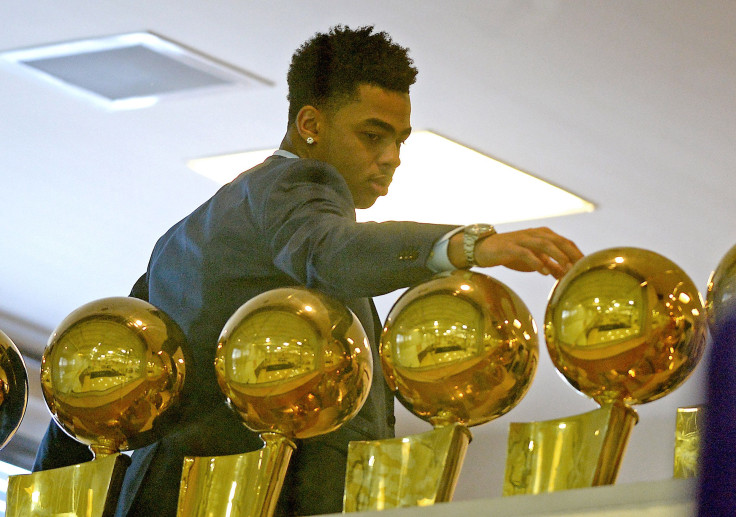 With Kobe Bryant turning 37 in August, and no other superstar to play alongside their aging and perhaps hobbled legend, expectations aren't exactly sky high for the Los Angeles Lakers in 2015-2016. Las Vegas odds makers have the Lakers at 66-to-1 to win the championship, with 16 teams ahead of them. In a 30-team league, arguably the most prestigious team in the NBA is currently not even in the middle of the pack.
The failure to secure a marquee free agent or a trade for a top big man this summer might have appeared to spell doom for the Lakers, but a broad perspective on the 16-time champions' aspirations casts a different and perhaps more optimistic outlook for their possible resurgence into the NBA elite.
If you look close enough, there is a glimmer of home despite a summer of coming up short to lure a top player.
Aldridge, Cousins come at a hefty price
While general manager Mitch Kupchak reportedly pursued a trade for DeMarcus Cousins and the free-agent signing of LaMarcus Aldridge, it's doubtful that either player would have propelled the Lakers into the same status as the Golden State Warriors or even the San Antonio Spurs in the West, and it would be a bigger stretch to suggest they could outlast the Cleveland Cavaliers, with an inspired and dedicated LeBron James yearning to bring the beleaguered city their first title in decades.
At the moment, this is James' league. Most teams have learned that they can make a push for title, but James more than likely will stand in their way in 2016. The Lakers are one of those teams, and they don't even play in the same conference. Certainly, Aldridge or Cousins would have helped the Lakers next season. Would it have been enough to bring L.A. their first title since 2010? Not in 2016, and probably not in 2017 either.
Aldridge, a star power forward with plenty of skills, would have been a solid acquisition, but it's doubtful he could lead the Lakers beyond a No. 4 or No.5 seed in the stacked West. Turning 30 on Sunday, Aldridge has only helped the Portland Trail Blazers win one playoff series in his nine seasons, and even with the help of exciting guard Damian Lillard. He ended up costing the Spurs $80 million over four years. Such a signing would mean much less salary-cap room to find another free agent.
Team success has also escaped Cousins, who hasn't helped lift the Sacramento Kings to even 30 wins in the past four seasons. The 24-year-old, who is somewhat reminiscent of the talented but problematic Derrick Coleman, is a definite difference maker. But the Lakers might be better served to find another talented big man that doesn't come with any behavior problems and has a better track record for success. Adding Cousins also would have cost them the No. 2 overall pick, and at least one more player, which is a very steep cost.
Short-term losses for long-term gains
Instead of adding Aldridge or Cousins at the expense of either youth or salary-cap space, the Lakers have pieced together an interesting roster that should at least compete for a playoff spot in 2015-2016, while also adding the building blocks to potentially contend with a group of young stars in two or three years. The short term looks rather bleak, even with Bryant returning and the veteran infusion of Roy Hibbert, Brandon Bass and Sixth Man of the Year winner Lou Williams, combined with the young reserves.
The West is once again quite deep, and while Bryant may have a strong season with a nice blend of veterans and young talent around him, it isn't realistically enough to overcome the Spurs, Warriors, Houston Rockets, Los Angeles Clippers, and even the Memphis Grizzlies. Meanwhile, the New Orleans Pelicans remain a team on the rise with Anthony Davis' stock continuing to soar.
Indeed, climbing the ladder in the West continues to be an arduous undertaking. It took 50 wins to get the Dallas Mavericks the No. 7 seed, and they were promptly dismissed in the first round. The top eight may have a new opening with the Blazers expected to drop off, but there is no reason to believe things have gotten easier. The Lakers look like a team that would need a lot to go right to get 50 wins next season, and that means they could easily experience the same fate as the Mavs.
It may not have been their intention, but the Lakers now have a better chance of growing into an elite team by, say, 2017-2018 rather than settling for being a first-round-and-done team the next two seasons. Losing out on Aldridge and Cousins, or even Greg Monroe, DeAndre Jordan and Marc Gasol, might have been a blessing in disguise for a real run at a title.
New and improved
After a forgettable season, 2015-2016 should be much different. There is no reason for the Lakers to tank, especially considering they can only keep their first-round pick if the ping-pong balls give them the top-3 selection -- another unfortunate circumstance from the disastrous Steve Nash trade.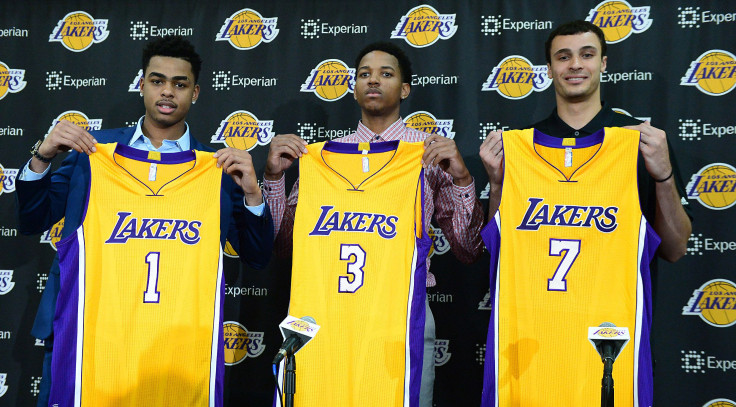 Byron Scott's squad will compete for a playoff spot, and in the process the Lakers should provide a serious uptick in effort and production from their pitiful 21-win season. There are many signs to suggest that the Lakers will have stretches of success with potentially five veterans on the floor, consisting of Williams and Bryant in the frontcourt, to go along with Nick Young, Bass and Hibbert in the frontcourt. But more than likely, Scott will inject energy from some up-and-coming athletic players, who are all under the age of 24.
It's those young players who the Lakers should feel excited about, and for good reason. Louisville head coach Rick Pitino raved about the No. 2 overall pick D'Angelo Russell, a point guard who often plays so relaxed that it looks like he's going at half speed. Russell has a very high ceiling, and is an excellent distributor. Sometimes it seems that he's too good to be true.
"In the last 30 some-odd years, outside of Magic Johnson he's the best passer I've seen come along in a long time," Pitino said of Russell. "He's a great basketball player, has great instincts -- really understands the game very well. I love his game. I wanted him to come to Louisville, obviously, but he chose Ohio State.
"Any time you have that type of passing skills and that offensive mind for the game, I think you're going to be something special. It would not surprise me to see him win Rookie of the Year."
Russell is only 19, and therefore may not see significant time in his rookie season. But he may develop a promising partnership with 23-year-old Jordan Clarkson, who competed at a high level when given playing time. In the 23 games when he played at least 30 minutes, the 6'5 combo guard shot 48.1 percent from the field and averaged 19.2 points per game.
The frontcourt has youth, as well, with power forward Julius Randle returning after playing just 14 minutes before suffering a season-ending foot injury. Randle was at one point considered a potential No. 1 overall pick in the 2014 NBA Draft, before slipping to No. 7 to the Lakers. Meanwhile, 2015 first-round pick Larry Nance Jr. has the look of an athletic workhorse in summer league games. Second-round pick Anthony Brown may be a long shot to see meaningful playing time next season, but the swingman has a high basketball IQ and a fluid perimeter game. Also, big man Robert Upshaw has looked good in summer-league action.
Pieces in place for growth
The Lakers have something almost as coveted as a collection of young hopefuls: salary cap space and expiring contracts. Bryant is in the final year of his contract, while Hibbert will make about $15.5 million in the last year of his deal. Bass and Williams each signed for three years at about $7 million a season. Young has three years remaining on a deal that only pays him roughly $5.5 million a season. None of those deals should prevent the Lakers from making a splash in the summers of 2016 and 2017, and Kupchak could also dangle an expiring contract before the deadline to a team seeking to make a serious run in the second half.
The combination of the cap space, the free-agent drawing power of sunny southern California, and the prospect of playing with some burgeoning young talent should be enough to get the Lakers competing for titles again.
The Lakers have been down this road before. After Johnson retired in 1991, the Lakers routinely made the playoffs without a superstar on the roster for the next five seasons, but without much success. After eight seasons of title contention with Shaquille O'Neal from 1996-2004, the Lakers had another moratorium until Bryant was joined by Pau Gasol in 2008. In the last few years, the Lakers sputtered with the Dwight Howard and Nash deals slowing long-term progress. For a while, it seemed like the Lakers were a rudderless ship with no young talent to provide optimism.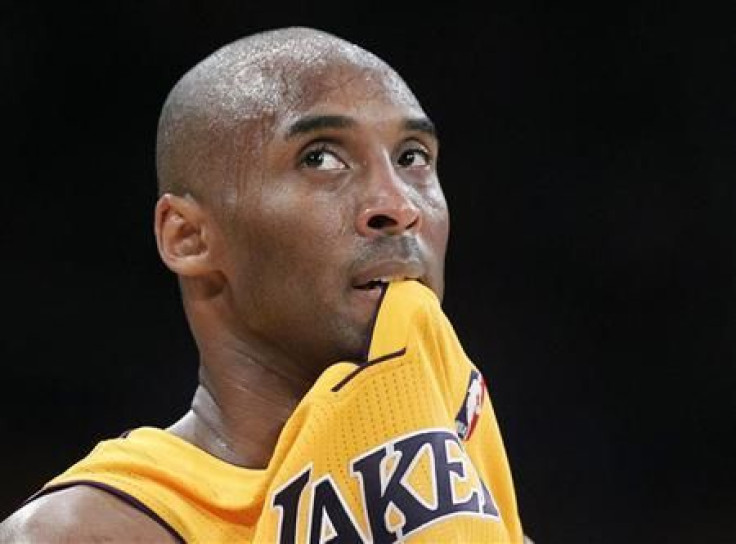 This unexpected offseason changed all of that, and it currently seems like they are getting somewhere. No Aldridge or Cousins means the Lakers won't have any realistic hope of, say, the No. 4 seed in the West, but is that really a respectable aspiration for a team that cares about winning titles? Lakers fans don't pat themselves on the back for winning one playoff series. The standards are very high.
At least now, there is direction and some legitimate "what ifs." Should things go right, Russell will grow into a Derrick Rose-type playmaker, Clarkson will continue to do his best Russell Westbrook imitation, Randle can emerge into a complimentary contributor like Draymond Green, and Nance may develop into a Kris Humphries-style forward. Such scenarios are plausible, though not necessarily expected. It's still extremely early in their careers, and they can expect plenty of bumps in the road.
For now, the Lakers have no choice but to be patient until the right free agent or trade situation comes around. There is no guarantee things will simply fall into place, but at least the foundation is present to move forward. Kupchak and team executive Jim Buss have not committed to any stupid long-term contracts, and there is growing hope that young players can mature into very good ones.
It's a start.
© Copyright IBTimes 2023. All rights reserved.