Lakers Trade Options: Would L.A. Deal The No. 2 Overall Draft Pick For A Veteran?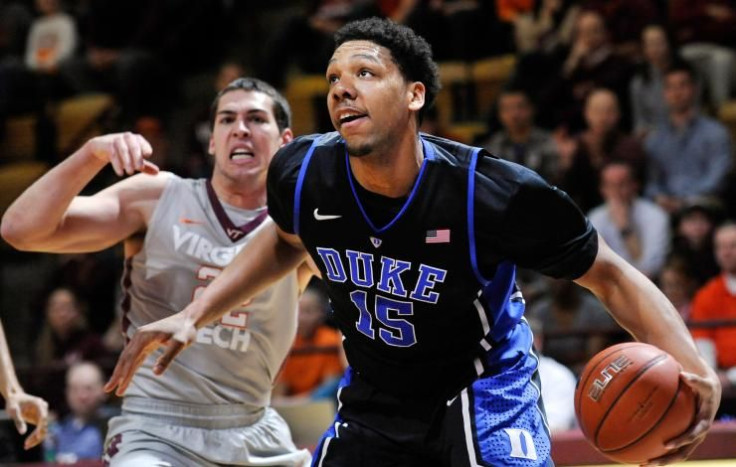 The Los Angeles Lakers escaped a potential disaster after arguably the most forgettable season in the club's long and illustrious history. The ping-pong balls bounced the Lakers' way in the 2015 NBA Draft Lottery. Not only did the 16-time champions avoiding the loss of their unprotected pick if it fell out of the top five, but L.A. will own the No. 2 overall selection in the upcoming draft.
Lakers general manager Mitch Kupchak will pick behind the Minnesota Timberwolves, who, like the Lakers, are in position to upgrade at almost every position and will be drafting on talent more so than need on June 25. The candidates for the top selections include big men Karl-Anthony Towns of Kentucky and Jahlil Okafor of Duke, as well as guards D'Angelo Russell of Ohio State and Emmanuel Mudiay, who played last season in China.
Any of the four players would be considered a valuable long-term addition to the Lakers, as L.A. prepares for life after Kobe Bryant. The 36-year-old guard is nearing retirement, and Kupchak will seek a new player to build around, which could arrive through the draft or free agency.
But the Lakers may want to start winning next season, and could consider dealing the No. 2 pick for an elite and established player. According to Kupchak, the Lakers are "a little bit impatient" to start winning, but that doesn't mean he will be quick to part with the No. 2 selection.
"It would have to be a heck of an opportunity for us to consider doing something like that," Kupchak said at a Lakers pre-draft workout, according to the Orange County Register.
"If you came across something that made your team better quicker, it would probably be a veteran, then that's something you would consider, but there's something to be said for having the No. 2 pick in terms of building going forward," said Kupchak.
Kupchak's dilemma of swapping a long-term player for an established player, might come down to how much he values this crop of talent. There is no "can't miss" star like Derrick Rose, Blake Griffin, John Wall, or Kyrie Irving. But there are some players with big upside. Most experts believe Minnesota will select Towns, and the Lakers will go the safe route and choose Okafor. Both big men had little trouble scoring and rebounding at their talent-rich college programs, and are not expected to face a tough transition to the pros. Okafor would immediately upgrade the center position, which has historically been the Lakers' most productive position.
"There's the perception that there's four players there (who could be drafted at No. 2)," Kupchak said. "I think there might be more."
Kupchak added that the Lakers will work out at least four players, but may target "hopefully six to eight."
Who the Lakers draft, if they decide to hold onto the pick, may also be contingent on who the Lakers can sign with their hefty salary cap space. Marc Gasol, LaMarcus Aldridge, Jimmy Butler, Rajon Rondo, Greg Monroe, Goran Dragic and Kawhi Leonard are possible free agents that the Lakers could lure to Southern California. Meanwhile, the Lakers may consider waiting, and going after an even bigger crop of stars in the summer of 2016 like Anthony Davis, Kevin Love, Bradley Beal, Brook Lopez, or even Kevin Durant and LeBron James.
There is also the question of what players are on the trade block. The Sacramento Kings have maintained that they won't deal DeMarcus Cousins, but Joe Johnson, Ricky Rubio and Ty Lawson could receive offers from teams. None of those players seem worth sacrificing a potential Rookie of the Year candidate, who will be paid roughly $4.2 million a year for the next three years.
The x-factor in the Lakers' plans is Bryant. Though reports suggest that Bryant will play out his contract and retire at the end of the season, his competitive nature is not one to just ride out into the sunset if he knows there is an opportunity to win his sixth NBA title, which would match his boyhood idol Michael Jordan. With the Lakers owning a great deal of salary-cap space to sign a marquee free agent, Bryant might examine the Lakers' roster and consider another run at a title and sign a short-term deal. If the Lakers want to keep Bryant past this season, they may want to entice him by adding a player who can help them win the next two seasons, rather than one who is part of a rebuilding process.
There has been success in the past with dealing a lottery pick. The Los Angeles Clippers traded the No. 2 overall selection in the 2001 draft for Elton Brand, who would go on average 20.3 points per game as a Clipper in seven seasons, and make two All-Star Game appearances. In a multiplayer deal, the Boston Celtics essentially traded the No. 5 overall pick of the 2007 draft for Ray Allen, who would help lead Boston to two finals appearances and make the All-Star Game four times.
But those trades are very rare. Also, Kupchak may prefer to have Bryant and an incoming free agent be surrounded by a burgeoning star. In the end, the most likely move is the Lakers take either Towns or Okafor, since it's rare to find a talented big man. It seems a little far-fetched that a team would just give away a veteran talent to the Lakers for an untested player. Also, either Towns or Okafor could be a good fit with some of head coach Byron Scott's current roster.
Despite the many pitfalls in the 2014-2015 season, there is reason to be optimistic about the players signed on for next season. Highly talented forward Julius Randle, who was selected with the seventh pick in the 2014 draft, played just 14 minutes before suffering a season-ending leg injury. But Randle is currently competing at full strength with more than four months remaining until the season opener. Athletic point guard Jordan Clarkson was a bright spot for the Lakers last season, earning All-Rookie honors. Meanwhile, Jordan Hill, 27, and Nick Young, 30, have proven to be more than serviceable, and should provide depth and continuity.
© Copyright IBTimes 2023. All rights reserved.